What is your Creative Process?
How do you paint, sculpt, print, draw or create your work? As the Armadale Hills Open Studio Arts Trail draws closer I have been thinking about my art making habits. It has been an interesting peek into my own psyche to work out what I need to create. I want to practise my studio habits in the studio space provided by the ASA Art House on Hobbs during the trail so it is important to figure out what I need to set it up.
I figured out the process of making my art is intuitive. It centres around the act of entering my studio and looking at what is in progress. I ignore a piece of work and move onto a new one or I decide that it needs fixing or finishing and reworking. Then I lay out my equipment and paint and often get lost in preparations as I clean tubes or look after brushes. After that I put on a vinyl record based on what mood I am in or need. Finally I get working. Working on the piece is about seeing the accidental developments or setting up for accidental developments then working back into those to extract what I like about it. Generally there is a story that develops in my mind. I know I get to the end when there are too many qualities that I like that could be lost if I do more. For the Armadale Hills Open Studio Arts Trail it is clear I will need to bring several works in progress as well as a range of materials.
In researching creative habits of other artists for this blog I came across this book which I plan to get for teaching in the future. "Daily Rituals: How Artists Work" by Mason Currey, 2013. As the reviews I have read on it say 'a great read for culture vultures and artists alike'. It documents the processes and daily habits of famous writers, composers, performers and other creatives from history, including Kafka, Pablo Picasso, Charles Dickens and George Gershwin. It is fascinating.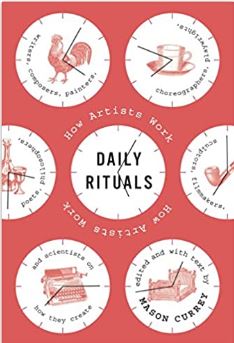 book-review-daily-rituals-how-artists
Although we often joke about the suffering artists, struggling with a work is often part of creating and quite painful emotionally. Allow yourself some suffering, I was told it was necessary for good art in Uni but don't let it consume you! I accept that each work has doubt involved which makes it easier to bear when it happens. Walk away for a bit and come back to it or resort to wine or chocolate in bad cases.
While we wait for the Armadale Hills Open Studio Arts Trail I suggest you subscribe and follow the website for the trail and facebook page for peeks into the participating artists' practises. The creative process of others is interesting to watch especially as artists or creatives because it makes you think of how you work and thereby maybe improve or feel inspired to do your work!