Our Vision
The ASA aims to be a friendly, inclusive Society for artists, which encourages the creative talents and abilities of its members, by providing an environment which assists in learning and achieving individual artistic goals.
Our Values
Communication
Nurturing
Integrity
Individuality
Innovation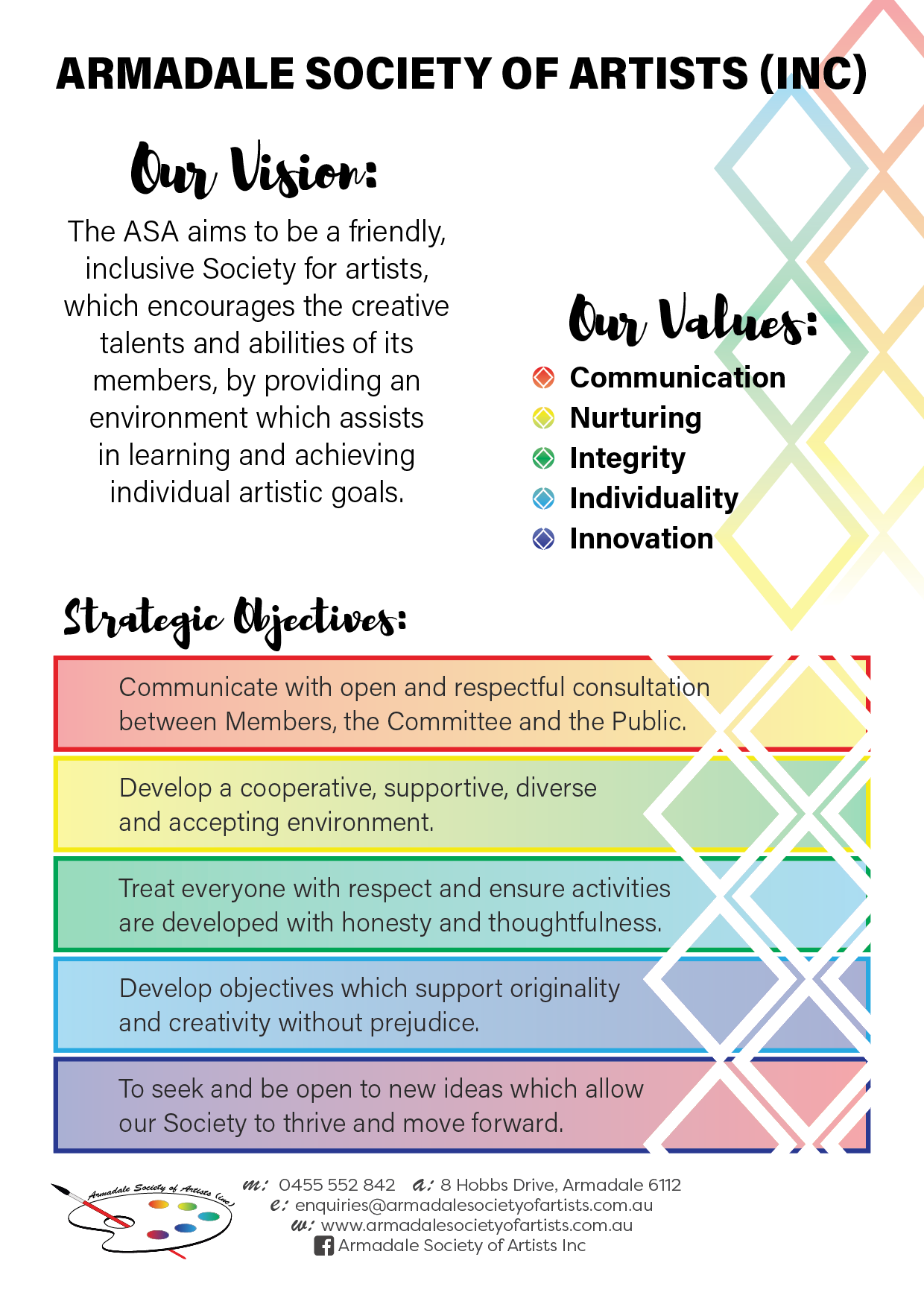 Strategic Objectives
Communicate with open and respectful consultation between Members, the Committee and the Public.
Develop a cooperative, supportive, diverse and accepting environment.
Treat everyone with respect and ensure activities are developed with honesty and thoughtfulness.
Develop objectives which support originality and creativity without prejudice.
To seek and be open to new ideas which allow our Society to thrive and move forward.
---
Where and when we meet
Monthly Meetings are held at the Greendale Centre.
The second Thursday of every month (except January) from 7pm until 9pm
Visitors are always welcome and you can bring along a guest - there is an entry fee of $5 for Non-Members. Your fee includes a short and friendly meeting, followed by raffle draw. Then a demonstration by a well known artist, or a workshop. This is always inspiring.
Contact us for more information.
---
Exhibitions
There is no commission on the sale of paintings at any of our exhibitions. This makes the prices very reasonable.
A major Art Exhibition and sale of works is arranged annually, usually late October/early November. This is one of the most successful exhibitions in the area with a very large percentage of the paintings being sold. We will keep you posted as to where and when.
keep a look out on the latest news page for these events
---
Monthly Newsletters
Newsletters are generally emailed towards the 2nd half of the month, or if you do not have email by post. You can also view our Newsletter on our website.
These are usualy posted on the newsletters page where you will also be able to read several months previous. and are small screen friendly i.e. easily readable on phones and iPads.
Subscribe to our blog for the dates and times of these events.
---
Workshops, Classes and Groups
Various workshops and classes are organized throughout the year, a good opportunity to get know fellow members, and learn from each other. There are also various groups within the society that get together from time to time. See the classes and groups Page for information.
---
Advantages of becoming a member
Membership secures substantial discounts on art materials etc., and of course the chance to participate in our exhibitions and workshops. The advantage of being involved with this vibrant society is invaluable in advancing your art, we have some very exciting artists who are always willing to help you.Membership form here