Many painters throughout history studied other painters' works. Through copying and studying techniques of other artists, painters learned their craft. Van Gogh himself did some studies copying the style of Millet, Rembrandt, Delacroix and Daumier. Here are examples of some works that I thought might have influenced Van Gogh.

Eugene Delacroix 'Bouquet of flowers on a console'

Jean Francois Millet, 'The Gleaners'

Honore` Daumier, 'Coming out of School'


Rembrandt van Rijn, 'Self Portrait'

In copying or trying to replicate somebody else's work you can learn so much about brush stroke technique, subject matter treatment, composition and colour use that it is useful to have a go at it to grow as an artist.
Although partly due to a commission someone could not finish and as part of Geraldine Gustavino's Saturday Sessions a few of the ASA members have had a go at replicating Van Gogh's work "Starry Night". Amazing job Diane Miles, Sandy Spindler, Geraldine Gustavino and Jane Meleisea!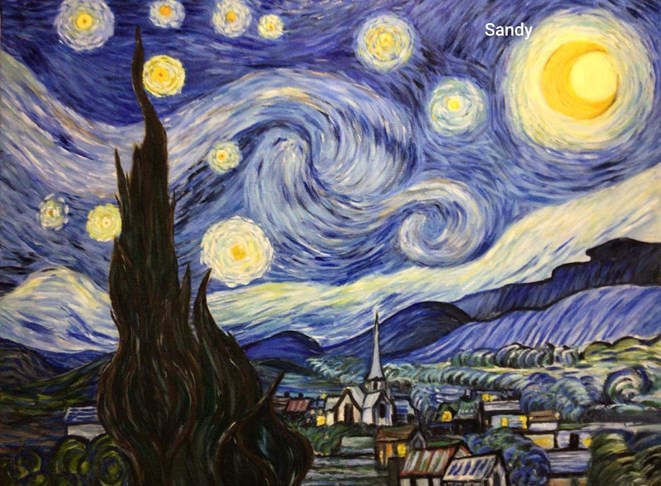 Have a go yourself. Trawl the internet on image search for painters you are attracted to and have a go. It is ok to copy someone's work so long as you don't try to sell it as your own. You can change the dimensions and say 'study of' when posting it on social media if you want to share your results. I think selling it is not allowed unless you choose an artist that has died over 70 years ago, when copyright ends. Copying someone else's work is only meant to be a learning experience. If you do want to sell your resulting pictures try using the style of brushstroke, colours and techniques but on a different subject or landscape. You can develop your own style in those choices and adapt the techniques you learn through copying into your own style of painting.
Studying the ways of the painters gone before can help you identify what you like doing in your own art works. So I encourage you to have an in depth look at art history and contemporary art with a new perspective. How did they do that? What subjects, techniques, colours or composition tricks did they favour and why? Then analyse your own work and ask yourself the same questions. Who knows you might discover interesting things about your work!
For more on Copyright on replicas of someone's work I found this an extremely good website, they have created a PDF file all about this subject in a clear and concise way. https://randwickartsocietyinc.org.au/wp-content/uploads/2018/09/copyright-issues-for-amateur-artists.pdf
To find out more about Vincent Van Gogh and his works try looking through this website by the Van Gogh Museum in Amsterdam. It has amazing pictures of Van Gogh's life, art and research into his artistic journey. https://www.vangoghmuseum.nl/en/art-and-stories/vincents-life-1853-1890