SEPTEMBER/OCTOBER 2016 NEWSLETTER
NEWSLETTER September / October 2016
ARMADALE SOCIETY OF ARTISTS (inc)
Email : enquiries@armadalesocietyofartists.com.au
www.armadalesocietyofartists.com.au
Hi Everyone,
I hope you have all been busy creating wonderful art works for the Annual Exhibition which is just around the corner. Entry forms need to be in by the next meeting on Thursday 6th October or sent to Val. We will have flyers at the meeting for you to distribute, as well as invitations for the opening on Friday night.
As most of you know, the Art Trail has just finished, this year being the second year running. It was unfortunate that the weather was a bit cool, but from the comments from the members participating, everyone enjoyed each others company whilst painting and chit chatting together. A huge thank you to Dot and those who helped organize it. There was very positive feedback from the public about the Art House which is wonderful for the Society.
Please bring in your catalogue covers to the meeting or the Art House over the next few weeks, so we can assemble them for the Exhibition.
We are also collecting donations for our Christmas Raffle, which can also be bought to the meeting or left at the Art House. Our end of year Christmas Raffle is always very popular and is a great fundraiser, so your donations are very much appreciated.
Once again, see you at the next meeting 6th October.
Happy creating.
Anna (president) 0411633015
NEXT MEETING
The next meeting will be Thursday 6th October
at 7:00pm at the
Creyk Park Pavilion, Waltham Rd, Armadale .
THE DEMONSTRATOR AT THIS MEETING WILL BE
PAMELA EDDY
Pam will be demonstrating in Pastels
Pamela was born in Western Australia, educated at Penros College and gained her art degree in Perth.
She has supplied works for an interior decorator and has works hanging in restaurants around perth plus galleries, Wineries and many private homes. Her works have gone to many countries around the world.
Pamela prefers working in watercolour and pastel in which mediums she has won multiple awards. she was sole guest artist for "Garden Week". She has held five solo exhibitions and numerous public exhibitions,
she joined international artists for four exhibitions at Allendale Square and the Burswood Hotel.
Pamela also does commission work and holds private tuition.
Subjects for meetings, bring a painting and you could win a Jackson's voucher
October - Fire
November - Glass reflection/refraction
December - Celebration
ART ITEMS AND EQUIPMENT
FOR SALE
Canvases for sale at the art house at very reasonable prices, wide selection of sizes, good quality.
Mattboard and foamcore always available at the art house at a very low price of $10 each
NOTE: THIS IS A NEW SECTION FOR THE
NEWSLETTER, A FREE SERVICE, YOU CAN PUT IN
ANYTHING ART RELATED AND ITS FREE,
PLEASE EMAIL DOT dot@dotmarshall.com
DATES FOR YOUR DIARY
MEETING
6TH October Thursday 7pm
ENTRIES DUE FOR ANNUAL EXHIBITION
THURSDAY 6TH October (meeting night)
LEESA PADGET'S WORKSHOPS
2nd October 2016 and 23rd October 2016
ANNUAL EXHIB
28th 29th 30th Oct
ART CAMP
GREAT NEWS
NEW EXHIBITION SPACE
THANKS TO IAN KALLAS, ANNA NEWBEY AND JON COPE.
Exhibition has been confirmed to be run outside Target at the Armadale shopping
centre for a duration of 10 days in March 2017. Provisional date chosen is for a start of the 15th but yet to be confirmed with centre management. There is also the possibility of having another exhibition in August/September. And the good news is we have got it for FREE
OPEN GARDEN AND ART SHOW
ROMANCING THE STONE GARDEN
Natures Garden of Harmony
3 Lilian Rd., Maida Vale (Cnr of Lilian and Hawtin)
Friday 30th Sept Saturday 1st Oct and Sunday 2nd Oct
Entry Adults $6 Children Free
3 Award winning artists and members of the society
Pam White, Catherine Kelley and Yvonne Lane
Will be demonstrating and selling their works over the weekend.
Also Devonshire teas, sausage sizzle, soups and lots of other home made goodies for sale.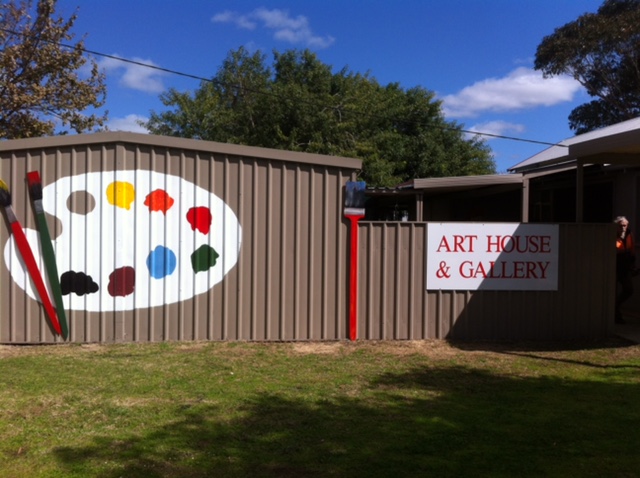 Since finishing the painting and artwork on the front of the art house we have had many visitors just call in to see what we do, and we have even had a few art sales as a result.
You should call in and see, there are large paint brushes and palette, even the post box has had an imaginative face lift, leaves no doubt as to what we do there !!!!

Wow what a great event this was, for those who couldn't get to see our own Art House set up for the art studio trail you missed a treat. Here are some photos,
SOME RESULTS OF THE TRAIL
Over 220 visitors (despite the dreadful weather)
49 sales (including cards and unframed paintings)
3 new members (and others are interested
Peta and Linda braved the elements to paint and draw outside under the gazebos, that is real dedication to art !!
David and Christine enjoyed painting and talking to the many visitors in their studio at the art house. Whilst Deb created a huge amount of interest with her workshop in the shed
Eddie surrounded by his beautiful artwork was very popular with everyone that visited, he even found the time to teach one young man in a wheelchair to paint, he went home with a wonderful painting and a huge smile on his face
And the sales desk was kept nice and busy !!!
NEW CLASS AT THE ART HOUSE
MEGAN O'BRIEN
"Watercolour - finding the light" with Megan O'Brien: a series of 6 watercolour classes suitable for beginners/intermediates.

The group will look at
elements of design and composition
properties and interactions of colour, water and paper
painting techniques.
We will explore these fundamental skills and apply what we discover to create unique artworks.

Thursdays : October 6 and 20
November 3 and 17
December 1 and 15
(with possible continuation into 2017)
9 a.m. - 12 noon. $15.00 per session.
Contact email: empob@bigpond.com
mob: 0409 203127
Expressions of Interest
Some of our members are suggesting a Sunday Market once a month during the nicer weather (October to March) at the Art House. If we go ahead, we will probably include a few different stalls as well like, plants, crafts etc. These would be by invitation or recommendation only. We would have stalls out the front as well as the back. If you are interested in participating, (art or other eg. craft etc.) please give me a call by Monday 3rd October. Thanks Anna 0411633015
expressions of interest are being called for a water colour workshop on
Sunday 27th November 9.30 to 4pm. WITH IAN KALLAS
Titled, Water Colours Revisited, $50 per person, paper and backing boards provided. Please contact lan 0427 727 314
Classes and Workshops at the Art House
MONDAY - NEAMI GROUP from 11am to 2pm
MONDAY - Pastel artists group. contact Hazel Moore hazdes@bigpond.net.au
TUESDAYS 10am to 2pm Portraits in oils classes—Carol Joy 0427749085
WEDNESDAY am informal group, Contact Sandra Reynolds 0414 410 137
WEDNESDAY pm oil painting classes contact Val 0478 530 659
WEDNESDAY evening informal group, Contact Val 0478 530 659
THURSDAY 9.30 to 2.30 Watercolours fortnightly with Deb Weber 0434059316
THURSDAY 9am to 12 noon fortnightly with Megan Obrien, NEW more information in this newsletter
FRIDAY (AM) NEW GROUP, informal group - contact Val 0478 530 659
FRIDAY AM DRAWING CLASS 10am to 12 with David Box 0488 392 931
FRIDAY PM DRAWING CLASS pm Chantelle 0422541738.
SATURDAYS Alt Saturdays ACRYLIC and MIXED MEDIA COLLAGE CLASSES Dot Marshall 10am to 12.pm. dot@dotmarshall.com website www.dotmarshall.com 0409 921 838 (note a change of times, there will be no afternoon group)
SATURDAY Alt Saturdays, am NEW A Saturday morning where painters can come and bring projects and get each others advice. Critiqueing, technical support and hanging out painting. Any painting medium. From 10 till 12 for $3 bring your own stuff.
GO TO OUR WEBSITE FOR MORE INFORMATION ON WORKSHOPS, CLASSES AND GROUPS.
www.armadalesocietyofartists.com.au
H.U. KENDALL & CO.
372 Newcastle Street,
Perth, W.A. 6000
Ph:(08)9328 4833
Fax:(08)9227 8235
Email: camryn@iinet.net.au
Ampersand
Demonstration Day
Come and join us with the Judith & Carol from H.U. Kendall & Co to see the wonderful NEW product Ampersand Boards. We will demonstrate how the products can be used with all mediums eg. Oils, Acrylics, Watercolours, Pastels, Charcoal, Inks and much more. Spread the word and bring your friends to see this exciting product.
Date: Sunday 20th November 2016
Venue: Armadale Society Of Artist's
Art House
63 Railway Avenue,
Kelmscott
Time: 10am to 3pm
FREE
Tea & Coffee Supplied
Bring your own lunch for a half hour break
THE ART HOUSE AND GALLERY OPENING HOURS
Always open on Friday and Saturday
10am to 3pm
And of course when there are groups and classes
Call in and see the resident artists and feature artist of the month. Sit around the table and have a cuppa and a chat.
Donations for Christmas Raffle
We are now collecting goodies for the Christmas hampers, raffled off at our December meeting, we usually have at least 10 hampers to
raffle at the meeting and have great fun and raise a little towards funds. The collection point is at the art house in the library area. Please be generous, preferably Christmas fare, and check the use by date we have to dispose of anything that is past the date.
ANNUAL ART CAMP
Its coming up that time of year when we go on our Annual Art camp, it will be at Banksia Springs ,Dwellingup situated in the beautiful grounds, We stayed here last year and it was enjoyed by everyone so we booked again,
Sunday 6th Nov -Friday 12 th Nov,
the cost is $50 per bed , dinner cost is $15 per night if you want that, its up to you , we had beautiful dinners last time suppled from the Blue Wren cafe. total cost for 5 nights with dinner $325, minus dinner $250.
FEATURED ARTIST AT THE ART HOUSE
The feature artists for November will be
LINDA STOKES
The calendar is filled for this year, but you can put your name down on a list in case of cancellations. Contact
Jane Etienne 0419 371 195
This has proved to be a very popular idea, an ideal opportunity to have your very own mini exhibition completely free.
LEESA PADGET
WOW LEESA IS SO POPULAR THAT SHE HAS DECIDED TO PUT ON A SECOND WORKSHOP
23rd October 2016
BUT WAIT THIS ONE IS FULL AS WELL BUT SHE WILL TAKE NAMES IN CASE SOMEONE CANT MAKE IT.
Compendium of Secrets
See our previous newsletter for all the information or ring Leesa for details.
Contact Leesa on email ……….. leesa.padget.lp@gmail.com
Or phone ………. 0413 243 186
http://leesapadget.blogspot.com.au
ANNUAL EXHIBITION UPDATE
Flyers and invitations
These have been professionally designed and printed, you will find some with this newsletter for you to distribute, please make sure you do this please, more will be available at the meeting and from the art house. This is a very successful way of promoting this event, a lot of time and effort has been put into producing these flyers so make the most of them.
3 judges are being organised for different catagories
A digital advertising stand has been booked for the weekend
Catering is going to be organised from the Manse restaurant so there will be no need for members to supply plates of finger food. The committee is also endeavouring to organise the girl guides to serve
Sound system is being organised
Demonstrating will be on over the whole of the weekend. And workshops are being organised for after the exhibition
Make sure you put your name down for roster duties over the weekend. We will once again be doing Devonshire teas so will need a few people to serve.
Please make sure your paintings are picked up from hall on Sunday from 4 pm OR arrange with a friend to pick up.
Small paintings for the Annual Exhibition Catalogues.
WE HAVE HAD A FEW BEAUTIFUL SMALL MASTERPIECES
HANDED IN BUT WE STILL NEED MORE, Thank you to all of you who have brought yours in.
Watercolour paper is available, cut to the correct size, at the next meeting also at the Art House in the shed.
Just to explain to our newer members, we sell catalogues at our annual exhibition to raise funds to help toward the cost of putting on this event, and as we do not have commission on the sale of your work we ask that you do at least 4 paintings each on watercolour paper or canvas that we then fix to the front of the catalogue, this not only promotes your art work but raises a significant amount toward the expense. The size must be 15cm x 13cm . You can drop them off at the Art House or bring along to any of the meetings. THANKS
QUICK PAINTING TIP
FROM PAM WHITE (Great tip Pam I'm going to try it)
When painting after a break or if you are feeling a bit unhappy with your work then forget all the challenging subjects and mediums, just pick your most favourite subject, one that you can do with your eyes shut. Paint what you love and you will love what you have painted and it's a great feeling to finish a satisfying piece of work. Don't make it a large mammoth effort, just do something that you will be pleased with when finished.
HERE IS A MESSAGE FROM ONE OF OUR MEMBERS
JENNY HERBERT. Good news Jenny
"I got a Highly commended award and $100 for my painting "Mr Mum" at the Cossack art exhibition last month. Talk about surprized! No sale, though."