November, December newsletter
NEWSLETTER November / December 2016
ARMADALE SOCIETY OF ARTISTS (inc)
Email : enquiries@armadalesocietyofartists.com.au
www.armadalesocietyofartists.com.au
Hi Everyone,
Well it's almost Christmas which means the end of the year is close. This will be the last newsletter for the year. I can't believe how fast the year has gone. I would like to say that I have really enjoyed being the President this year even though it has taken me way out of my comfort zone. I am very thankful to the Committee, Art House Committee, Members and Volunteers who have helped to make it such a successful year. Some of the projects done throughout the year included giving the front of the Art House a facelift as well as re-arranging the rooms in the Art House, making it a more public friendly space. As well as securing 2 Exhibitions at the Armadale Shopping Centre for next year. I would also like to thank those who have kept the Art House running smoothly from doing the gardening and mowing the lawns to cleaning the house and shed. Another thank you to all of those who have had positions to fulfill throughout the year, making the Society run smoothly and spreading the workload for everyone.
I have also had a very positive feedback about the Annual Exhibition and am happy to say that we are able to book the hall for next year again as the renovations are not starting till later.
Don't forget the AGM is on Thursday 1st December, where a new committee will be elected. If you are interested in any of the positions, please fill in a nomination form or if you want to know anything about it, then ask one of the committee members for the information. Sandy Schroder will also be at the meeting selling goodies from Art Scene. Please bring a plate of finger food to share for supper. There will not be a demonstrator.
Also the next Christmas Art/Craft Market is on Sunday 4th December at the Art House, 9am to 3pm. Our last one was very successful with a wonderful atmosphere enjoyed by all. This time we will be having a sausage sizzle, so please come down and support the Society and the stall holders.
Just a reminder that our next exhibition will be in March next year at the Armadale Shopping Centre in front of Target. So keep this in mind. There is not a huge amount of room there so we are looking at more small to medium paintings rather than large ones.We will keep you posted.
So, hope to see you at the AGM. Once again thanks for all your support have a Merry Christmas and Safe New Year.
Happy painting Anna (president) 0411633015
NEXT MEETING
The next meeting will be Thursday 1ST DECEMBER
at 7:00pm at the
Creyk Park Pavilion, Waltham Rd, Armadale
THERE WILL BE NO DEMONSTRATOR FOR THIS MEETING AS IT IS THE AGM AND BREAK UP SUPPER, PLEASE BRING A PLATE OF FINGER FOOD TO SHARE
HOWEVER WE WILL HAVE SANDIE SCHRODER FROM
ART SCENE
She will be doing all her regular specials and discounts for all our members on art materials
Their annual sale notice is not yet out, but if anyone would like to place orders so she can bring the stock along on the night please contact her in November
If you look on the website for pricing it is usually 20% OFF our " Shop price " and our shop price is usually 15% off recommended retail , so the further 20% IS A GREAT SAVING!!!
My contact details are below
Thank you and I look forward to seeing you and all your wonderful members in December
Sandie Schroder
Art Basics and Art Scene
Office 08 92933033
Mobile 0410 456 532
Email sandie@artbasics.com.au
Subjects for meetings, bring a painting and you could win a Jackson's voucher
December - Celebration
ART ITEMS AND EQUIPMENT
FOR SALE
Canvases for sale at the art house at very reasonable prices, wide selection of sizes, good quality.
Mattboard and foamcore always available at the art house at a very low price of $12 each
NOTE: THIS IS A NEW SECTION FOR THE NEWSLETTER, A FREE SERVICE, YOU CAN PUT IN ANYTHING ART RELATED AND ITS FREE, PLEASE EMAIL DOT dot@dotmarshall.com
.MAUREEN SMITH has a junior tracer artograph projector, made in U.S.A. It projects from 9cm to 10 times the size. Ideal for larger scale work, wall murals, signs etc. Its 240 volts .and never used. $100.
Please contact Maureen email maureensmith52@gmail.com
Phone 0416 257 594
DATES FOR YOUR DIARY
CHANGE OF PAINTINGS AT THE GALLERY
Tues 29th November
MEETING
1st December Thursday 7pm
CHRISTMAS ART MARKETS
Sunday 4th December
AGM MEETING
Thursday 1st December
CHRISTMAS LUNCH PARTY
18th December.
ASA COMMITTEE
PRESIDENT ANNA NEWBEY 0411 633 015 - anewbey@bigpond.com
VICE PRESIDENT GEOFF REEVES 0473 589 178
SECRETARY HELEN GORDON - 0439 679 000 helengordon19@yahoo.com.au
TREASURER VAL MEZGER - 0478 530 659 valmezger@hotmail.com
COMMITTEE
JANET GARDINER - 0447 778 334 janet1435@bigpond.com
MAUREEN SMITH - 0416 257 594 maureensmith52@gmail.com
IAN KALLAS - 0427 727 314 chrissyian@outlook.com
CLAUDIA WOELTJES - 0408537314 claudiawoeltjes@iinet.net.au
CHRISTINE ENGLAND - 0422954257
A reminder that the December meeting will be the AGM at which the committee and office bearers will be voted in. SHOULD YOU WISH TO NOMINATE SOMEONE, OR YOURSELF, TO BE ON THE COMMITTEE PLEASE MAKE SURE THE NOMINATIONS ARE IN BEFORE THE MEETING STARTS, CAN BE ON THE NIGHT SO LONG AS IT IS BEFORE THE MEETING BEGINS.
A huge thank you must be extended to the hard working committee for 2016, Anna has done a remarkable job in her first year as President and I am sure she appreciated the help and support not only of her committee but also the members who quietly help behind the scenes, too numerous to mention individually but I'm sure you know who they are. With a strong membership like ours 2017 is sure to be another amazing year, growing in strength and helping more budding artists achieve their goals.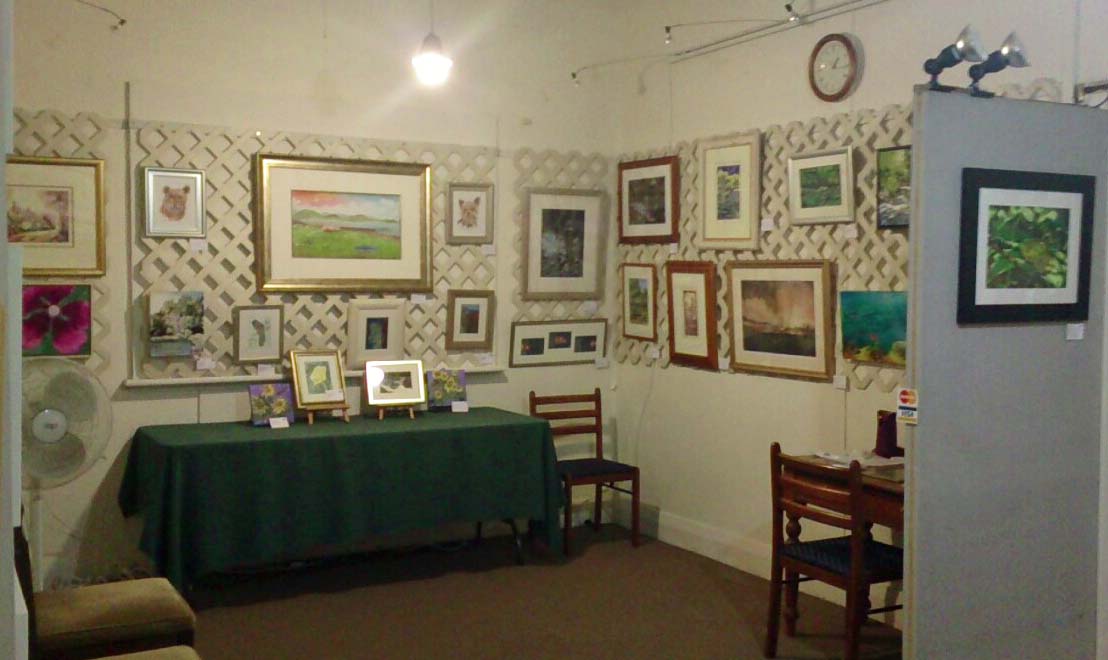 What's happening at the Art House and Gallery
December 2016
CHRISTMAS Art and craft market
SUNDAY December 4th from 9am to 3pm
Please all come along and join in the fun, sausauge sizzle will be served all day. From 9am
Stalls will include candles, decorative plaques/tiles, kiddies clothes, beautiful hand made sewn items, succulents and more. And there will be around 5 of our own members displaying their artworks and cards, for sale.
If you are interested in taking a stall in one ot the future markets, either yourself or sharing with a friend or friends, contact
Ian Kallas 0427 727 314 chrissyian@outlook.com
A MESSAGE FROM JON COPE
Thank you to everyone that attended the community screening of the short
documentary film 'Creativity, culture and community in Armadale: convincing others of the value of cultural development for local governments'.
The City of Armadale has created an online link here, you can paste this in to your browser.
https://www.youtube.com/watch?v=j0QwwmhJuIQ&feature=youtu.be
Please share with your networks as appropriate.
Jon Cope
Community Arts and Cultural Development Officer
CITY OF ARMADALE
We are now making regular sales from the gallery,
the facelift has attracted a lot of new visitors, enormous thanks again to those involved in the work.
FEATURED ARTIST AT THE ART HOUSE
The feature artists for December will be
PETA GALLAGHER
There will be no feature artist in January . Looking for artists April and May 2017
Contact Jane Etienne 0419 371 195
an ideal opportunity to have your very own mini exhibition completely free.
Classes and Workshops at the Art House
MONDAY - NEAMI GROUP from 11am to 2pm
MONDAY - Pastel artists group. contact Hazel Moore hazdes@bigpond.net.au
TUESDAYS 10am to 2pm Portraits in oils classes—Carol Joy 0427749085
WEDNESDAY am informal group, Contact Sandra Reynolds 0414 410 137
WEDNESDAY pm oil painting classes contact Val 0478 530 659
WEDNESDAY evening informal group, Contact Val 0478 530 659
THURSDAY 9.30 to 2.30 Watercolours fortnightly with Deb Weber 0434059316
THURSDAY 9am to 12 noon fortnightly with Megan Obrien, NEW
FRIDAY (AM) NEW GROUP, informal group - contact Val 0478 530 659
FRIDAY AM DRAWING CLASS 10am to 12 with David Box 0488 392 931
FRIDAY PM DRAWING CLASS pm Chantelle 0422541738.
SATURDAYS Alt Saturdays ACRYLIC and MIXED MEDIA COLLAGE CLASSES Dot Marshall 10am to 12.30.pm. dot@dotmarshall.com website www.dotmarshall.com 0409 921 838 (note a change of times, there will be no afternoon group)
GO TO OUR WEBSITE FOR MORE INFORMATION ON WORKSHOPS, CLASSES AND GROUPS.
www.armadalesocietyofartists.com.au
ANNUAL ART CAMP
AT
BANKSIA SPRINGS
DWELLINGUP
An awesome time had by all that went, Banksia Springs is a wonderfully restful place ideally suited for groups.
Here you see Josephine enjoying a quiet time painting by the lake, until someone crept up on her to snap a photo :-).
Most spent a lot of time together in the custom built art studio, ideal for painting with lots of natural light and a beautiful patio area under the trees.
The last photo is of the whole group when we gathered for lunch at the Blue Wren Café in Dwellingup. The Blue Wren supplied us with our evening meals which were thoroughly enjoyed by all, something different every night, they certainly went to a lot of trouble to please.
We were given a treat on Thursday morning when the owner and founder of the property came and gave us a very informative talk on how he established, and built the place, where he got all the nick knacks and antiques. The top picture is the inside of one of the quaint cottages full of antiques and curios.
A big thankyou to Sandra Reynolds for doing a great job organising the whole thing.
Donations for Christmas Raffle
DON'T FORGET WE ARE COLLECTING FOR THE CHRISTMAS RAFFLES AT OUR DECEMBER MEEETING, COLLECTION POINT AT THE ART HOUSE IN THE LIBRARY AREA, PLEASE BE GENEROUS, IT IS A LOT OF FUN AT THE MEETING AND A NICE LITTLE FUND RAISER
Urgent request for donations for the Xmas Raffles. Can be left at art house before 29th November please. We haven't had a huge response yet.
CHANGE OVER OF PAINTINGS
Helen Cockburn and Christine Norman have advised that, in regard to the change over of paintings at the Art House Gallery, they apologize for the need to defer the date yet again to Tues 29th November so you have time to submit some paintings.
Thanks to the hard work that Helen and Christine put in to hang the gallery, and the facelift at the front of the house, we are getting many more visitors and sales.
ANNUAL EXHIBITION UPDATE
Armadale Society of Artists
List of Award Winners for 2016 Annual Exhibition
Chosen by the sponsors of the Award
Peter Risk Award
Patron and sponsor – award of $250.00 and Perpetual Trophy.
Awarded to: Claudia Woeltjes - Victorian Times
The Manse Restaurant Award
$100 Gift Voucher
Awarded to: Linda Glover – A Walk in Springtime
Catherine Kelley AKP Framers Award
$150.00 Framing Voucher.
Awarded to: Angela Saunderson – All that Jazz
Chosen by the judges
First Prize
$400 – donated by the Armadale Society of Artists
Awarded to: Leesa Padget - Nocturne
Second Prize
$300 - donated by the Armadale Society of Artists
Awarded to: Linda Glover – Snow Gums
Third Prize
$200 - donated by the Armadale Society of Artists
Awarded to: Christina Verbrugge – Day's End
Tony Buti Award
$100 cash donated by Tony Buti
Awarded to: King Toogarr – Trevally and Bonito
HU Kendall & Co Award
$100 Gift Voucher
Awarded to: Jeanette Dyson – Mystical Kimberley
Art Scene Award
$100 Gift Voucher
Awarded to: Jenny Herbert – Yass Valley
Norvek Framers Award
$80.00 Gift Voucher
Awarded to: Jane Trichet – Vigil Perth Zoo
Best Floral Artwork
Gift Voucher of $50 - donated by Artistry of Flowers
Awarded to: Gwen Edwards – Old Fashioned Beauty
Highly Commended – Jana Vodesil Award
$100 Gift Voucher for Jana Vodesil's classes
Awarded to: Hazel Moore – copy from Al Xuan's 'Walk in Wolf Forest'
Highly Commended
$50 Gift Voucher donated by The Manse
Awarded to: Geoff Reeves – The River
Highly Commended
$25 Gift Voucher donated by The Manse
Awarded to: Christine Norman – Sunlit Pears
Peoples Choice - Oxlades Award
$100 gift voucher, 1st Prize Leesa Padget
Gift Pack, 2nd Prize Eddie Beer
CHRISTMAS IS COMING
AND WE ARE HOLDING A PARTY
Christmas lunch at the art house 18th December.
Partners welcome.
Bring a savoury plate plus $10 secret Santa present from self and partner.
Present to be food, drink or art related. Sweets will be provided.
COME AND HELP US CELEBRATE AN INCREDIBLE YEAR
USEFUL WEBSITES FOR PAINTING TIPS OF ALL KINDS
http://painting.about.com/od/paintingtips/a/100PaintingTips.htm
This collection of 100+ painting tips covers a variety of media - watercolor, oil, acrylic, and pastel - and all sorts of things that come up when you're painting, preparing to paint, cleaning up after a painting session, or thinking about framing and exhibiting.
_______________________________________
http://www.artistsnetwork.com/category/articles/art-demos-techniques
Top Art Techniques & Tips
Bring new life to your work with our wide selection of art demonstrations, techniques and tips. A new painting pointer, drawing trick or art tool might make the difference in your next still life or portrait. Now you can paint with knives or learn how to scumble. Art techniques can stretch across media, so whether you work with watercolor, oil, colored pencil or pastel you'll find something to advance your art.