Newsletter July/August 2016
Our newsletter in a new format that is small screen friendly for mobiles/tablets/Ipads is here
if you still want to have it in booklet form please click on this link Download to download a pdf
I hope you enjoy your newsletter
NEWSLETTER July / August 2016
ARMADALE SOCIETY OF ARTISTS (inc)
Email : enquiries@armadalesocietyofartists.com.au
www.armadalesocietyofartists.com.au
Hi Everyone,
I hope you are busy creating some beautiful works for the Annual Exhibition which is creeping up very quickly. We hope this year will be as successful as last year with many new members joining and a wide variety of mediums used. We are now approaching our wonderful sponsors for their help and support. If there is anyone you can think of that may wish to sponsor this wonderful event, please contact our secretary Helen Gordon for details. Our sponsors are very well advertised and as you know we have many people come through to visit the Exhibition over the weekend.
The Art Trail will also be upon us soon, details from Dot are in the newsletter. This is the second year it has been on, sponsored by the City of Armadale. I understand there is approximately 20 local Armadale studios taking part. If you haven't joined yet, please think about it, its great fun and a good excuse to get your paint brushes out. Closing date is 29th July, so be quick. Contact Dot for details.
We had a great response to people wishing to receive their newsletter by email, I think its a great idea that there is the option of email or post. Many have also opted to collect theirs from Art House, which hopefully will generate more members visiting and seeing the wonderful display by our very creative members.
Hope to see you at the next meeting Thursday 4th August, hopefully it wont be so cold!
Happy creating. Regards Anna (president) 0411633015
NEXT MEETING
The next meeting will be Thursday 4th August
at 7:00pm at the
Creyk Park Pavilion, Waltham Rd, Armadale .
Subjects for meetings, bring a painting and you could win a Jackson's voucher
August – desert
September - Storm
October - Fire
November - Glass reflection/refraction
December - Celebration
OUR DEMONSTRATOR THIS MONTH
LEESA PADGET
Our own award winning artist Leesa Padget will be demonstrating her own inimitable style of painting birds. Leesa works with all medias, and this time will be working mixed media. You can see her blog at leesapadget.blogspot.com.au well worth a visit. She runs classes and workshops, and has run a few workshops at the Art House which are always popular, be quick to put your name down for the next one, its always fun. She hasn't set a date yet so watch out on our latest news page on our website and in the next newsletter.
Leesa has won many awards, too numerous to mention here and her work is in collections around the world..
FRIDAY MORNING GROUP AT THE ART HOUSE
Catalogue cover painting at the new casual group on Friday morning at the Art House. Always a bit of a challenge to do small paintings and a lot of fun, its also a very good way to promote your work at the Annual Exhibition, people that pick up a catalogue usually ask to see the artist's work. So always sign your little masterpieces.
CLASSES AND WORKSHOPS

There are a number of vacancies for people to run classes and workshops at the Art House, these are always very well attended and an important part of our society, If you would like to have workshops or weekly (or fortnightly) classes please contact Jane Etienne on 0419 371 195
Or you may know an artist who may be interested, perhaps not at present a member of the society, or one of our very talented members who's work you like and would like to learn their techniques, why not ask them to do a workshop at the Art House.
QUICK WATERCOLOUR TIP

Mainly for beginers out there
Plan your painting carefully
With watercolour you paint from light to dark, leaving the white of the paper as your lightest lights. Therefore you need to have an idea in advance where those areas will be so you can paint around them. You can carefully avoid them, or you can paint a masking fluid over these areas to protect them. The masking fluid dries into a rubbery material that you can easily rub off with your finger. You can also use an artist tape or painter's tape to mask out areas you want to leave white.
SMALL PAINTINGS FOR ANNUAL EXHIBITION CATALOGUE COVERS
Watercolour paper is available, cut to the correct size, at the Art House in the shed.
NOTE ——
The Friday morning casual group at the Art House will be painting
catalogue covers if you would like to join in and have some fun.
THIS IS A MAJOR FUND RAISER FOR OUR ANNUAL
EXHIBITION AND A GREAT WAY TO ADVERTISE YOUR ARTWORK.
ROSTER FOR OUTSIDE THE FRAME ART AWARDS .
The roster will be at art house and will be at members meeting. Sat 13th to Sun 21st August . Please help by putting your name down
There are still a lot of spots to fill in please think about helping with this contact Maureen on 0416 257 594 maureensmith52@gmail.com
WE are well rewarded by the City of Armadale for manning this exhibition, its also a very good way to promote the club and yourself.

The Art Trail is creeping up quickly and I'm sure will be as successful as last year. Dont forget to get your "expressions of interest" form in by the end of July. You still have time to get yours in, if you want to be involved. It will be a great way to mix with other members from the Art Society as well as show off your artwork and skills to the public. The City of Armadale promote it very well so it should be great.
Think about running a small workshop or doing some hands on demonstrations whilst you are there, this is being encouraged as visitors love to "have a go" . Contact Dot 0409 921 838 or email dot@dotmarshall.com
FEATURED ARTIST AT THE ART HOUSE
The feature artists for August will be
DOT MARSHALL
The calendar is filled for this year, but you can put your name down on a list in case of cancellations. Contact
Jane Etienne 0419 371 195
This has proved to be a very popular idea, an ideal opportunity to have your very own mini exhibition completely free.
100 years old
Happy birthday to a very special lady,
HELEN FOWLES,
founder member and very talented artist. Helen turns 100 on the 10th August.
Helen has been a very active member of our society since its inception taking part in every exhibition and being involved on the committee. She is mum to Helen Cockburn who most of you will know well. Have a wonderful day Helen, safe to say that you are definitely the oldest member of our society, we will be thinking of you, have a lovely day with your friends and family. Thanks for helping to establish this wonderful art society.
NEW VENUES TO DISPLAY AND SELL YOUR ARTWORKS
Claudia has found out that the Araluen Golf Club would be interested in displaying paintings at their club house. The arrangement would be similar to Kelvale Surgery. This could be within the next month. Also after the Art Trail is over Avocados on Brookton Hwy would be interested in displaying paintings
These are both very busy venues, an exciting opportunity for our members. If anyone is interested in doing this to please contact Geoff on
0473 589 178 or geoffrhr@gmail.com
THANK YOU
A huge thank you to Claire Botman from Zetatech for continually updating and managing our website. The website looks wonderful and creates a lot of interest and enquires. Thank you to Dot for working with Claire, especially lately whilst making the site more user friendly for the newsletter.
Please visit the website at http//www.armadalesocietyofartists.com.au
Take a little time to look around and visit the artists that have work on display. There is a blog on "latest news page" that goes out to people
automatically every time anything is posted. Please think about having a presence, its very easy for you, Dot does all the work you don't need to be computer literate and it doesn't cost you anything all she needs is a few details from you, contact her on 0409 921 838 or dot@dotmarshall.com
Important ——- you don't need to have a computer to be part of the website.
DATES FOR YOUR DIARY
WORKSHOP
Sunday July 31st, Dot Marshall see inside this newsletter
MEETING
4the August Thursday 7pm
OPEN STUDIO ART TRAIL
Closing date for expression of interest 30th July
EVENT DATES 8th to 11th Sept and 15th to 18th Sept
ANNUAL EXHIBITION
28th 29th 30th Oct
NEXT MEETING
The next meeting will be Thursday 4th August
at 7:00pm at the
Creyk Park Pavilion, Waltham Rd, Armadale .
WHAT'S ON THIS MONTH
Dot's workshop, see in this newsletter
Outside the Frame Awards ROSTER
ART ITEMS AND EQUIPMENT FOR SALE
Logan model 303, 70 cm long rule Matt cutter, with lots of unopened spare blades ,with value of over $30 . As new cond. $100 the lot ,ono. Maureen Smith 0416257594. Big selection of oil paints, oil sticks, some mediums and brushes, all at the Art House for you to see, only for sale as is, not to be split up, everything for $150 ring Dot Marshall 0409 921 8438 or dot@dotmarshall.com
ALWAYS FOR SALE AT THE ART HOUSE
There are a great selection of new canvases for sale at the Art House at very reasonable prices. Stock is being topped up all the time
Also Mattboard and Foamcore at only $10 each
THE ART HOUSE AND GALLERY OPENING HOURS
Always open on Friday and Saturday
10am to 3pm
And of course when there are groups and classes
Call in and see the resident artists and feature artist of the month. Sit around the table and have a cuppa and a chat.
We are getting lots of visitors now and regularly make good sales from the Gallery. Well worth hanging your work.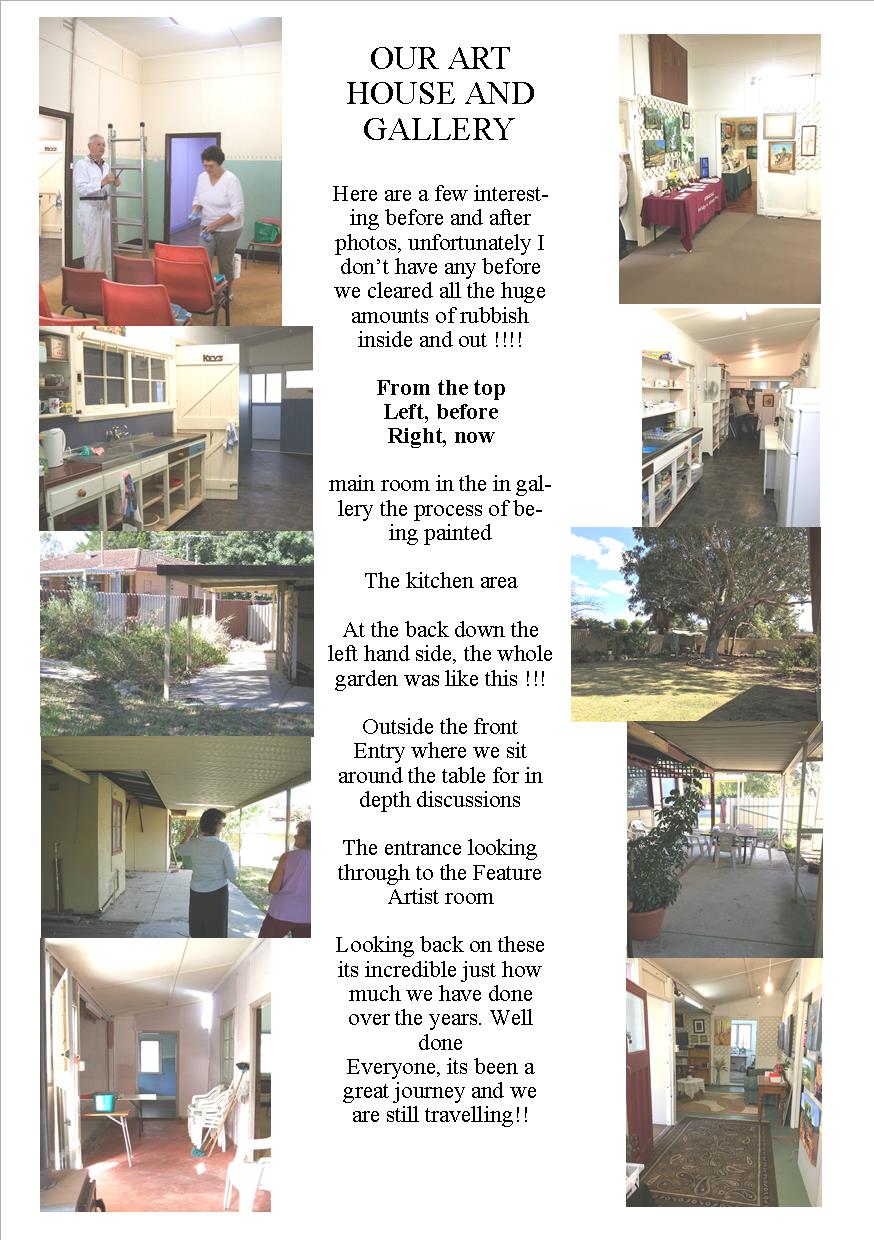 FREE
We have too many books on the trading table at the Art House so we have decided to give our members first choice, any that are left will be taken to the op shop. The trading table is situated in the far end of the kitchen area……...please note our library books are definitely NOT included in this offer.
SOME MORE IMPORTANT THANK YOU'S
Thank you to Jenny Jacobson for pruning the roses, they are going to look wonderful again, roses are so giving, and we are lucky to have some that have beautiful perfume. Many members have painted them, I saw a gorgeous painting from Val of one one of the red roses.
Thank you to everyone who has been donating plants to the Art House. All money goes to the Art Society. If anyone has any plants they would like to donate, please bring them down. Everyone loves them and the time is quickly coming up when we are thinking of gardening for the spring. Ahh Spring, what a lovely time of year for the garden, cant wait.
FOR SALE AT THE ART HOUSE
There are a great selection of new canvases for sale at the Art House at very reasonable prices. Stock is being topped up all the time
Also Mattboard and Foamcore at only $10 each
GO TO OUR WEBSITE FOR MORE INFORMATION ON WORKSHOPS, CLASSES AND GROUPS.
www.armadalesocietyofartists.com.au
GROUPS AND CLASSES AT THE ART HOUSE AND GALLERY
63 Railway Ave, Kelmscott
Open: Friday & Saturday, 10am—3pm and
during classes)
Classes and Workshops at the Art House
MONDAY - NEAMI GROUP from 11am to 2pm
MONDAY - Pastel artists group. contact Hazel Moore hazdes@bigpond.net.au
TUESDAYS 10am to 2pm Portraits in oils classes—Carol Joy 0427749085
WEDNESDAY am informal group, Contact Sandra Reynolds 0414 410 137
WEDNESDAY pm oil painting classes contact Val 0478 530 659
WEDNESDAY evening informal group, Contact Val 0478 530 659
THURSDAY 9.30 to 2.30 Watercolours fortnightly with Deb Weber 0434059316
FRIDAY (AM) NEW GROUP, informal group - contact Val 0478 530 659
FRIDAY AM DRAWING CLASS 10am to 12 with David Box 0488 392 931
FRIDAY PM DRAWING CLASS pm Chantelle 0422541738.
SATURDAYS Alt Saturdays ACRYLIC and MIXED MEDIA COLLAGE CLASSES — Dot Marshall 2 SESSION TIMES 10am to 12.pm. Also 2pm to 4pm. dot@dotmarshall.com website www.dotmarshall.com 0409 921 838
SATURDAY Alt Saturdays, am Acrylic and mixed media classes with Chantalle Grummet, 0422 541 738.

ASA COMMITTEE
PRESIDENT ANNA NEWBEY 0411 633 015 - anewbey@bigpond.com
VICE PRESIDENT GEOFF REEVES 0473 589 178 geoffrhr@gmail.com
SECRETARY HELEN GORDON - 0439 679 000 helengordon19@yahoo.com.au
TREASURER VAL MEZGER - 0478 530 659 valmezger@hotmail.com
COMMITTEE
JANET GARDINER - 0447 778 334 janet1435@bigpond.com
MAUREEN SMITH - 0416 257 594 maureensmith52@gmail.com
IAN KALLAS - 0419519471 chrissyian@outlook.com
CLAUDIA WOELTJES - 0408537314 claudiawoeltjes@iinet.net.au
CHRISTINE ENGLAND - 0422954257