New Premises for the Art House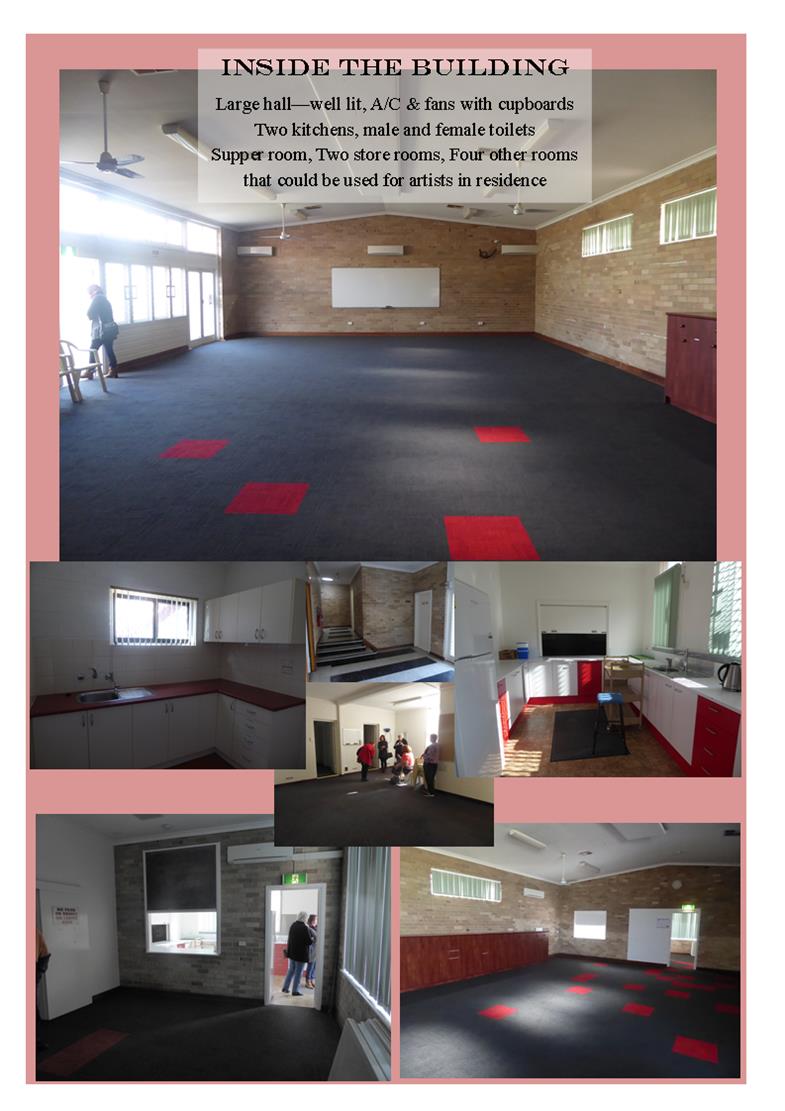 Word From the President...
Dear Members,
It has been an interesting past few weeks for ASA, by now you should all have read "Facts ASA Members Need to Know". If for some reason you didn't receive by email or post you can see a copy of this report on our Members Only Section of the ASA website. Details for access to our Members Only Section are on your Membership Card, you can also view the Minutes of our past two meetings as well.
Following on from our Monthly Meeting our Committee did view the old St Johns Ambulance building in Armadale. After careful consideration we decided to accept the offer to Rent these facilities as our new ASA - Art House and Gallery. Once the contract is signed we will organise an Open Day for our Members to view these premises. Our planned date for moving will be early October which is just prior to the October Annual Exhibition which will be held in the same grounds of Dale Cottages at the Greendale Centre.
It was heart warming to receive such strong support at our last Members Meeting in June, and consequently the many emails we received back to our Secretary and Myself with your positive comments. Their have been many dedicated Presidents, Committee and Volunteer Members that have helped to build the ASA over the past 30 years. This year we have welcomed many new Members you might say you have joined at the right time.
At our next Monthly Meeting on 5 July we will have our Roster for ASA Members to man City of Armadale's "Outside the Frame" year 12 students Exhibition of Artworks. The dates will be 11 to 19 August and the event will be held at the Piara Waters Pavilion.
Back in April we started the process of applying for a Community Grant with the City of Armadale we applied for $1000 to go towards purchase of Equipment. We are happy to report we were successful in our submission and ASA will be purchasing a replacement Printer, and Consumables. The current printer will go to the Art House.
"Opportunities don't happen
we must create them"
Trish Halloran


Thursday 5th July, 7:00pm at
Creyk Park Pavilion, Waltham Road, Armadale. Supper provided by the "Loose & Luscious Ladies"
Watercolourist Penny Madison will inspire us with ideas and hints to record our travels in a journal. She will bring examples of carrying brushes, paint and paper to suit our individual arty ways.
Our challenge topic this month is Character Portraiture.
Please bring along a picture in any medium or sketching style in a frame, or with mat.
The guest demonstrator will choose their favourite painting to win a prize!
Future Challenges:
August: Insects
September: Outback
Above: Lasr month's demonstrator Catherine Kelley demonstrating frame embellishment and repairs.
Tania Smith was chosen by Katherine Kelley as the winner of the "Birds" challenge at the June Monthly Meeting.
PLEASE NOTE:
Catherine Kelley, last month's demonstrator, would like to let you all know that she is away for the month of July.

Art House News
Changeover of Art at the Art House - Friday 6 July
We are changing over the Art at the Art House & Gallery on Friday 6 July, if you would like to display some of your art please drop your paintings in a couple of days before 4 and 5 July. If you have Art on display please collect, or you are welcome to change over with some fresh art. If you are displaying for a first time please ensure your paintings are ready for hanging. There are labels on the desk to fill out and list also in our register book. If you are a new member this is the perfect opportunity to hang some of your artwork and introduce yourself.
Printer for the Art House - Ones4Tech
Ones4Tech are ASA's preferred Technology Centre and look after our Printing needs. David Vardy has generously donated a Printer for the Art House and we thank him very much. For your convenience you are welcome to use the photocopier, however to help us cover the costs we are charging 20 cents a copy there is an honesty box near the Printer.

Armadale Hills Open Studio Arts Trail and Open Day
The Art House and Gallery have registered with City of Armadale to be part of this years Armadale Hills Open Studio Arts Trail planned for thee weekends in September 7-9, 14-16, and 21-23.
Please give some thought if you would like to be involved in this years AHOSAT, we will put an Event Sheet in the Shed you are welcome to add your name to the list. More details will be advised in July Newsletter.
During the Arts Trail we are holding an Open Day on Sunday 16 September. This Open Day gives ASA a chance to promote our classes and workshops to the Community. We are calling on ASA Teachers or Members who would like to help run demonstrations on different mediums, Oil, Pastel, Watercolour, Acrylic, Mixed Media and Drawing. Hopefully this will motivate some new students for our classes and workshops.
The Open Day will also include a market day. If any members would be interested in booking a market stall single or shared, you will find event sheet in the shed to write your names down. We will also have fun raffles, Devonshire teas and sausage sizzle.
Both these events will be promoted in the Spring into Armadale Festival guide and local papers.
Pipe Didgeridoo at the Art House!
King Toogarr was most impressed with the sounds coming from Jim Trapski's version of the pipe Didgeridoo!

Palette is in the Pop-Up-Shop...
Palette our teddy bear mascot to support Art Versus Depression is keeping everyone in the Pop-Up-Shop company, just waiting for donations to this worthy cause!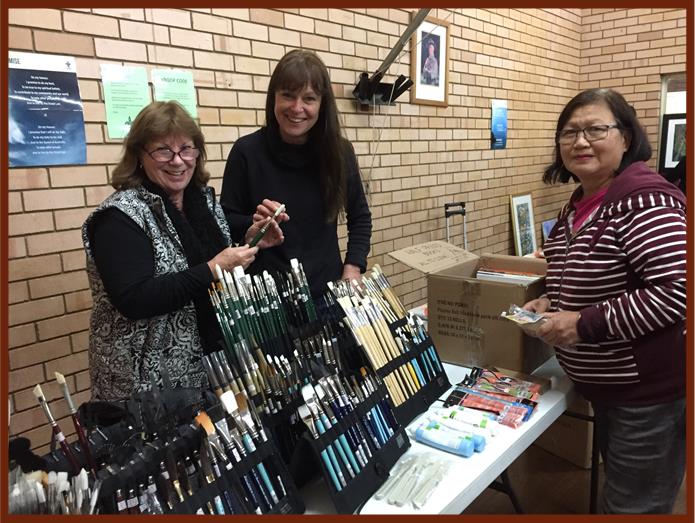 Deb Webber, Sandie Schroder & Airene Hutchens
Thank you Sandie…
Thanks to Sandie Schroder for coming to last month's meeting and bringing with her an assortment of well priced art supplies.
We appreciate the support & service that you and The Art Scene provide to the society.
City of Armadale Workshop
Some of our members contributed to this beautiful artwork on a table recently at the Greendale centre. Well done members who contributed.

Feature Artists for July... AT THE ART HOUSE
JENNY JACOBSEN
Jenny will be at the Art House on Thursday mornings and Saturdays in July.
I have been a member of the A.S.A. for many years. I started to come to the meetings as a visitor, thanks to Audrey Farley who introduced me to the society.
Before that I went to Liddelow Homestead to learn watercolours. There I met Pam White, Jude Scott, Yvonee Lane and many more. It was Jude Scott who advised me to join Pam Whites class.
ISABEL COLENUTT
I have been a member with the Art Society for the last 13 years, being introduced by Dot Marshall. For those of you who don't know me, I look after the Society's Facebook page.
I started my artistic journey, when my sister paid for me to go to a watercolour workshop, run by Karl Haapanal, for my birthday. It was the start of many years of enjoyable creativity.
I went from using the medium of watercolour to acrylics, pastels, and lastly textile/mixed media. Textile/mixed media is probably my medium of choice.
Apart from exhibiting with the society at our annual exhibition, I have had successful exhibitions at The York Mill in York, and The Zig Zag in Kalamunda with Irene Young and Christina Vebrugge. Also Genesis in the Hills with Jenny Jacobsen.
I am really looking forward to being one of the featured artsist alongside the other artists this month.
Isabel will be at the Art House every Saturday in July.

SANDRA REYNOLDS
I started painting at Art college in Manchester and have been
a member of A.S.A for 12 years.
My first love is Watercolour, but I also paint in Acrylics, pastels and oils.
Sandra will be at the Art House on each Wednesday and Saturday in July.
AFTERNOON TEA
Sunday 1st July
2:00pm till 4:00pm
Nibbles supplied
Please stop in and meet the artists!

What's on My Easel: Tania Smith
I've never shown my art to anyone other than family and friends, until the bird challenge at the June ASA meeting. And boy did I feel pretty special when Catherine Kelley selected my Ibis painting as the winner. Then to add to my excitement I was asked if I would like to be featured in the What's on My Easel section of next months newsletter. I'm usually a bit reserved about this sort of thing, but I was on such a high, how could I say no? And part of being an artist it putting yourself out there isn't it?
I've always loved painting and drawing among many other crafts, but keep finding things to distract me; work, family, gardening etc. (Sound familiar?) So I joined the ASA about 3 months ago as a way to keep myself motivated, and to meet other creative talented people to inspire me.
The inspiration for my works come from nature. I'll often find myself fascinated by little things like how bright red a kangaroo paw flower is when the light hits it just so, or how rain drops cling to the ends of the grass tree leaves. I find I'm happiest with the results I get from oil paints, but I also like soft pastels, and have an ongoing struggle with acrylic paint.
I usually paint in a representational style, and it always amazes me when I paint something and it looks (pretty much) like real life. I find when I paint realistically it makes me look at the wonderful patterns that the light makes on the water, or the shadows on the leaves. It's fantastic! But then I get so excited that I just want to paint a big abstract of that one tiny detail. So I've questioned if I want to keep painting realistically - a photo can do that? But what I see when I'm trying to create this illusion is both mesmerising and unexpected. It provides more inspiration. So I've decided to embrace both.
I've got 3 paintings on my easel at the moment, and that's probably because I've only got 3 easels. There are so many more half finished pieces stacked away. I'm good at starting – not so good at finishing. The big waterfall has been on the go for over a year. I'm proud to say I'm persevering and am determined to finish it. The other two paintings are Turquoise Bay. The abstract one is loosely based on the layout of the realistic piece and I'm using it to play around with some different techniques. It's not going so well at the moment. Anyway, I should probably get back to painting now and see if I can get some of these finished!
Thank you all for making me feel so welcome and for giving me this opportunity to share. I'm looking forward to meeting you all and being more involved with the ASA in the future. The work it does in the community makes me very proud to be a member.

Dot Marshall's Website News...
Hi everyone, just letting you know how our website is going. We have had many new additions of members displaying their paintings. If you want to get involved remember you can have your very own page with your profile, and as many paintings as you like at absolutely no cost to you. If you have your own website, Facebook page or Instagram, we can include a link to that. This is a very easy to navigate website so visitors are finding it good to hop on a browse the paintings and our artists. You can also find out about the latest workshops and classes and in the new "members only" section. You can access the minutes of both the general and the committee meetings so you are kept well up to date all the time. You can also access membership forms and entry forms. If you have an art related notice please let me know and I can post it on the latest news page. Just send me an email at dot@dotmarshall.com and I will do the rest. Big thank you to my daughter Claire Botman for developing this site for us, we are very lucky to have such a great interactive website, lets make the most of it. Dot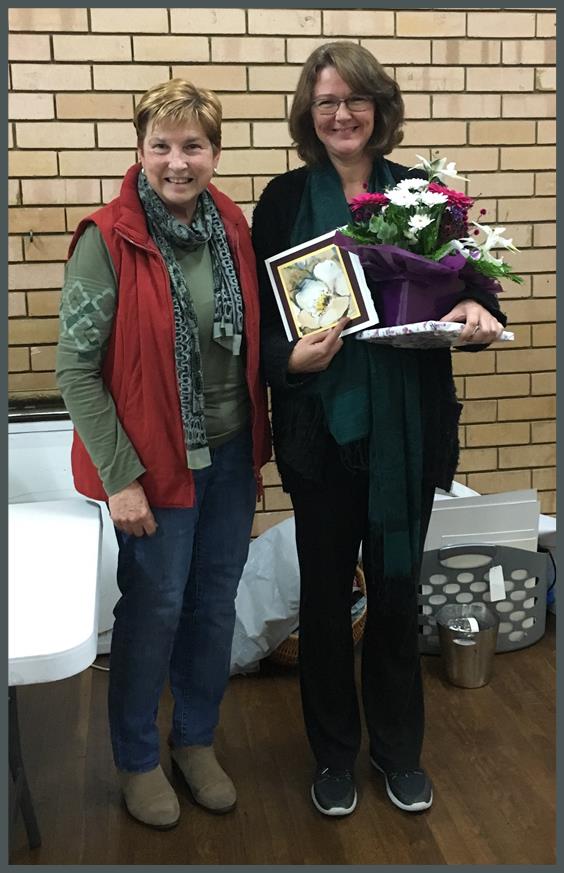 Left to right: Trish Halloran & Claire Botman with her acknowledgement gift for her valuable services & contributions to the Society's website development.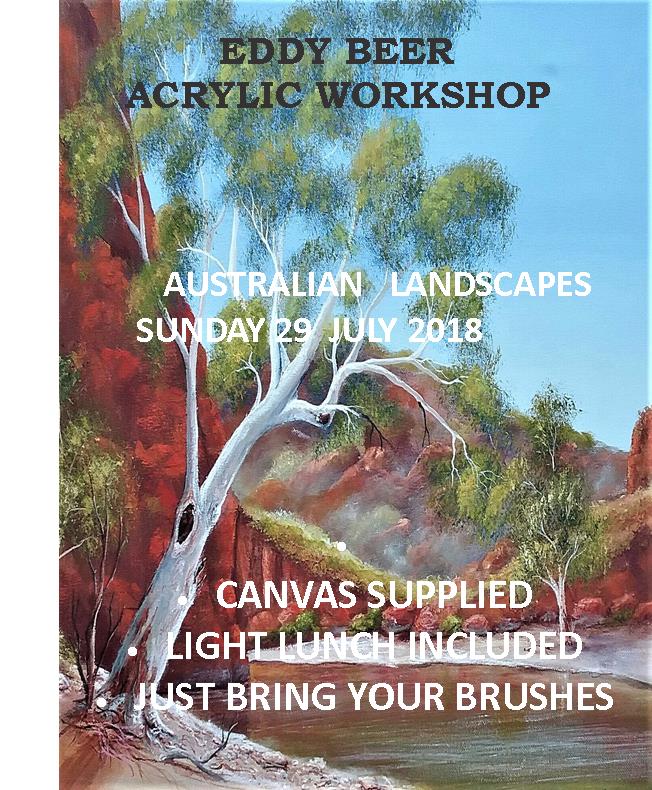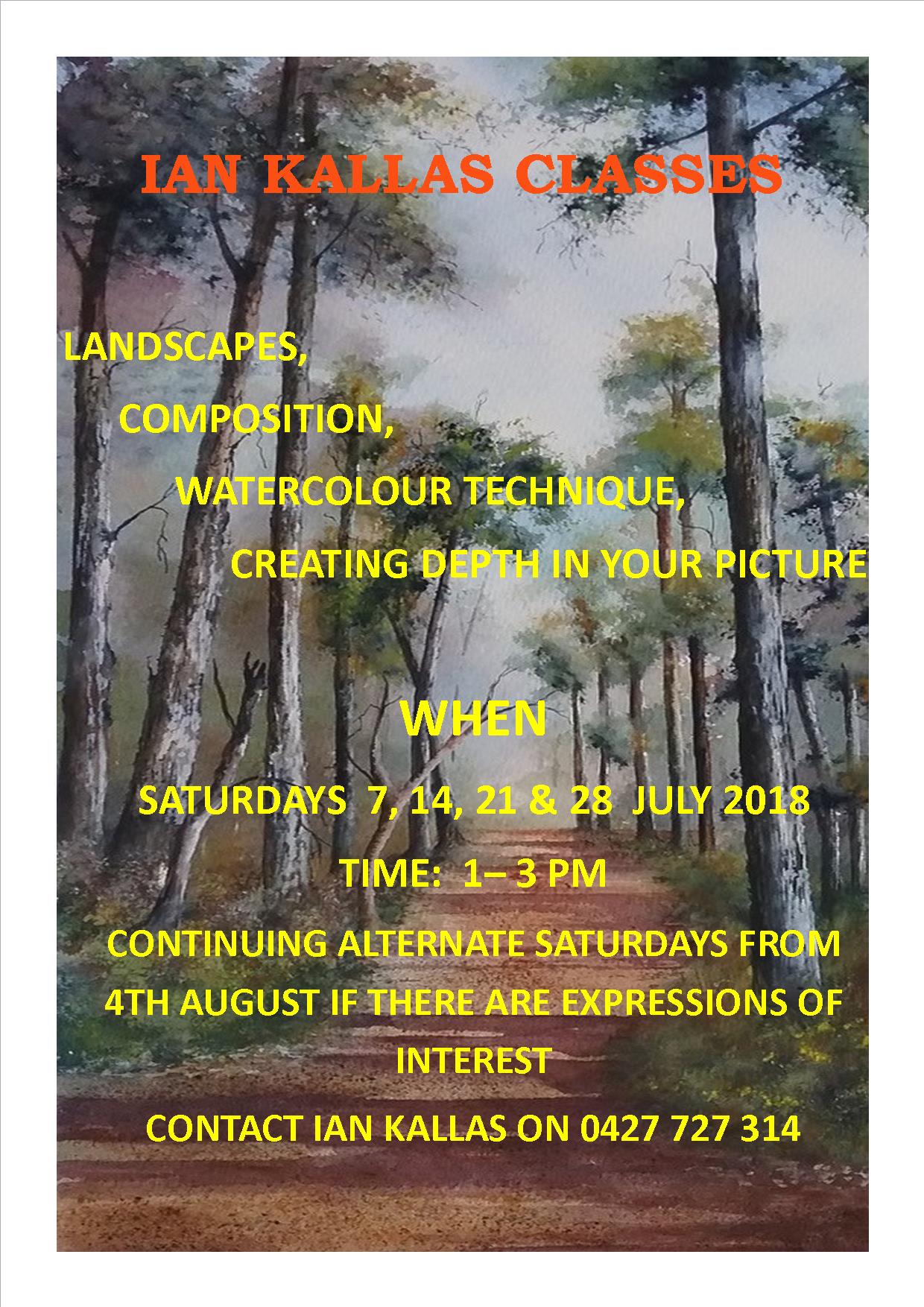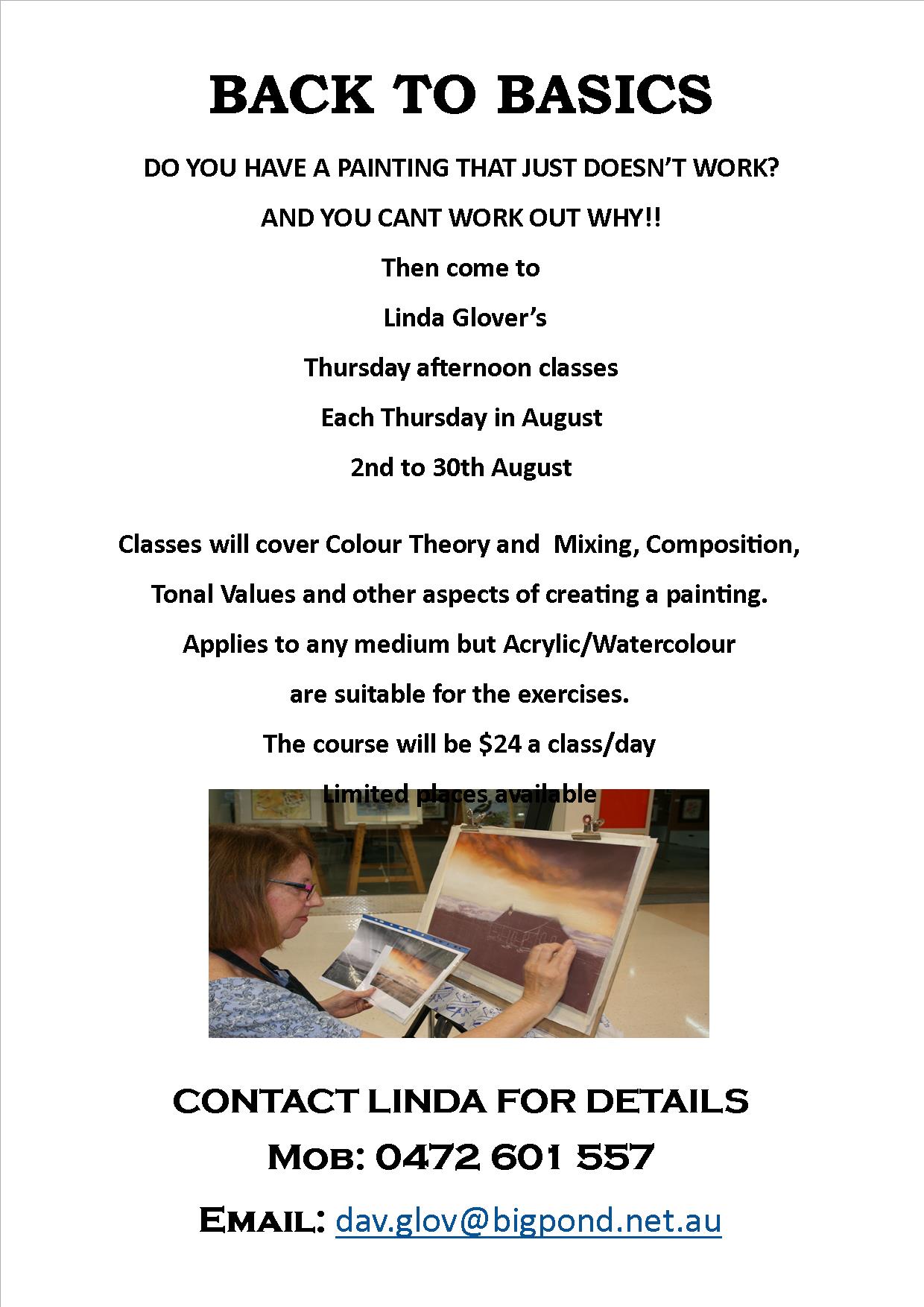 BACK TO BASICS
DO YOU HAVE A PAINTING THAT JUST DOESN'T WORK?AND YOU CANT WORK OUT WHY!!
Then come to Linda Glover's
Thursday afternoon classes
Each Thursday in August
2nd to 30th August
1pm to 3 pm
Classes will cover Colour Theory and Mixing, Composition,
Tonal Values and other aspects of creating a painting.
Applies to any medium but Acrylic/Watercolour
are suitable for the exercises.
The course will be $24 a class/day
Limited places available
CONTACT LINDA FOR DETAILS
Mob: 0472 601 557
Email: dav.glov@bigpond.net.au