February, March 2017 Newsletter
NEWSLETTER February / March 2017
ARMADALE SOCIETY OF ARTISTS (inc)
Email : enquiries@armadalesocietyofartists.com.au
www.armadalesocietyofartists.com.au
Hi Everyone,
I hope you are all having fun creating works of art for the upcoming Shopping Centre Art Exhibition which is fast approaching. We are looking forward to having an Exhibition once again at a Shopping Centre, which in the past has been very successful with a lot of impulse buying from shoppers. I'm sure it will all come together nicely with members being involved on rosters as well as their artwork being on display.
Don't forget Dot's workshop in March on pouring, layering and wipeback. Dot's workshops are always very popular so get in quick. Eddie Beer is also doing a workshop in April, so keep an eye out for that one.
I would like to say a special Thankyou to the "Loose and Luscious girls" who have taken on the "supper duties" at the monthly meetings. The last meeting was celebrated with Valentine's Day in mind with lovely chocolates and cupcakes etc being served. We were all very spoilt. Apparently next month there is something "green" going on? I can't wait for that one!
Don't forget to pay your membership fees if you intend to exhibit in the Shopping Centre Exhibition, these are now due, and can be paid at the members meeting or to Val Mezger (treasurer).
I would also like to thank Jane Ettiene, who has decided to retire from Resident Artist at the Art House. Jane has always had a large input in the running of the Art House as well as the Society, and we hope she continues to be involved with events and things happening within the Society. David and Sandy are still at the Art House and are happy to welcome you and the public to the House.
So, see you all at the next members meeting on 2nd March, where entries for the Exhibition can be entered.
Happy painting Anna (president) 0411633015
NEXT MEETING
The next meeting will be Thursday 2nd MARCH
at 7:00pm at the
Creyk Park Pavilion, Waltham Rd, Armadale .
THE DEMONSTRATOR AT THIS MEETING WILL BE
JUDE SCOTT
She will bring along some of her oil paintings and explain the techniques and processes behind them. Jude is also going to demo different ways of applying oils, talk about how to get the best from your efforts regardless of the medium. This will be followed by a demonstration painting.
Jude is an award winning artist who was born in Perth. Her art education began with studying ceramics for four years at Technical Colleges in Sydney and Perth and she worked as a potter for several years. Basically a self-taught artist, Jude has studied painting in oils, watercolour and drawing with professional tutors and artists in Western Australia, New South Wales and China.
After many years of painting, she now specializes in Watercolour, drawn to the medium because of the diverse nature of Watercolour. Being an avid traveller Jude finds watercolour the perfect medium to pack into her suitcase. "Watercolour is such a beautiful medium to use, it can be bold or delicate, opaque or transparent, a medium that can also produce exquisite textures that never fail to fascinate me. I always seek to paint with emotion in my work and I find inspiration from a very diverse range of subjects and always love a fresh challenge. Favourite subjects I love to paint are serene landscapes, vibrant florals and to fascinating faces, these always hold enormous appeal for me, "says Jude.
Jude is a popular demonstrator, a teacher of regular classes at Atwell Gallery, Alfred Cove Perth as well as from her own studio and runs workshops on demand throughout the year in city and rural Western Australia .
WEARING OF THE GREEN
To celebrate St. Patrick's Day at our next meeting on 2nd March the Loose and Luscious Ladies will provide a special surprise supper.
Subjects for meetings, bring a painting and you could win a prize
March – Ice and Snow April - Kimberleys May – Animals and birds June – Anatomy July – Cosmic
ART ITEMS AND EQUIPMENT
FOR SALE
Canvases for sale at the art house at very reasonable prices, wide selection of sizes, good quality.
Mattboard and foamcore always available at the art house at a very low price of $12 each
.MAUREEN SMITH has a junior tracer artograph projector, made in U.S.A. It projects from 9cm to 10 times the size. Ideal for larger scale work, wall murals, signs etc. Its 240 volts .and never used. $100.
Please contact Maureen email maureensmith52@gmail.com
Phone 0416 257 594
" The Pastel Journal."2013 , 2014, 2015 ( 6 issues per 12 months) Complete. $12.00 per year.
Koo-i-Noor Watercolours. 4 discs with 6 pan colours in each discs. Great for starting off! Barely used. $8.50.
Picture frame. Black with Gold insert. Glass and Mount included. 54 – 46 cm $10.00
Large Hard cover book." Impressionist Women" by E. L. Smith. $6.00
CONTACT CHRISTINA VERBRUGGE <christijo@westnet.com.au>
DATES FOR YOUR DIARY
MEETING
2nd March Thursday 7pm
DOT'S WORKSHOP
12th and 19th March
EDDIE'S WORKSHOP
1st and 2nd April
SHOPPING CENTRE EXHIBITION
ENTRIES IN, 2nd March
DELIVERY OF PAINTINGS Wed 15th March
EXHIBITION DATES 15th TO 26th
PICK UP UNSOLD PAINTINGS Sun 26th March
An Exhibition by
Leesa Padget
'The Absurd Parade of the Strangely Whimsical'
At the Zig Zag Gallery
Kalamunda
Beginning of March and runs for 2 weeks
INTRODUCING A NEW CLASS AT THE ART HOUSE
Mixed media with Geraldine Gustavino. She will be starting soon every alternate Saturday between 10 and 12 cost $23 per session.
You can see her work on her facebook page
More information on the notice board at the art house
https://www.facebook.com/GeraldineGustavinoArt/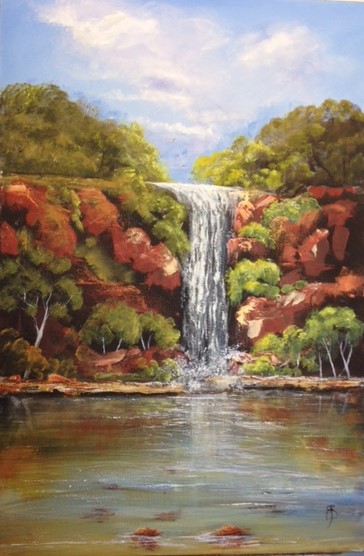 ACRYLIC AUSTRALIAN LANDSCAPE WORKSHOP
With
EDWARD J BEER
1st and 2nd April
All you need are your paints and brushes. Reference material, canvas and light lunch provided
COST for 2 days inclusive $100
Space is limited so please make sure you add your name to the list in the Art House Shed or email Eddie at hetsij@yahoo.com.au
WORKSHOP 2 DAYS
POURING, LAYERING & WIPEBACK
$120 for 2 days which includes all paints and
mediums (not canvases)
Sunday 12th and Sunday 19th March 2017
At The Art House & Gallery, 63 Railway Av., Kelmscott.
If you want to try painting with acrylics but don't have acrylic paints, this is the workshop for you, come and use my paints and mediums
No need to buy before you try. I'm sure you will enjoy the experience and you will be going home with at least 2 lovely finished paintings. The pictures above were painted using these techniques
Both days run from 10am to 3pm or a little later.
You will need to bring the following :-
2 - 16"x20" stretched canvases that have had 1 coat of Gesso
2 - small canvases, if you wish to just play as well, with a coat of gesso
1" flat acrylic brush,
2" soft hake brush for blending
Rigger brush
Bring along the brushes you normally use
Spray bottle
Dot Marshall Artist
Mob: 0409 921 838 www.dotmarshall.com Email: dot@dotmarshall.com
Armadale Home Help Sale of Work
We have been given space on a wall in the newly renovated day care room of the Armadale Home Help Centre at 4 Talus Drive, Mount Richon to exhibit and sell art work. This project will be under trial for a period of 3 months to see if the art work sells.
Sandy Spindler (0414361321) and Lynda Everitt (0401943125) have agreed to be the coordinators. They will liaise between the centre and the society. If you have any queries please contact them.
There have already been sales so if you are interested there is a box in the Art House for you to drop off work, no large paintings please, and keep the
prices to a minimum
FACEBOOK PAGE
ARMADALE SOCIETY OF ARTISTS INC
Come on, how about sharing some of your latest masterpieces with us on our facebook page for everyone to see. We have a very good following, everyone is interested in how their peers are going, a few pics of different stages of your painting would be good as well.
SHARE AND CARE
Isabel Colenutt is doing a grand job posting things of interest but she would like some input from you as well.
Classes at the Art House
MONDAY - NEAMI GROUP FROM 10AM TO 1PM
MONDAY - Pastel artists group. contact Hazel Moore hazdes@bigpond.net.au 1pm to 4pm
TUESDAYS 10am to 2pm Portraits in oils classes—Carol Joy 0427749085
WEDNESDAY am informal group, Contact Sandra Reynolds 0414 410 137 from 9.30 to 12
WEDNESDAY pm oil painting classes contact Val 0478 530 659 from 1pm to 4 pm
WEDNESDAY evening informal group, Contact Val 0478 530 659 from 6.30 to 9
THURSDAY 9.30 to 2.30 Watercolours fortnightly with Deb Weber 0434059316 $30 byo
THURSDAY 9.30am to 12.30 Thursday 2nd February and then every second Thursday 9.30 a.m. - 12.30 p.m. $15 per session. Supply own materials. With Megan Obrien 0409 293127
FRIDAY (AM) NEW GROUP, informal group - from 10 am to 12. contact Val 0478 530 659
FRIDAY AM DRAWING CLASS 10am to 12 with David Box 0488 392 931
FRIDAY PM DRAWING CLASS pm Chantelle 0422541738.
SATURDAYS Alt Saturdays ACRYLIC and MIXED MEDIA COLLAGE CLASSES Dot Marshall 10am to 12.30.pm. $15 dot@dotmarshall.com website www.dotmarshall.com 0409 921 838
GO TO OUR WEBSITE FOR MORE INFORMATION ON WORKSHOPS, CLASSES AND GROUPS.
www.armadalesocietyofartists.com.au
FEATURE ARTIST
For March2017
Will be
EDDIE BEER
The following months are available for feature artist, please contact Anna on 0411 633 015
July, August, Oct, Nov, Dec.
The feature artist will be able to display their work in the entrance area of the art house, they will be responsible for hanging and labelling their own work. They can demonstrate in the area
designated, we would like the feature artist to be at the arthouse (hopefully painting) as much as
possible, especially on Friday and Saturday
We are in need of old clean towels for the shed at the art house to use on the tables during classes and workshops so please bring them to us.
Suggestion Box
At the Art House . You can put your name to
suggestion or remain anonymous . Suggestions will be discussed
at committee meeting . We are always looking for ways to
improve the Art House and Society.
----------------------------------------------
Received this lovely letter from Dr Tony Buti MLA Member for Armadale on our nomination for Citizen of the year (group). Tony is very supportive of ASA and is a sponsor of our Annual Exhibition. Many thanks Tony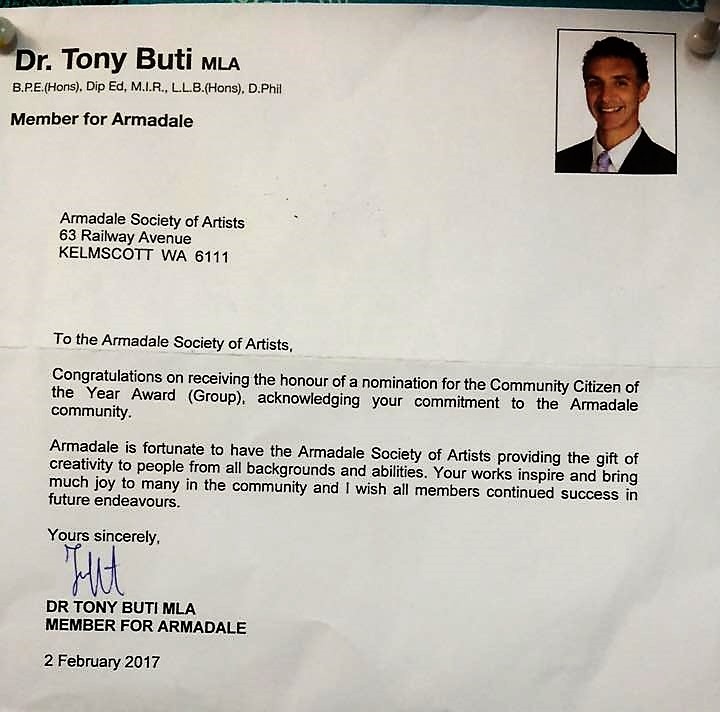 BIG THANKS TO
Janet Gardiner and Val Mezger who have taken on the task of cleaning the art house on Wednesdays, but please, this doesn't mean that you will not have to clear up after your groups or classes. Make sure everything is left in a clean and tidy state and make sure the dishes are washed and put away...thanks.
MEMBERSHIP RENEWAL DUE
Just a reminder that your annual membership fees are due. They can be paid at the next meeting or at the Art House. Just remember if your membership is not paid you cannot take part in any of our exhibitions, hang your work in the Gallery, get the monthly newsletter, art discounts at many of the art suppliers.
ASA COMMITTEE 2017
PRESIDENT ANNA NEWBEY 0411 633 015 - anewbey@bigpond.com
VICE PRESIDENT MAUREEN SMITH maureensmith52@gmail.com. 0416257594
SECRETARY HELEN GORDON - 0439 679 000
TREASURER VAL MEZGER - 0478 530 659 valmezger@hotmail.com
COMMITTEE
JANET GARDINER - 0447 778 334 janet1435@bigpond.com
IAN KALLAS - 0427 727 314 chrissyian@outlook.com
SANDRA SPINDLER - 0414 361 321
EDDIE BEER - 0433 367 132