August/September newsletter
NEWSLETTER August/ September 2016
ARMADALE SOCIETY OF ARTISTS (inc)
Email : enquiries@armadalesocietyofartists.com.au
Hi Everyone,
I dont know where that month went, but we are here again with another newsletter.Soon it will be Christmas!) Please find enclosed the entry forms for our Annual Art Exhibition, due at the October meeting or before. As most of you are aware now, we received a wonderful grant from the City of Armadale so the exhibition will have some lovely additions including music, catering and an MC, as well as involving a few community groups to help and enjoy the Exhibition.
We are now also asking for donations for our Christmas raffle. These can be left at the Art House in the kitchen or bought to the meetings. Also donations of paintings for the raffle at the Exhibition. These can also be left at the Art House.
The Art Trail is also starting on the 8th September and we have 21 of our members involved at the Art House as well as members who have their own studios showing their work and creative working areas. For those who are not involved, please support these members, its a lovely way to enjoy the weekend.
Lastly, I would like to say a huge thank you to those who volunteered for the Outside The Frame Exhibition, especially to Christine England who did countless rosters. We are paid very well by the City of Armadale to man this event and is an easy fundraiser that everyone can participate in.
Once again, I hope to see you at the next Meeting which is on the 1st of September.
Happy creating, Anna (president) 0411633015
NEXT MEETING
The next meeting will be Thursday 1st September at 7:00pm
Creyk Park Pavilion, Waltham Rd, Armadale .
THE DEMONSTRATOR AT THIS MEETING WILL BE
BEBA HALL from Oxlades She'll be demonstrating in Inks and using Acrylic as Watercolour She will also bring along products for members to try- sounds great. Her work is really interesting and can be seen on her website at www.bebahallartist.com
BEBA'S QUOTE FROM HER WEBSITE
"The essence of my artwork lies in metaphor with imagery depicting stories and memories of my childhood. These stories are layered with mythology and dreams. Stories told to me as a child growing up in a multi-cultural environment of mixed nationalities, religious beliefs and cultural traditions.
I love to work in a range of mixed media including textiles, paint mediums and found objects. My use of pattern, creating rich textures and colour is influenced by the beauty of my mother's embroidery. These patterns are often intergrated into my paintings as symbols connecting us in my own art practice. Inspiration for my works comes from nature, my journey as a woman, a mother and the magic of people constantly flowing into my life.
The image of a young girl that I often use in my artwork is based on a doll that I received as a birthday present when I was eight or nine years old. I still have her. She is a symbol of my hope, fears and desire. She holds the memories of my childhood, the stories I share with my children and the words of my paintings."
Subjects for meetings, bring a painting and you could win a Jackson's voucher
September - Storm ………...October - Fire
November - Glass reflection/refraction
December - Celebration
ART ITEMS AND EQUIPMENT FOR SALE
Logan model 303, 70 cm long rule Matt cutter, with lots of unopened spare blades ,with value of over $30 . As new cond. $100 the lot ,ono.
Maureen Smith 0416257594
NOTE: THIS IS A NEW SECTION FOR THE NEWSLETTER, A FREE SERVICE, YOU CAN PUT IN ANYTHING ART RELATED AND ITS FREE, PLEASE EMAIL DOT dot@dotmarshall.com
DATES FOR YOUR DIARY
MEETING
1st September Thursday 7pm
TAKE DOWN PAINTINGS AT ART HOUSE
Tuesday 6th September
OPEN STUDIO ART TRAIL
EVENT DATES 8th to 11th Sept and 15th to 18th Sept
REHANG GALLERY
Thursday 22nd September
ENTRIES DUE FOR ANNUAL EXHIBITION
THURSDAY 6TH October (meeting night)
LEESA PADGET'S WORKSHOP
2nd October 2016
ANNUAL EXHIB
28th 29th 30th Oct
ART CAMP
Sunday 6th Nov -Friday 12 th Nov,
Small paintings for the Annual Exhibition Catalogues.
WE HAVE HAD A FEW BEAUTIFUL SMALL MASTERPIECES HANDED IN BUT WE STILL NEED MORE, Thank you to all of you who have brought yours in.
Watercolour paper is available, cut to the correct size, at the next meeting also at the Art House in the shed.
Just to explain to our newer members, we sell catalogues at our annual exhibition to raise funds to help toward the cost of putting on this event, and as we do not have commission on the sale of your work we ask that you do at least 4 paintings each on watercolour paper or canvas that we then fix to the front of the catalogue, this not only promotes your art work but raises a significant amount toward the expense. The size must be 15cm x 13cm . You can drop them off at the Art House or bring along to any of the meetings. THANK YOU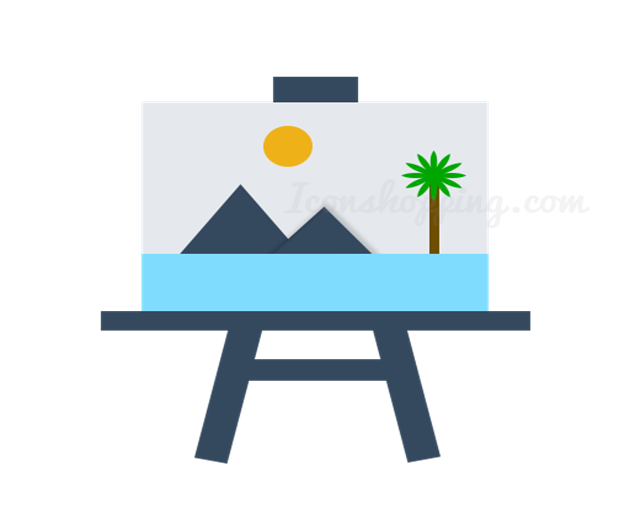 FOR SALE AT THE ART HOUSE
There are a great selection of new canvases for sale at the Art House at very reasonable prices. Stock is being topped up all the time Also Mattboard and Foamcore at only $10 each
outside the frame Art wards .
A big thank you must be extended to Maureen Smith who has worked tirelessly to organise the roster, not an easy task, but as ever she has done a marvellous job, also has done a lot of the duty herself, also big thanks to everyone who helped, some of them did more than their fair share. It was a wonderful display of work from incredibly talented high school students.
Welcome to a fascinating world of creative discovery on the Armadale Hills Open Studio Art Trail.
Our local artists are opening up their private studios to the public for an intimate view of their inspiring creative processes. On the arts trail you will discover an extraordinary array of beautiful paintings, watercolours, pastels, textiles, couture, ceramics and stoneware, steel sculptures, fine wood turning, Bibbullmum art, photography and brilliant bear making. Our artists look forward to your patronage and we wish you a happy trail through our much-loved Armadale arts community.
10am-4pm, Thursdays to Sundays, 8th-11th and 15th-18th September 2016
OUR VERY OWN ART HOUSE AND GALLERY WILL BE ONE OF THE STUDIOS AND WE WILL HAVE OUR PARTICIPATING ARTISTS
DISPLAYING THEIR WORK AND DEMONSTRATING. THERE WILL ALSO BE SOME HANDS ON ACTIVITIES FOR ADULTS AND CHILDREN.
MEMBERS THAT ARE TAKING PART ARE
Eddie Beer, Sandy Spindler, Geoff Reeves, Linda Glover, Deb Weber (and group),
Peta Gallagher, Helen Cockburn, Pam White, Ian Kallas, Cheryle Shewan,
Maureen Smith, Dot Marshall, Megan Obrien, Chantalle Grummit, Val Mezger,
Anna Newbey, Airene Hutchins, Jenny Herbert
Also our resident artists, Jane Etienne, David Box, Sandy Robertson, Christine England.
Invitation: from Trish Halleran 2nd Thursday 15 September during the Armadale Hills Open Studio, the Perth Plein Air Painters will be having their usual weekly Paint Out at 6 Notting Hill Drive, Roleystone starting 9.30 to 12.30pm. If any ASA Plein Air Painters would like to join in they would be welcome. We would need an RSVP as a BBQ lunch will be provided, vegetarians byo. Ring Trish 0417 042901.
CHANTALLE GRUMMIT'S CLASSES
Chantalle will no longer be teaching alternate Saturdays but would like to run an informal painting (or drawing) group for anyone who would like to come along, you can ring Chantalle on 0422541738. for more information or just turn up, the first group will start on 1st October as the Art Studio Trail will be on for the weekends in middle of September.
Chantalle will still be having a class on Saturday 3rd September but that will be the last one. She is still running her drawing classes on the Fridays as usual.
CLASSES AND WORKSHOPS
There are a number of vacancies for people to run classes and workshops at the Art House, these are always very well attended and an important part of our society, If you would like to have workshops or weekly (or fortnightly) classes please contact Jane Etienne on 0419 371 195
Or you may know an artist who may be interested, perhaps not at present a member of the society, or one of our very talented members who's work you like and would like to learn their techniques, why not ask them to do a workshop at the Art House.
QUICK TIP FOR ACRYLIC PAINTING
Don't make the common mistake of using too little paint and too much water. If you are blending this works a lot better if you are not too mean with the paint, use a medium like a flow medium or clear painting medium and just enough water to damp your brush.
If you forget to clean your brush at the end of your session and the paint dries on the brush, soak it in Windex then rinse thoroughly, it should bring it back to almost new, you can also use Windex on clothes so long as the paint isn't days old.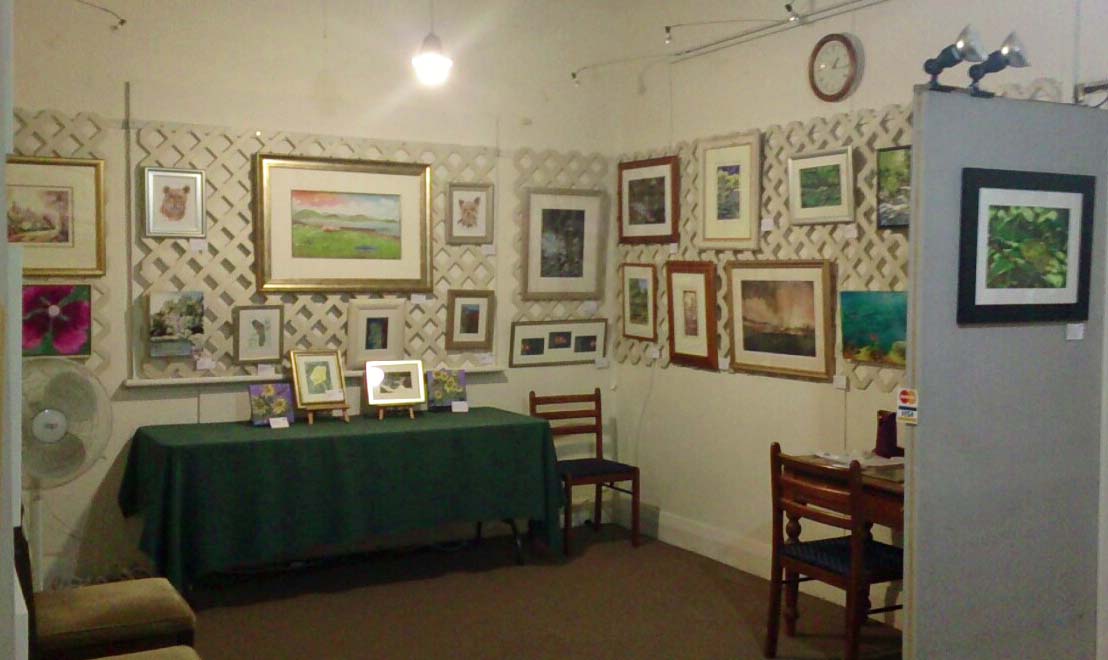 The Art House and Gallery 63 Railway Ave, Kelmscott
Open: Friday & Saturday, 10am—3pm and during classes
Classes and Workshops at the Art House
MONDAY - NEAMI GROUP from 11am to 2pm
MONDAY - Pastel artists group. contact Hazel Moore hazdes@bigpond.net.au
TUESDAYS 10am to 2pm Portraits in oils classes—Carol Joy 0427749085
WEDNESDAY am informal group, Contact Sandra Reynolds 0414 410 137
WEDNESDAY pm oil painting classes contact Val 0478 530 659
WEDNESDAY evening informal group, Contact Val 0478 530 659
THURSDAY 9.30 to 2.30 Watercolours fortnightly with Deb Weber 0434059316
FRIDAY (AM) NEW GROUP, informal group - contact Val 0478 530 659
FRIDAY AM DRAWING CLASS 10am to 12 with David Box 0488 392 931
FRIDAY PM DRAWING CLASS pm Chantelle 0422541738.
SATURDAYS Alt Saturdays ACRYLIC and MIXED MEDIA COLLAGE CLASSES Dot Marshall 10am to 12.pm. dot@dotmarshall.com website www.dotmarshall.com 0409 921 838 (note a change of times, there will be no afternoon group)
SATURDAY Alt Saturdays, am NEW A Saturday morning where painters can come and bring projects and get each others advice. Critiqueing, technical support and hanging out painting. Any painting medium. From 10 till 12 for $3 bring your own stuff.
GO TO OUR WEBSITE FOR MORE INFORMATION ON WORKSHOPS, CLASSES AND GROUPS.
www.armadalesocietyofartists.com.au
ANNUAL ART CAMP
Its coming up that time of year when we go on our Annual Art camp, it will be at Banksia Springs ,Dwellingup situated in the beautiful grounds, We stayed here last year and it was enjoyed by everyone so we booked again, Sunday 6th Nov -Friday 12 th Nov, the cost is $50 per bed , dinner cost is $15 per night if you want that, its up to you, we had beautiful dinners last time suppled from the Blue Wren cafe. Total cost for 5 nights with dinner $325, minus dinner $250. Access on Sunday is 5pm and Friday we can stay as long as we want. Please call me if your going, Thanks Sandra Reynolds mob 0414410137
Donations for Christmas Raffle
We are now collecting goodies for the Christmas hampers, raffled off at our December meeting, we usually have at least 10 hampers to raffle at the meeting and have great fun and raise a little towards funds. The collection point is at the art house in the library area. Please be generous, preferably Christmas fare, and check the use by date we have to dispose of anything that is past the date.
Donations for paintings for Exhibition
We would like at least 6 good paintings to be donated for the Annual Exhibition Raffles, we remind you that you are not charged commission on any sales so we need to raise funds toward the cost of putting on this event for you. Its also a very good way to show your work as people usually ask to see more of the donating artists work.
Re-hanging of Art House Gallery
The Gallery will be taken down on Tuesday 6th September ready for the Art Studio Trail, so please collect any you have displayed there before that date, any that are left will be carefully stored. We will rehang the gallery after the Art Studio Trail has finished, probably on Thursday 22nd September (tbc) so deliver your paintings you would like displayed after Monday 19th Sept and before 22nd Sept please.
THE ART HOUSE AND GALLERY OPENING HOURS
Always open on Friday and Saturday 10am to 3pm
And of course when there are groups and classes Call in and see the resident artists and feature artist of the month. Sit around the table and have a cuppa and a chat.
Call for artists
The Warehouse Gallery is now seeking expressions of interest for its October 2016 exhibition.

The Warehouse Gallery is a community art project and is an inclusive gallery space. The Warehouse Gallery seeks to support and provide opportunities for people experiencing social or economic disadvantage to develop their arts practice, learn new skills and facilitate social inclusion.

Artists are invited to submit one or several pieces to exhibit. Pieces will be offered for sale with proceeds going back to the artist.

The exhibition runs from 21 October to 18 November 2016.

Artist proposals are due Friday 30 September 2016. Please complete the Artist Submission Form and return to warehouse.gallery@unitingcarewest.org.au
FEATURED ARTIST AT THE ART HOUSE
The feature artists for September will be RUBY ELLEN
The calendar is filled for this year, but you can put your name down on a list in case of cancellations. Contact Jane Etienne 0419 371 195
This has proved to be a very popular idea, an ideal opportunity to have your very own mini exhibition completely free.
WORKSHOP WITH LEESA PADGET
Yes it's the long awaited Leesa Padget workshop. Details as follows, it promises to be a wonderful day as usual and a lot of fun and laughs.
2nd October 2016
Compendium of Secrets
Calling all Mixed Media Scientists! How many times have you tried something in an artwork and can't remember how to repeat it? We've all been there :)
Join me as we make our own little (or large!) 'Compendium of Secrets'. Together we will make a Mixed Media 'recipe book'. We will do a hardcover/hardpage board book with a selection of recipes and ideas for textures (I will let you in on some of my favs). The book will be made up of experiments in hard surfaces and also on different papers. We'll experiment with colour, stencils and texture... we'll make rusty patinas and creative collages. We will also try some surfaces that you might never have used before. At the end of the workshop we'll bind our books into our own 'Compendium of Secrets' that you will have to refer back to (or just enjoy looking at) for years to come.
The cost is $55 per scientist, most materials supplied (a full list of supplies will be emailed on booking) If Leesa is booked up for this date she may do another so don't put it off ring her now.
Contact Leesa on email .. leesa.padget.lp@gmail.com Or phone …0413 243 186
http://leesapadget.blogspot.com.au
ART HOUSE & GALLERY NEWS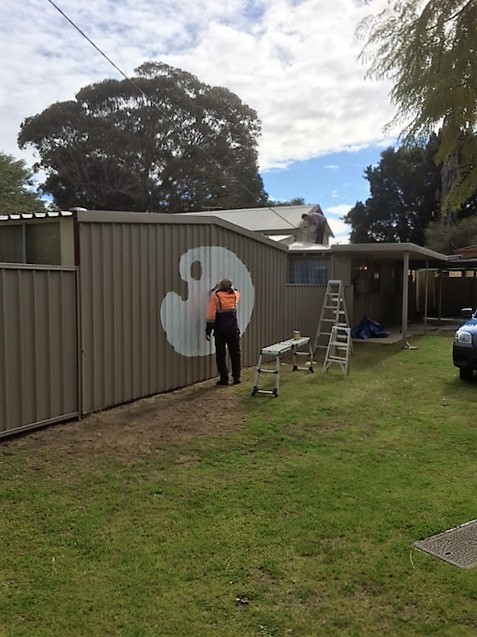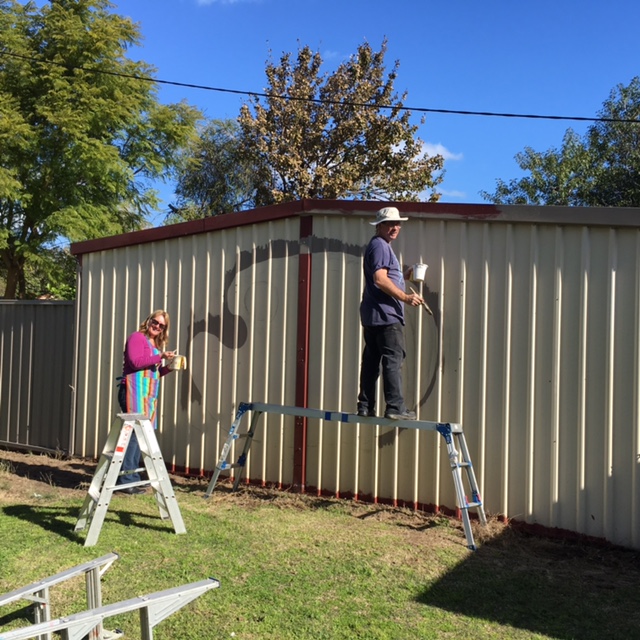 Wow!!! things are happening at the Art House
It was decided to repaint the outside of the art house as it hadn't had a facelift for many years, so no sooner was it decided, it was done, here is a picture of Alan and Anna Newbey busy painting. It now looks marvellous painted a very tasteful but trendy colour with a big palette on the wall of the shed which stands out for all to see that we are all about ART !!!
Alan did a bit more work on the front above the car port while Eddie an Sandy finished off the Palette. The seating area outside the shed has also been painted and 4 big murals are in the process of being created to brighten up the seating area. These are being painted by Geoff Reeves, Jane Etienne, Dot Marshall and Eddie Beer.
Also thanks to David, Jane and Dot we now have a coloured pencil gate!! Thanks to everyone involved, our Art House is now even more magnificent. Please come and have a look.
until the next time ...............