Armadale Society of Artists
WE HAVE A NEW HOME
4 Hobbs Drive
(Corner of Coombe Ave) Armadale, 6112
Phone: 0455 552 842
Word From the President...
A chapter has come to an end for ASA now that we are moving out of the Art House and Gallery, Kelmscott. I guess we all knew it was going to happen one day but that day has now arrived. We are on the move to our new premises at 4 Hobbs Drive Armadale. (the Old St Johns Ambulance Building)
The Art House over the years holds many memories for our members and past Presidents and Committee's. It has provided us the opportunity to run our classes and workshops, show our art and hold many get togethers on special occasions. So let's take a minute to remember all the good times and the people who have made the last 10 years happen for ASA.
The opportunity to have a Society home does not just happen everyday. We were given an incredible opportunity for an Art Group like us to have a building to call our own. MRA provided ASA with this building and our contact over the years has been Patrick Ward and his staff. They have provided the ASA with the support on any issues that have arisen and made sure they were taken care of. So we want to say thank you so much.
Our move to the new building went well over the weekend of the 13th October with the packing up of the old Art House and the help we received from our members with trailers and generous spirit going back and forth. Still lots to do but MRA have extended some time for us to continue on finalizing our move without rushing.
Our Leon Holmes Workshop held Sunday 7 October at Araluen Gardens was a successful day for all who attended, the weather was kind and the lunch was yummy. Leon gave a great demonstration and a introduction to Plein Air Painting. We would love to see more of Leon workshops in the future, he has offered to conduct a three day workshop for those interested in the new Year.
Good luck to you all our Members entering this years Annual Art Exhibition here hoping for a successful weekend and that we get lots of visitors.
"Onwards and upwards" Trish Halloran
WEDNESDAY'S INFORMAL ART GROUP 17th OCT 2018
GOODBYE THE ART HOUSE
LEON HOLMES WORKSHOP
DATES FOR YOUR DIARY…
25th Oct deliver entries for exhibition
¨ 26th to 28th October Annual Exhibition
1st November first monthly meeting at our new art house
¨
¨ 8th Nov Greendale Cent. open day
¨ 9th December Christmas lunch

Thursday 1st November 7:00pm at
4 Hobbs Drive (Corner of Coombe Avenue) Armadale, Supper provided by the "Loose & Luscious Ladies"
*** Note its in the new building, not Creyk Park
OUR DEMONSTRATOR for November is
JULIE FEARNS - PHEASANT
JULIE AND ALICE
Julie Fearns-Pheasant, figurative artist/illustrator and educator, takes us on a digital voyage of discovery, showing how she developed Alice's whimsical journey through the rabbit hole.
Our challenge topic this month is Still Life
Please bring along a picture in any medium or sketching style in a frame, or with mat.
The guest demonstrator will choose their favourite painting to win a prize!
Future Challenges:
December: Celebration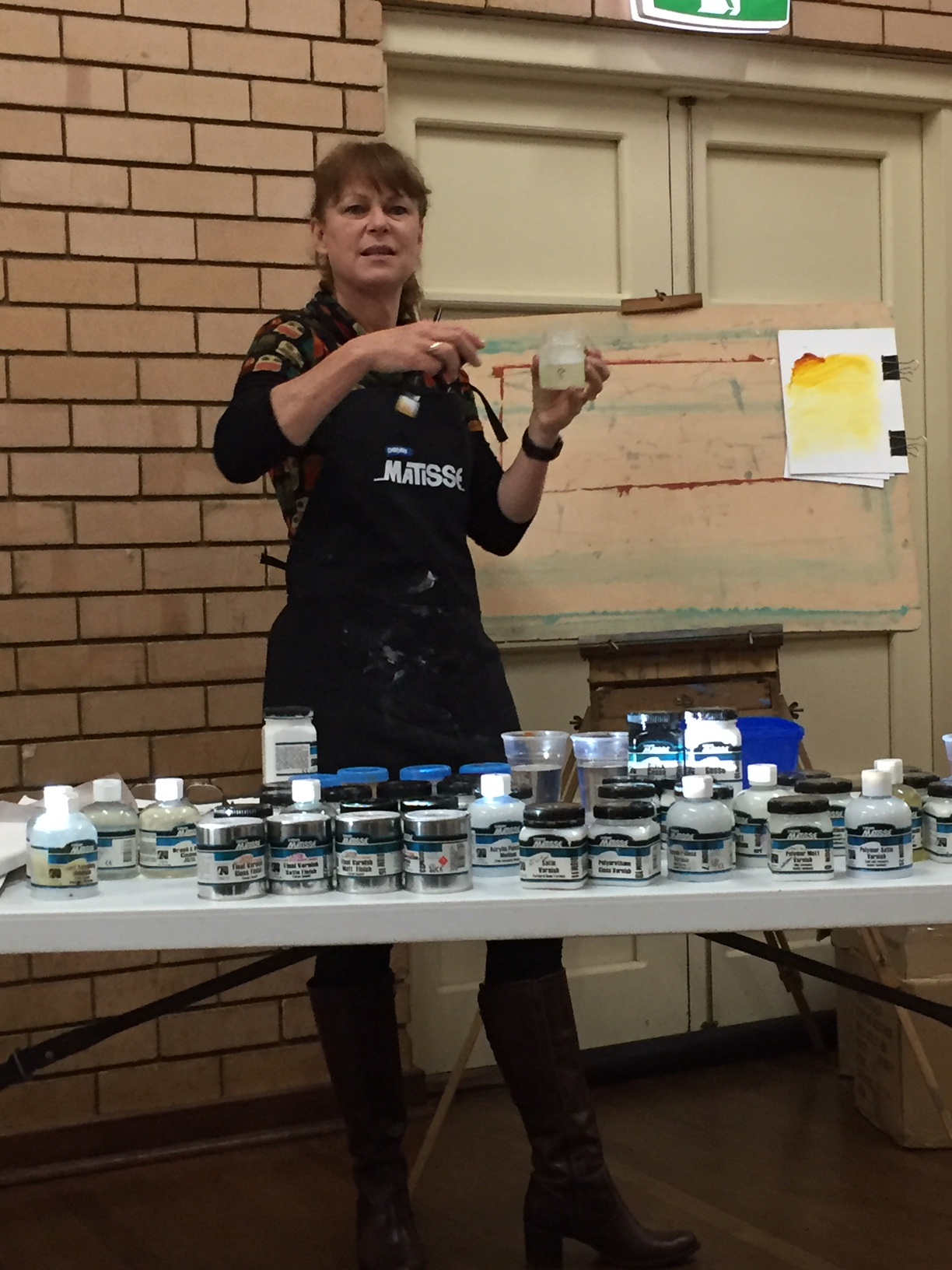 We would like to thank Sandie Schroder for her informative presentation on "all things acrylic" last month and thank you to The Art Scene for our Matisse visual diaries that every member present received.
Raffle draw winner Libby Morrah
Winner of the challenge last month was "Boats" Dave Archer.
DAVID WITH LUCIA
What's on My Easel:
GERALDINE GUSTAVINO
BAMBI la BELLE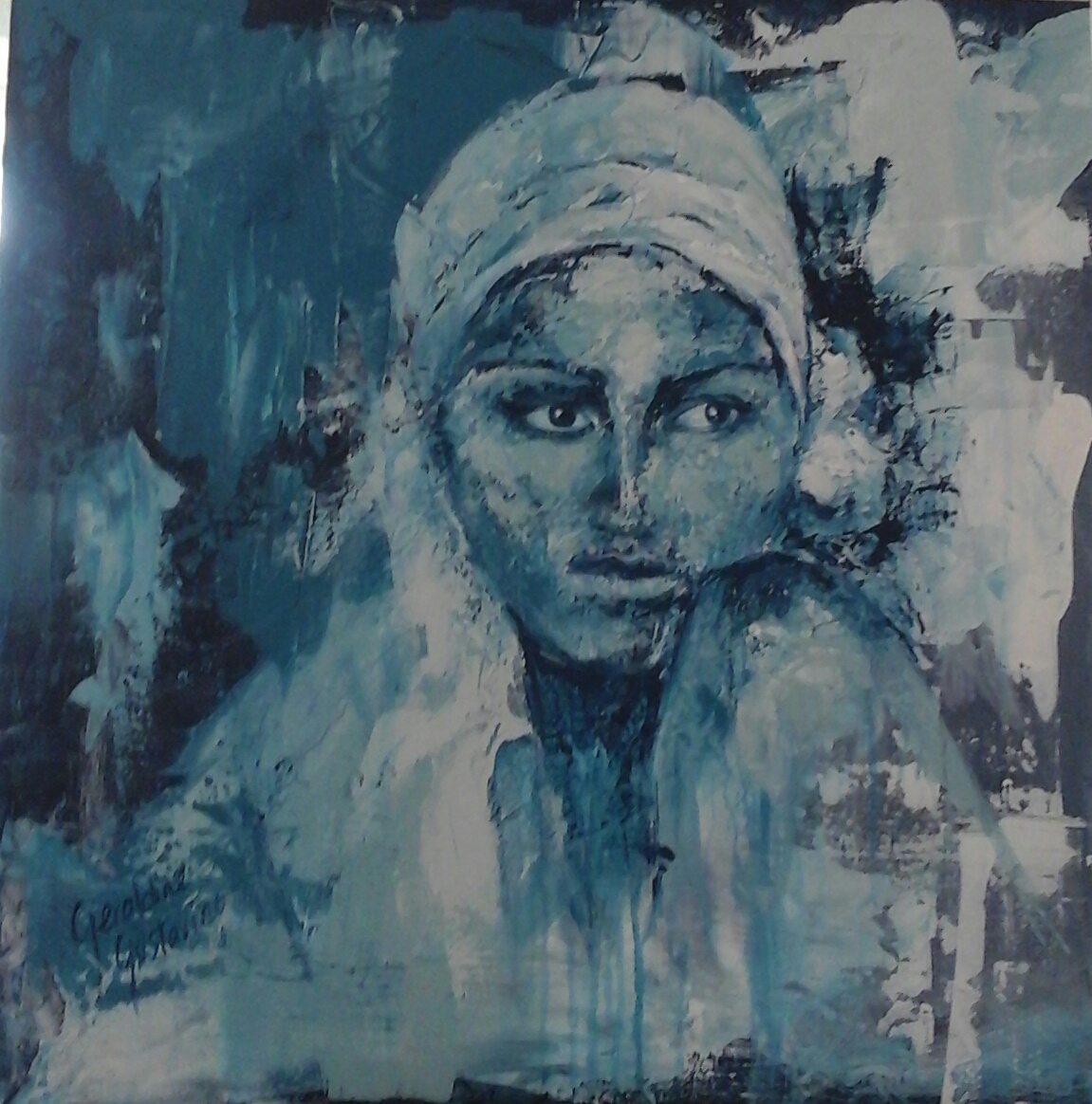 THROUGH THE BLUE
JAMILA
Art has always been a part of who I am. I was very fortunate to have been able to get involved with painting and drawing at a very early age. When I completed high school, I went on to study at Canterbury Art School in England, where I did my foundation course in art and design. Shortly after I met my husband and in 1994 we immigrated to Australia. By then we had a young child and soon after a second, so art was unfortunately put on the back burner whilst I concentrated on being a mum and working full time.
But art was always at the back of my mind and after what seemed like an eternity I was very fortunate to meet a great group of likeminded people. I attended painting classes with them and soon we all formed a close friendship. In November 2015, I exhibited in my first exhibition in Australia, " Picturesque " held at the Moving Art Studio in Fremantle . In Jan 2017, I had my second solo exhibition, "Colour Medley" at The Agonis in Gosnells. Since then I have been teaching acrylics and mixed media at The Arthouse every second Sat. It always gives me great joy to see my lovely students enjoying their time spent creating beautiful work , BUT most importantly, spending time to themselves. Art is therapeutic, it allows our minds to let go.
So what else have I been getting up to?
What is on my easel.....
Well, my easel is on fire!! It has seen canvas after canvas coming to life as I prepared for our Annual Art Exhibition in Oct, and as I get ready for yet another exhibition in November at the Memorial Hall in Hamilton Hill. "Seven Shades" sees seven artists come together for the first time .
My work in this exhibition is soft and feminine, through the images and colours. I have explored different styles, some with strong strokes of colour and movement and others softer and more subtle. There are times I enjoy and love letting go and allowing my paintings come to life intuitively, but then there are times I also like knowing where I am headed.
I suppose we all know what is right instinctively at that moment.
There are so many possibilities out there for all of us, all you need to do it reach out and grab them.
Enjoy YOUR journey everyone
You can find more of my art on my Facebook Page - Geraldine Gustavino Art.
Happy viewing
YES CHRISTMAS IS COMING
And we have booked the Greendale Centre for our Xmas lunch, in the Dining Room for 9th December, 2018 we will put more details in next newsletter, it will be bring a plate and secret Santa present, unisex
Greendale Centre Open Day.
The Greendale centre are having an open day Thursday 8th November and we are able to have a small display, so it will be a great opportunity to network and get to know the residents of Dale Cottages.
1st NOVEMBER -
ASA MONTHLY MEETING
STARTS 7PM - 9PM
DO NOT GO TO CREYK PARK
At new building -
4 Hobbs Drive (Corner of Coombe Ave) Armadale
AFTER HOURS PARKING on the corner of Church Avenue, in the Citizens Advice Bureau Building
FRIDAY 26 - SUNDAY 28 OCTOBER -
ASA ANNUAL EXHIBITION OPENING NIGHT
Parking will be at a premium on opening night (our ASA car park will fill quickly) there is street parking on Hobbs Drive and side streets around the Dale Cottages on the corner of Church Avenue there may be some spots in the Citizens Advice bureau Building.
THURSDAY 25 OCTOBER BETWEEN 10 TO 12 NOON
EXHIBITION DELIVERY OF YOUR ART WORKS TO THE GREENDALE CENTRE
Drop your paintings to the lesser hall at the rear of the Greendale Centre, Coombe Avenue Armadale (we will have arrows to point the way no entry from reception) if you have a problem getting to venue between 10 to 12 time slot please phone Jim on 0400 370 089.
Frankie has requested a reminder to all Members.
We are expecting a lot of people at the Opening Night of our Annual Exhibition. Each Member attending is requested to bring a plate of Savoury or Sweet food. If your food needs heating can you please bring it on a oven tray or dish and then we will transfer to our own platters for distribution.
Please advise Frankie Maher who will be coordinating the catering, by email [email protected] or phone, give us a guide of what extra food may be required to be ordered and supplied. Due to heath concerns it has been requested "No dips please"
Jennifer Meyrick has been appointed onto the Committee as our Acting Secretary and Minute Secretary. As our secretary , Helen Gordon has been very unwell and in Hospital for a number of weeks, she is apparently starting to improve albeit slowly. But we do send our love, best wishes and prayers to you Helen for your continued recovery.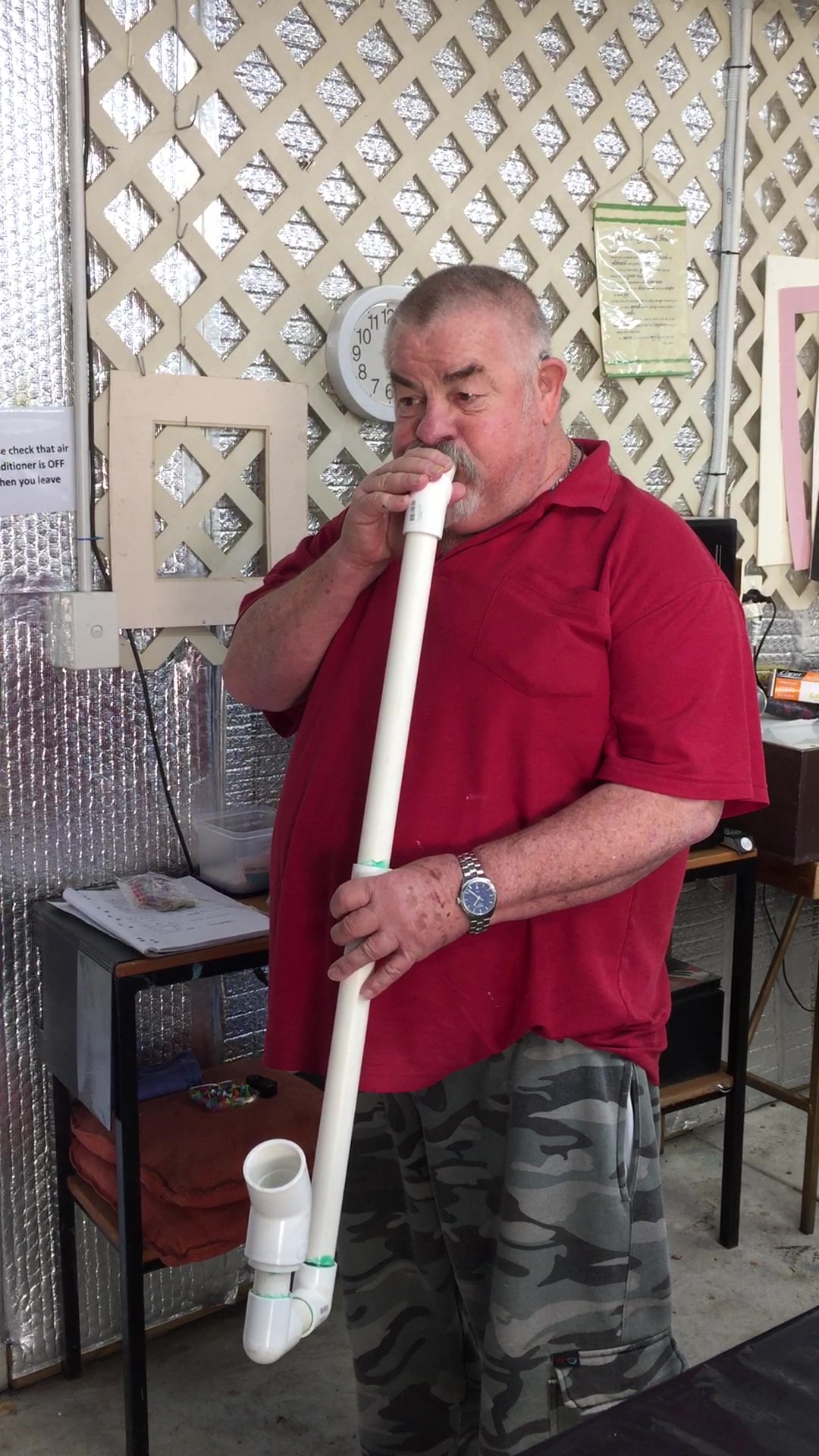 JIM WITH DIGEREDOO
It is with a very heavy heart that we have to let you know of the passing of one of our very popular members. Jim Trapski who passed away suddenly at home. His friends at the society will remember him fondly as "Jum" because of his broad New Zealand accent. Our thoughts are with his wife Anne and their family.
Jim is pictured playing his digeridoo made of plumbing pipes, a very funny man and very talented artist in many ways.
All the best for speedy recovery to Sandy Spindler she has had a knee replacement surgery was successful and she is now at home being pampered by Eddie.
Gill Goddard broke her foot and was operated on and is now recuperating, so a speedy recovery to her as well.
ART HOUSE
NEWS
4 Hobbs Drive (Corner of Coombe Avenue) Armadale,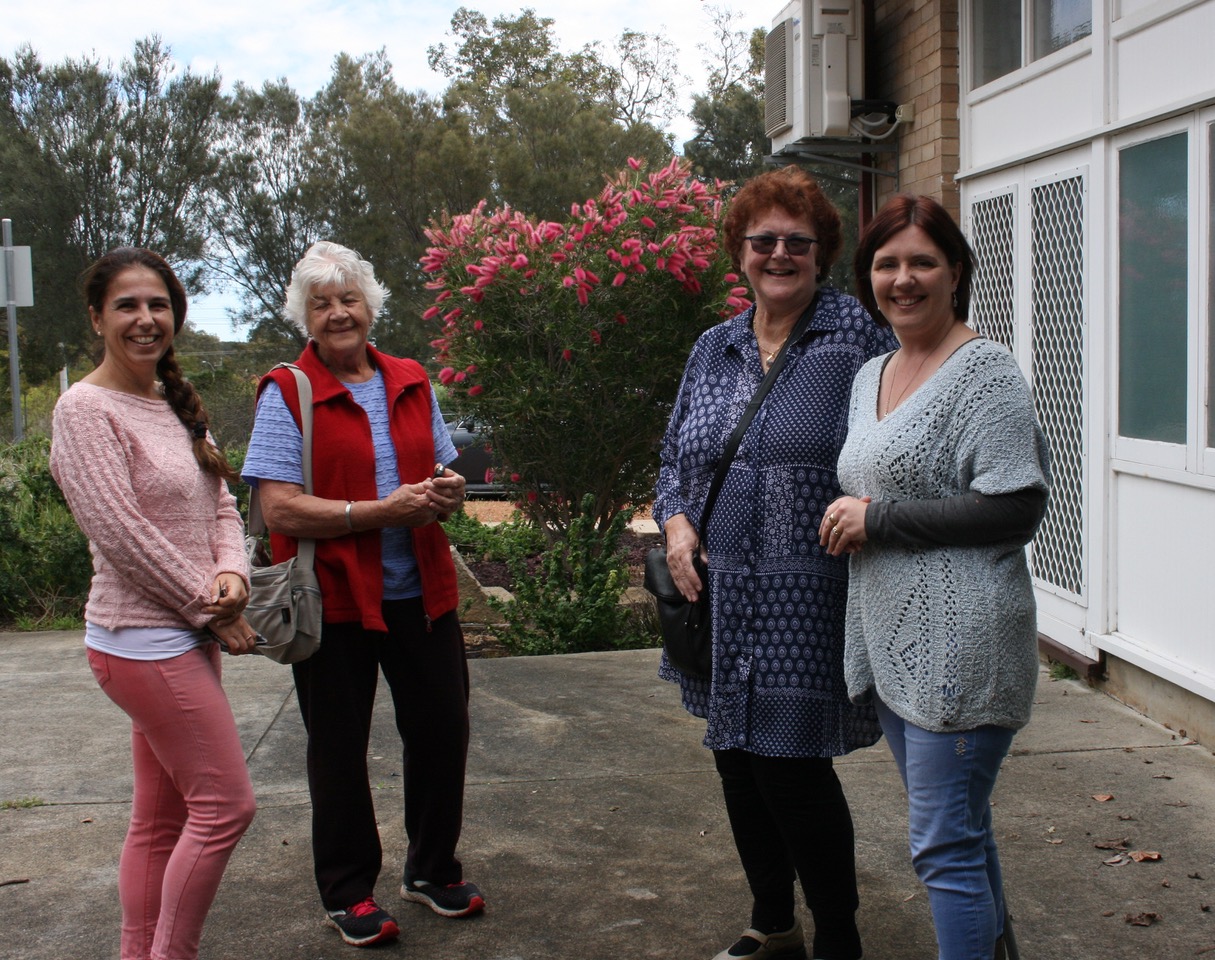 Outside in the courtyard, Geraldine Gustavino, Janet Gardiner, Dot Marshall, Vicky Alchin. Very excited about the future in our new art house.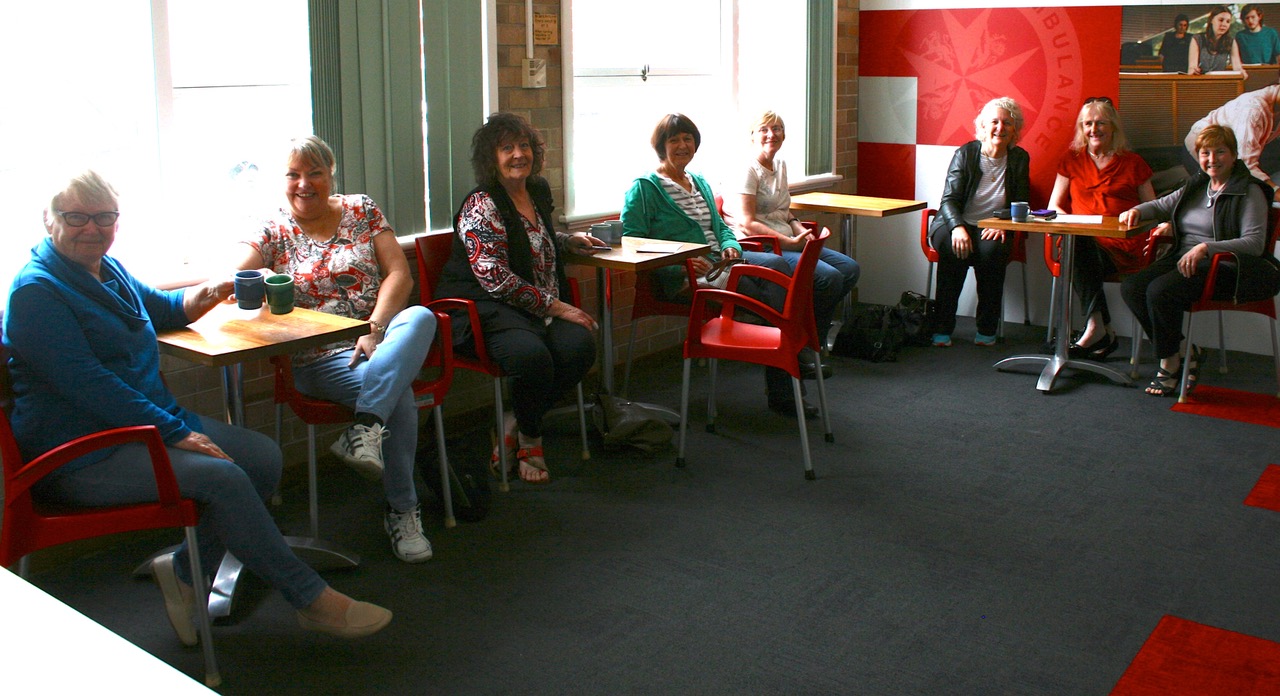 Members enjoying a cuppa and a chat in the club room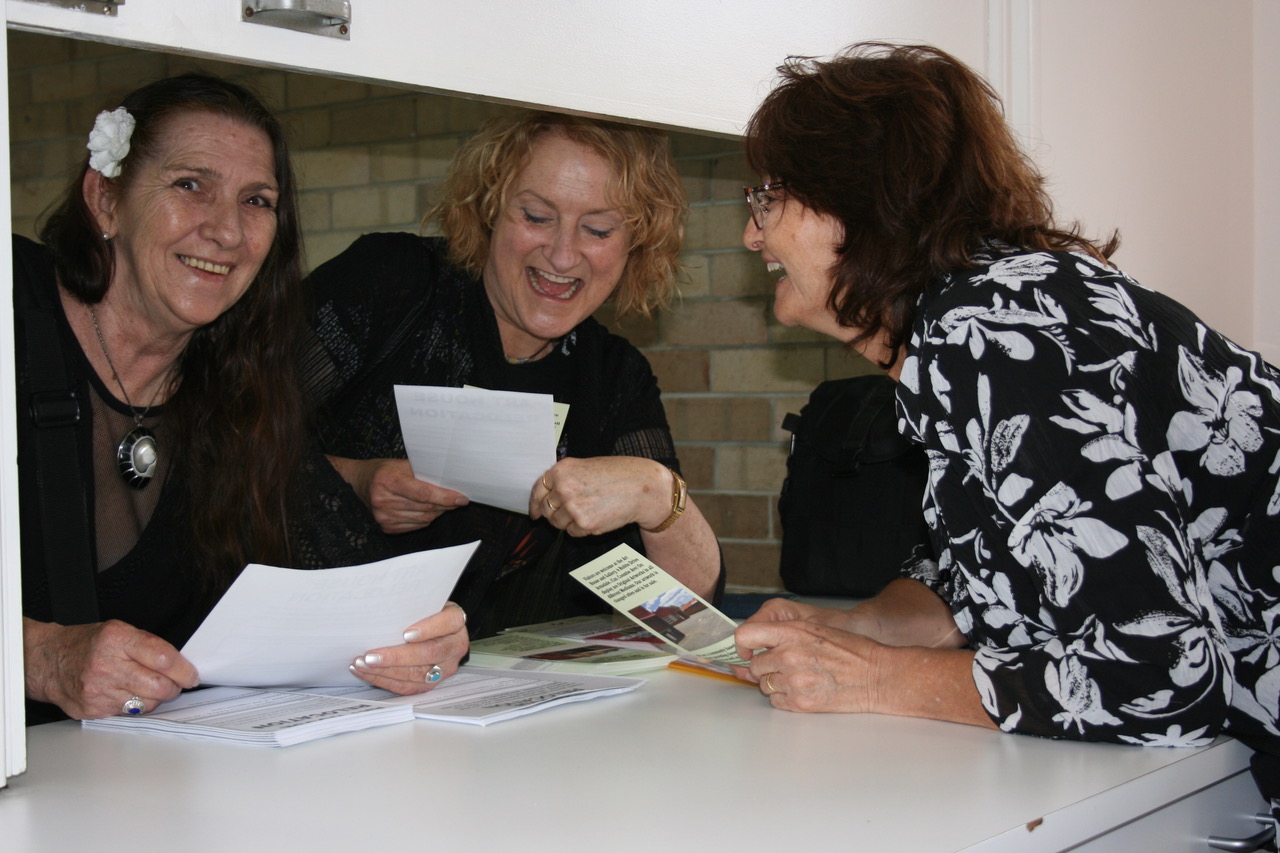 Comparing notes ?
ASA MONTHLY MEETING
STARTS 7PM - 9PM
DO NOT GO TO CREYK PARK
At new building -
4 Hobbs Drive (Corner of Coombe Ave) Armadale
AFTER HOURS PARKING on the corner of Church Avenue, in the Citizens Advice Bureau Building
The move to the new Art House will take a little time to set up practical guidelines for future smooth running. We are currently looking at all the feedback received from our Teachers and Members during the Site Inspections recently . We will have some new class slots available, and we are looking forward to extending class options for our Members and the Local Community.
Val Mezger has just returned from holidays and is now back on board as our Art House Coordinator, for Classes and Workshops for the new Hobbs Building. Please direct any enquiries to Val regarding starting up new classes and workshops.
Jim Halloran has been appointed onto the Committee as our Operations Co-Ordinator for the Hobbs Building for all physical building issues including fire plan and liaison with Dale Cottages on all Building Matters as well as his other volunteer roles.
Dot will be writing a history of the original Art House, as with most of our members the bonds that were formed at our first ever home will stay with her for the rest of her life and she feels it would be sad for all the memories and stories to be lost. So if you have some anecdotes about the House that you would like to share please let Dot know [email protected] photos would also be great.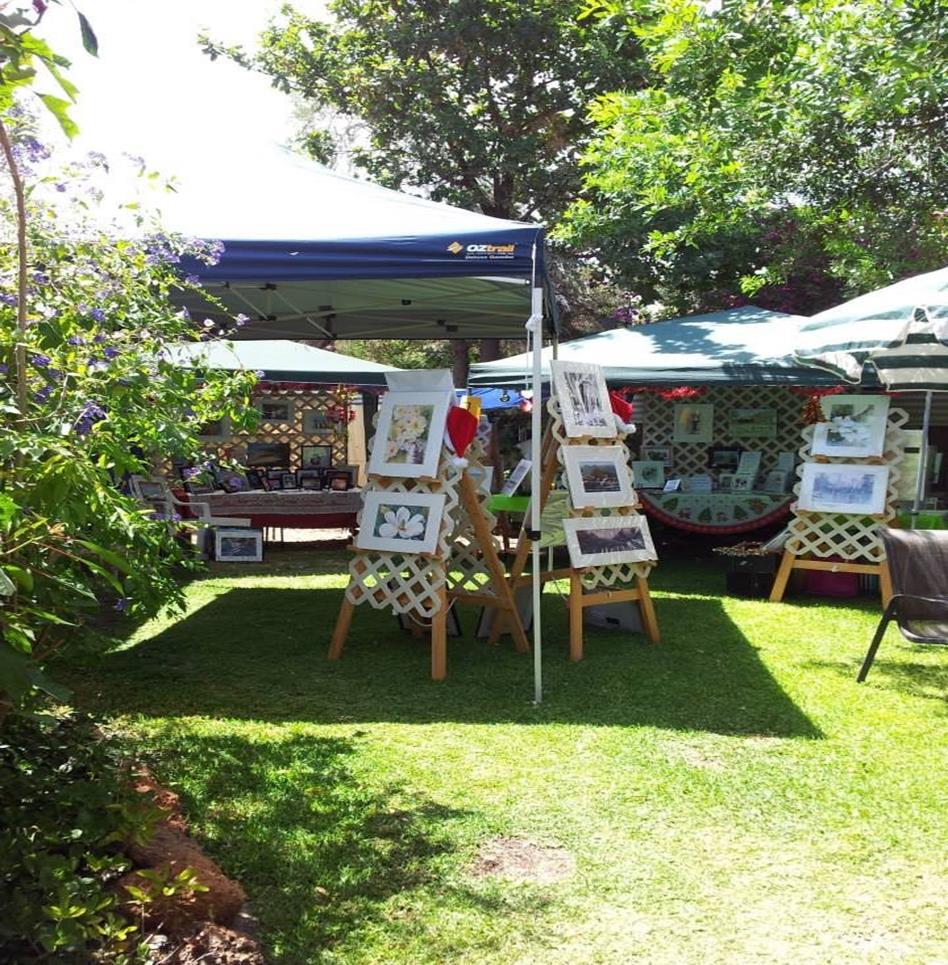 ARMADALE SOCIETY OF ARTISTS INC.
Annual Exhibition Update -
This Weekend not to be missed
We are looking forward to this years Exhibition opened by Cr Henry Zelones, O
There will be great prizes to be won and a trophy for the overall winner to take home.
Our Sponsors have been most generous this year and you can see who they are, listed on the back page of this Newsletter. Two new sponsors this year are Subway Armadale and The Examiner.
We would like to thank our Sub Committee Team - Ian Kallas, Geraldine Gustavino, Linda Glover and Jim Halloran for organising this years event. The Exhibition invitations were sent out by Paperless post and by mobile messaging. Hope you received your invitation if not you are invited to Opening Night. This was a first for ASA and we would like to thank Mary and Jim for their perseverance and time spent collating our data base and sending out the invitations. We had a some help from Sue Littleton from City of Armadale Mayor's Office and we thank her for her friendly and invaluable advice.
Our catalogue covers once again grace the front page of our Programs and we thank all our members who spent time creating and demonstrating their wonderful talents to create these amazing works. Thank you to Dot who has prepared this years Catalogue content and to Janet Gardiner for printing and coordinating folding of the catalogues. We thank all who attended our Collating Catalogue day on Sunday 21 October.
Delivery of Artwork - Thursday 25th October to the lesser hall at Greendale Centre from 10 am to 12 noon. Directional arrows should be up to guide you to the correct entry to drop off your artworks.
Collection of unsold artworks - 4pm Sunday 28 October. No artworks will be released before 4pm. To pick up you enter through front door of Greendale Centre
Donated Raffles will be on display over the weekend. On Opening Night a painting by Jeanette
Dyson will be drawn, and over the weekend on display will be paintings by Helen Cockburn, Geraldine Gustavino, Ruby Ellen and Dot Marshall. These wonderful artworks will be drawn at the close of the Exhibition on Sunday 28 October and winners will be notified.
Weekend Demonstrators - If you wish to see our artists at work this weekend please note their times
Eddy Beer - Sat am and Sun pm
Jane Etienne - Sat am
Catherine Kelley Sat pm and Sun am
Pam Lockwood Sat pm
Ian Kallas Sun AM and pm
Catering - Final call to let Frankie Maher know what you plan to bring along phone 0419 946 716 so as we can organise extra catering if needed. To deliver plate of food on Friday evening enter into reception area and just before entry to main hall turn left up the ramp into kitchen where Frankie and Team will waiting. Please bring anything requiring heating on heating tray and we will transfer to serving plate.
If you have any other queries please call Trish on 0455 552 842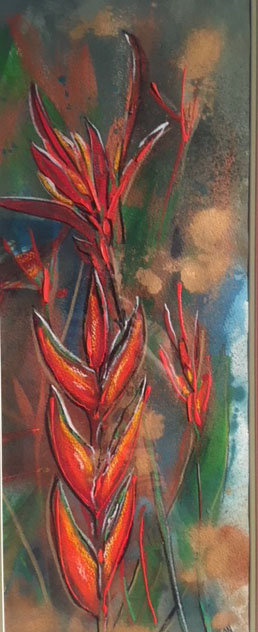 OPENING NIGHT RAFFLE PAINTING DONATED by JEANETTE DYSON
A resident in the Kimberley for a decade, I painted daily at the Red Rock Art Gallery in a cultural exchange studio environment sharing Kimberley Ochres (with my additions of gold and pearl Dust) with Indigenous artists. There is a certain feeling and attitude that evolves from living in a place that is considered isolated, wild, natural and untouched which makes you feel free spirited and gives me inner peace and a desire to express through my art.
In my paintings I seek to portray and celebrate the uniqueness to the Australian North, the spatial isolation and texture of the landscape in a contemporary interpretation.
Jeannette is represented by Jahroc, Margaret River and the Studio Gallery Yallingup.
" I am acutely aware of all the influences that have formed my own identity specifically that of the Kimberley"
DONATED RAFFLE PRIZES FOR THE ANNUAL EXHIBITION WEEKEND
Sunshine and shadows by Helen Cockburn
I have studied under and have been tutored by some of Australia's leading artists in watercolour, acrylics, inks and mixed media, which has kindled my interest and enthusiasm to achieve higher standards. I love watercolours, but also get great satisfaction from working with most other media.
I paint various subjects with nature providing most of my inspiration and also enjoy developing my own techniques in abstract and semi abstract work.
I am a founder and participating member (1987) of Armadale Society of Artists and a member of the Watercolour Society of WA.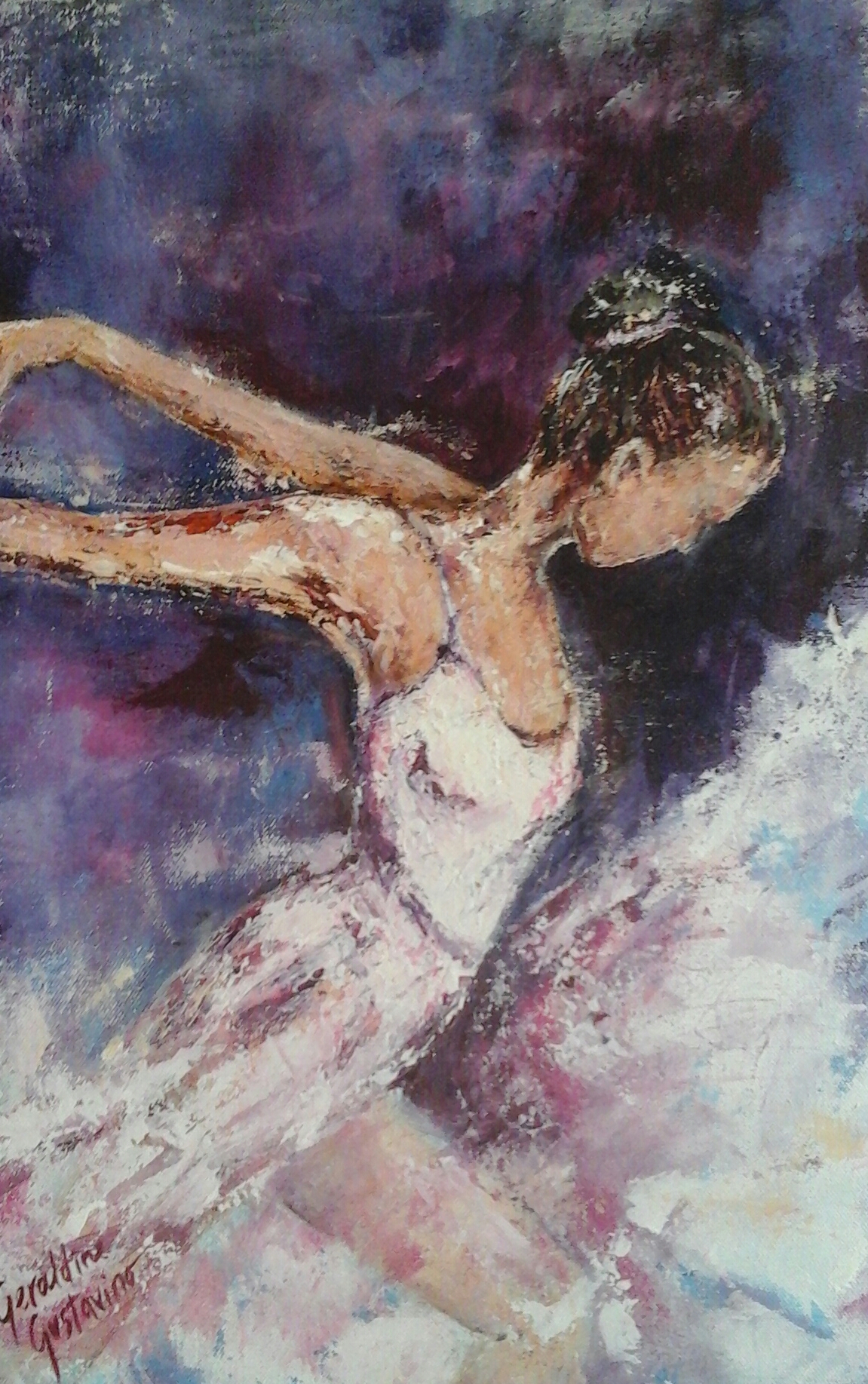 By Geraldine Gustavino
Art has always been a part of who I am. I studied at Canterbury Art School in England, where I completed my foundation course in art and design. Art was always at the back of my mind and years later I was very fortunate to meet a great group of likeminded people. I attended painting classes with them and soon we all formed a close friendship. In November 2015, I exhibited at my 1st exhibition in Australia, held at Moving Art Studio in Fremantle. In Jan 2017, I had my solo exhibition, Colour Medley at The Agonis in Gosnells. I now teach at The Arthouse, which I love, sharing what I know and seeing students creating beautiful work and very importantly spending time to themselves. You can find more of my art on my Facebook Page -Geraldine Gustavino Art.
By Ruby Ellen
My art interests have included painting, drawing, printmaking and more recently working with mixed media. I have a Diploma in Printmaking and a Diploma in Art Studies and have attended many workshops and demonstrations to stay up to date with new techniques.
I am a member of Armadale Society of Artists and Printmakers Association of Western Australia
I am happy to offer my painting in this years Raffle, congratulations to the winner.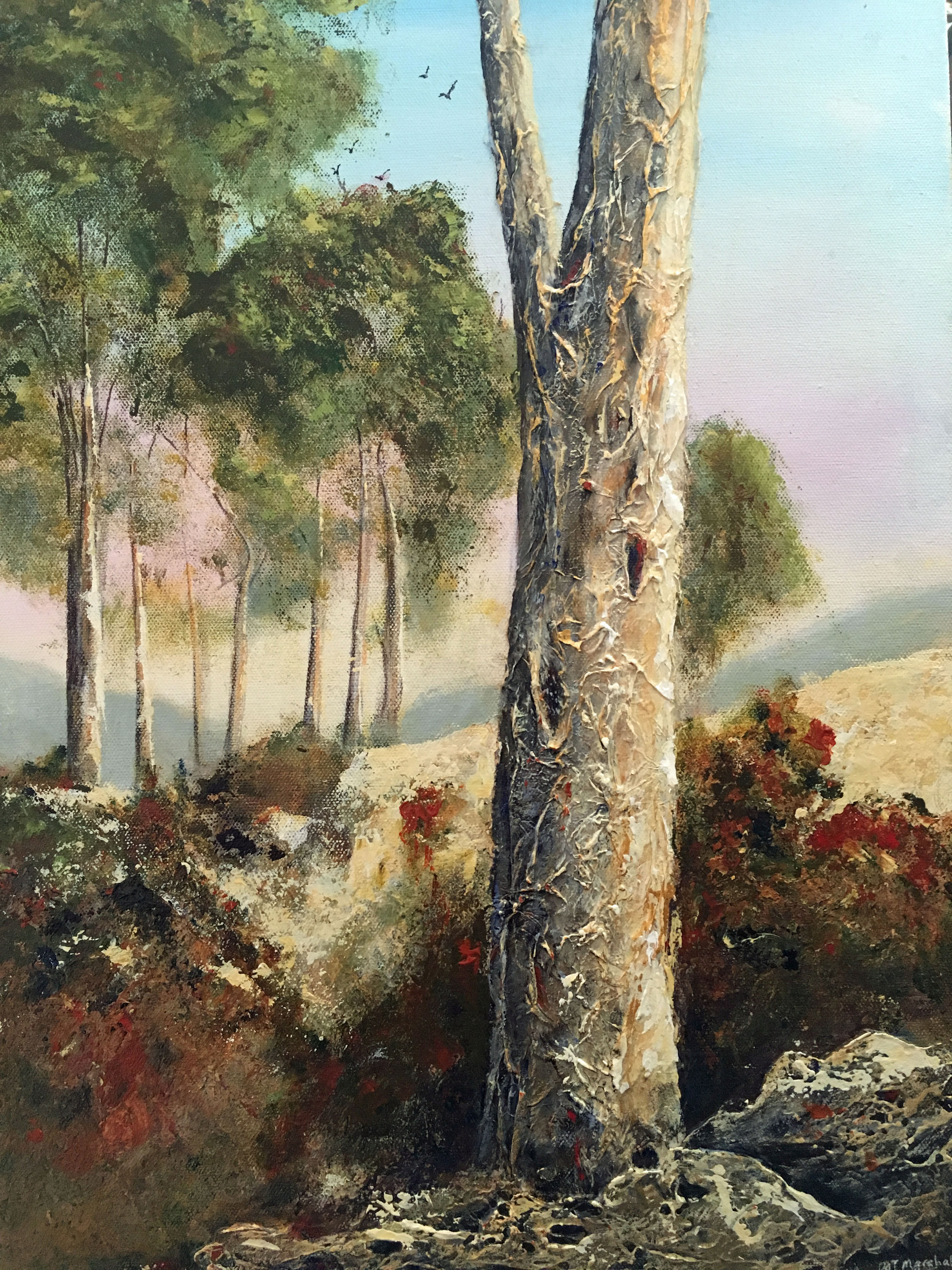 Evening Light by Dot Marshall
Dot has been on a voyage of discovery with her art since she started, a long long time ago, but since she joined this society about 20 years ago her voyage has been the most exciting part of her life. She has been an active member of the society holding the roles of treasurer, Vice President, president and stand in secretary. She also, with continuous help from other members established and ran the Art House in Kelmscott for 8 years. She will be forever grateful to this society that she is passionate about, thank you everyone.
You can see her work and details of her upcoming solo exhibition on her website www.dotmarshall.com
We are very pleased to let you know that a few of our members are having exhibitions soon, just in time to get those special Christmas gifts. And yes Christmas is fast approaching

"ARTISANS OF JOY" is an exhibition and sale of work from Carol Joy's remarkably talented group, they regularly appear at the Stargate Shopping Centre and now customers look forward with anticipation to their colourful displays.

"SEVEN SHADES" this is an eclectic collection of works from our lovely Geraldine Gustavino and her friends, they meet regularly for fun painting sessions so decided to have a joint exhibition to showcase their work this one is at the Memorial Hall, Hamilton Hill and is well worth a trip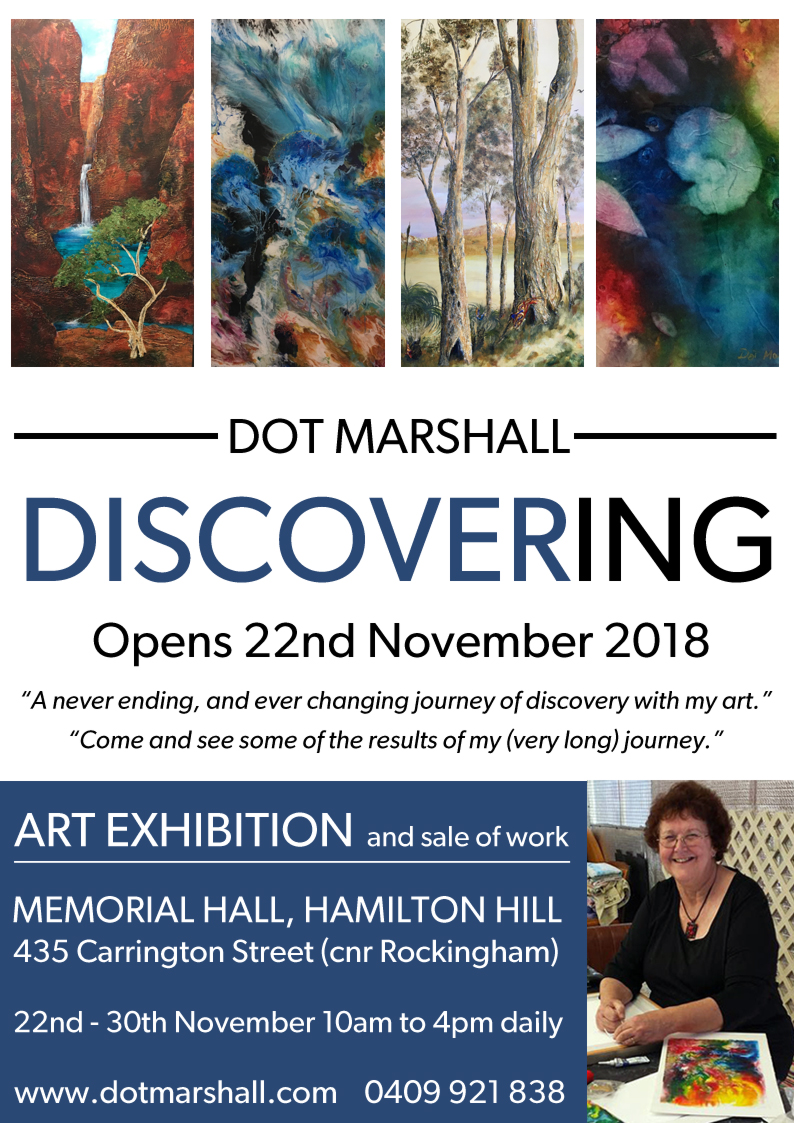 "DISCOVERING" the title of this solo exhibition by Dot was decided on after a brainstorming session around the kitchen table with her daughter and granddaughter. Dot wanted to show her exciting "journey of discovery" in her art career. Always experimenting with new ideas it is an ever evolving and every changing path. She loves to pass on her "discoveries" to fellow artists.
change of classes and groups at the art house



DATES FOR YOUR DIARY…
¨ Sunday 30th Sept, Painting Catalogue covers at the art hosue
¨ Sunday 21st Oct collating the programs and catalogues at the art house
¨ 26th to 28th October Annual Exhibition
Word From the President
September has been a busy month starting with the Monthly Meeting. Our guest Demonstrator was Roger Reading, who showed us the versatility of painting in water soluble Oils presented in a witty repertoire of stories. Roger chose our winner of this month's challenge "Outback" Pat Watson who is featured inside this edition "What's on my Easel".
We have to remind ourselves sometimes that we are volunteers running this Art Society. There is a lot of planning and personal time given up in organising our events by our Committee and Volunteers. The Armadale Hills Open Studio Arts Trail and our Open Day were a great success and raised some funds for ASA and covered the costs of running these events.
A big thank you to Val for co-ordinating these events and for giving up her personal time to ensure the smooth running. I would also like to thank our members and stall holders on Open Day for their behind the scenes contribution and helping out with the catering, setting up and cleaning up. You all did a fantastic job, I feel so grateful that we have such a wonderful group of people that belong to our Art Society.
Thank you to our members who came along to support our Open Day and bringing visitors with you to support our stall holders, enjoying a Devonshire Tea, Sausage sizzle or buying a raffle ticket. Thank you to Cheryle Shewan for donating her Galah painting and to Maureen Smith who looked after our raffles. The highlight of the day was listening to the wonderful voices of Jane and Kira singing Folk Music. We had lots of extra visitors, due to Jane's Students from Roleystone Christian College performing and their parents and families who came along to join in the festivities.
Our 2018 Annual Exhibition is coming up very soon over the weekend 26 to 28 October. By now hopefully our Members have thought about and submitted their entries for this years Exhibition as our closing date for entries is the 4 October which coincides with our Monthly Members Meeting on the 4 October. More information inside.
"Who cares about winning or losing? Life is about taking part."
Happy painting,
Trish Halloran
HAPPY MEMBERS TAKING PART IN THE ART TRAIL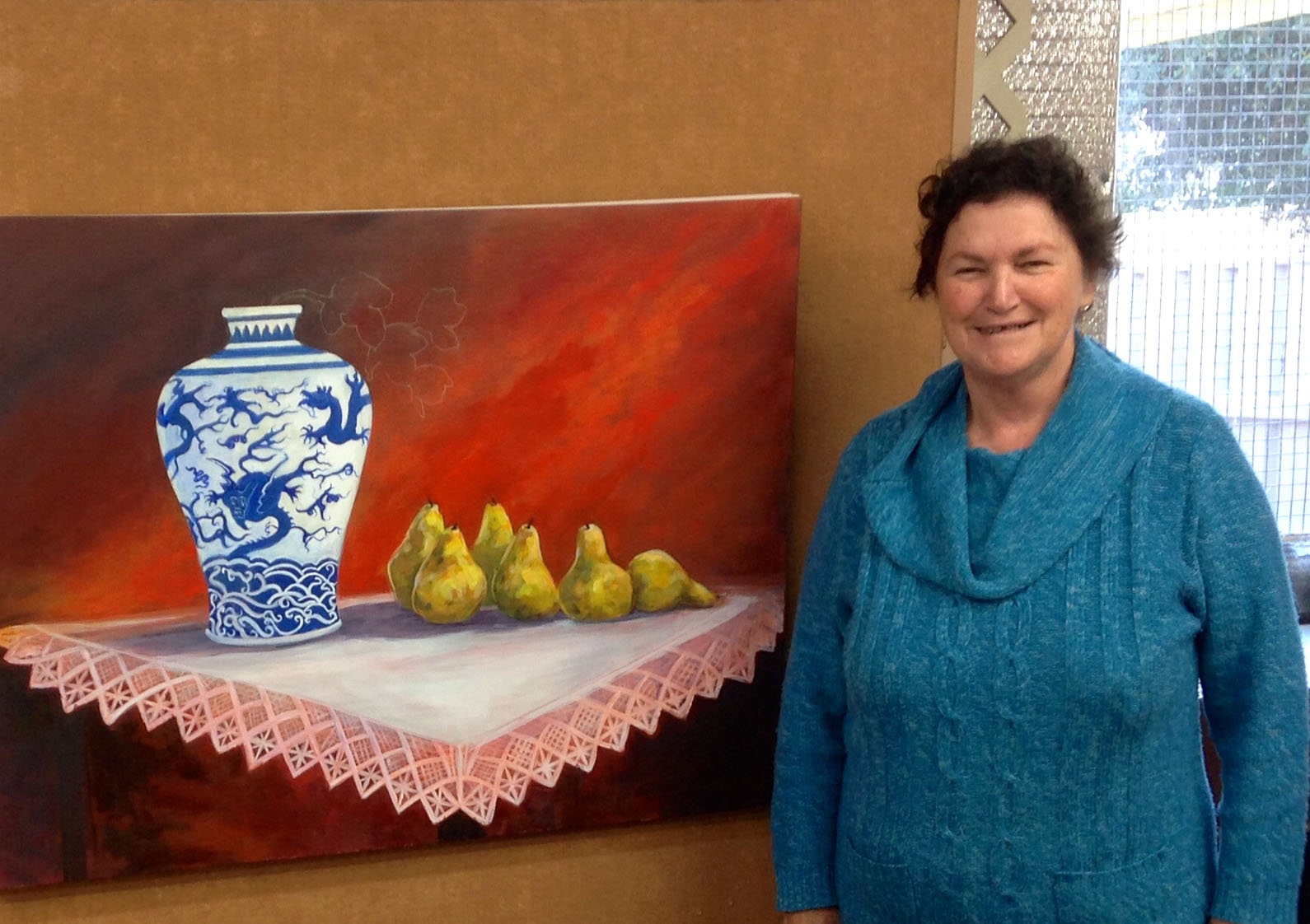 VAL MEZGER WITH ONE OF HER AMAZING PAINTINGS ON SHOW
STUDENTS FROM THE ROLEYSTONE CHRISTIAN COLLEGE ENTERTAINING THE VISITORS


Thursday 4th October 7:00pm at
Creyk Park Pavilion, Waltham Road, Armadale. Supper provided by the "Loose & Luscious Ladies"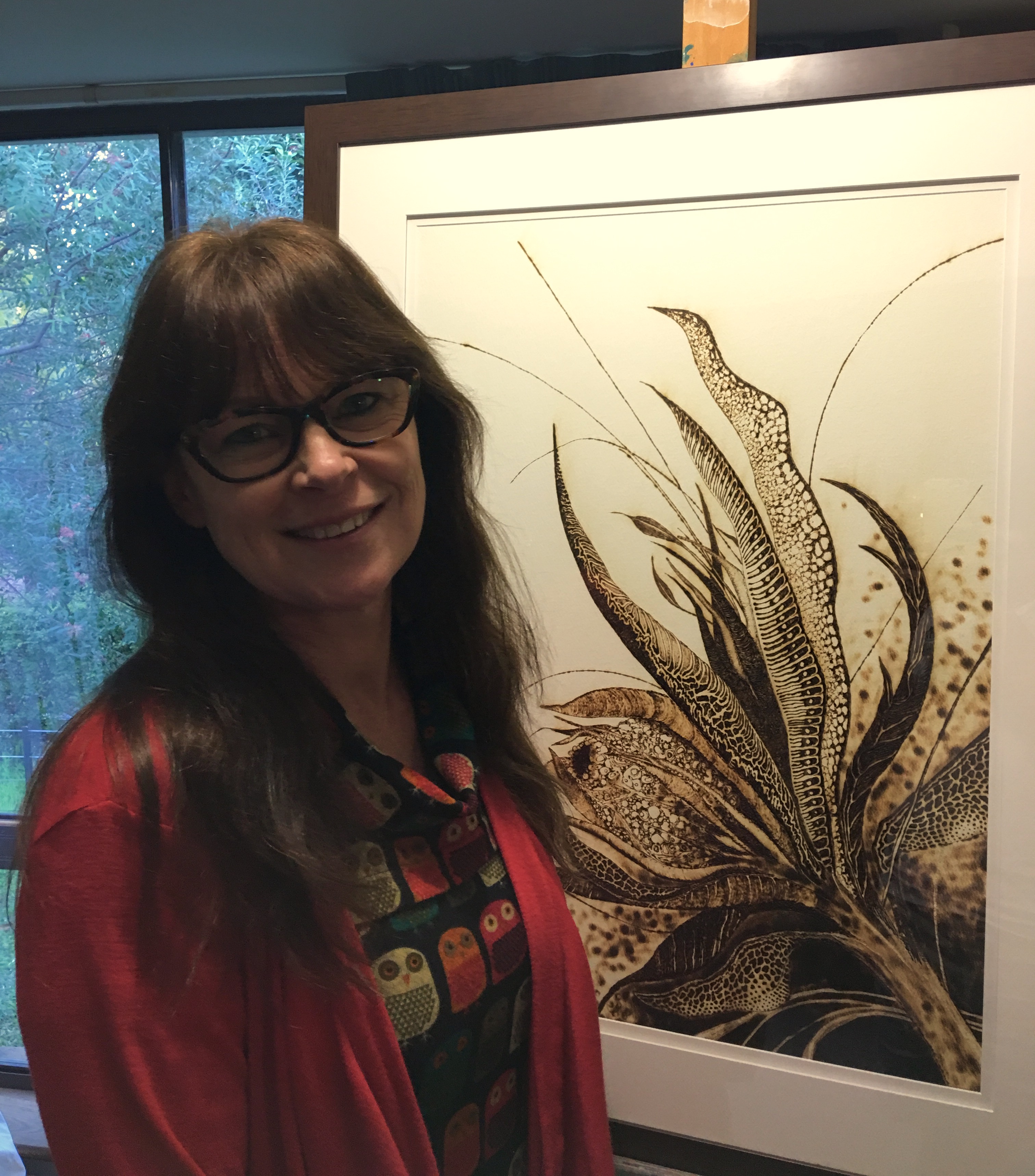 Sandy Schroeder from Art Basics and Art Scene will share with us her extensive knowledge of "all things acrylic." From preparation, applications, and methods, including mixed media and image transfers, it will be a very informative night to bring out the best in your paintings.
Sandy is in a group art exhibition opening
Friday 28th September that runs for a month.
Linton & Kay Galleries are in the Swan valley at Mandoon Estate and are open on Fridays and weekend
Our challenge topic this month is Boating
Please bring along a picture in any medium or sketching style in a frame, or with mat.
The guest demonstrator will choose their favourite painting to win a prize! This month's challenge winner prize is being donated by Sandy Schroeder, The Art Scene
Future Challenges:
November: Still life
December: Celebration
LAST MONTH'S DEMONSTRATOR WAS ROGER READING, Roger gave not only an entertaining demonstration of water based oils but entertained our members with his cheerful banter.
ROGER READING WITH HIS DEMONSTRATION PAINTING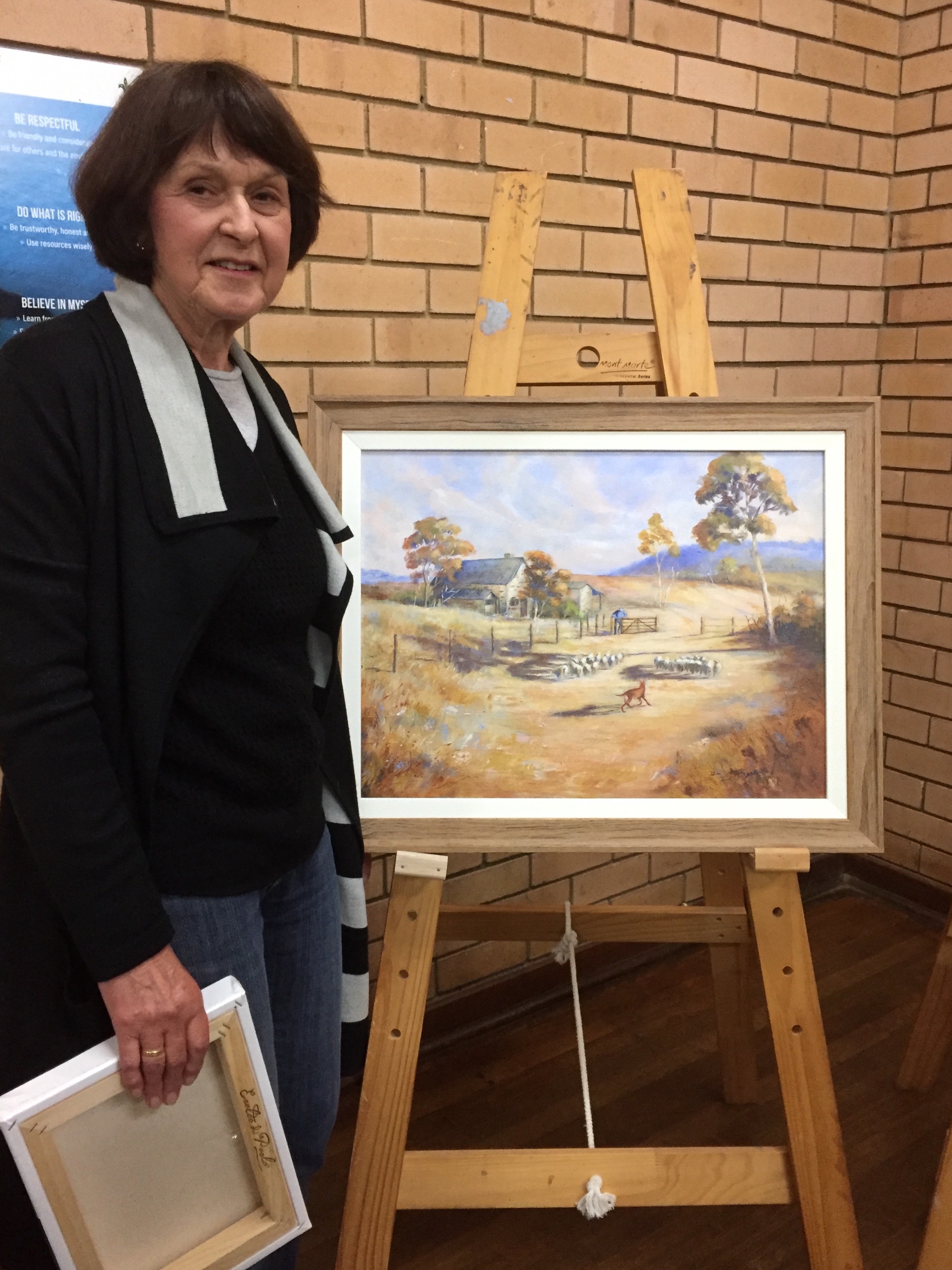 PATRICIA DAWSON WITH HER
WINNING PAINTING THAT ROGER SELECTED

What's on My Easel: Patricia Dawson
Like so many other members of the art society I have been painting and drawing on and off since my early school days.
When my children were very young I would leave my husband in charge and escape to tech college for two evenings a week to start my Fine Arts Diploma. After being home all day it was a great way to meet like minded people, keep my sanity and do something I loved.
My husbands work took us to Eneabba for three years which at the time was a lovely little town with a great arts and crafts group. I enjoyed my time there, made lots of lifetime friends and was lucky enough to receive acquisition awards for two years running from the Carnamah shire's art exhibitions. From Eneabba we moved to Dampier where I continued my Diploma at Karratha College.
I enjoyed seven years of Pilbara painting joining the Art group, taking part in their exhibitions and doing lots of commission work. The Dampier landscape is inspiring with the colours of the spinifex, the desert pea flowers everywhere, the orange rock and the vibrant blue water, who could go wrong?
Well what's on my easel? there have been times when I have wondered what direction to take with my painting, I guess wanting to try something different but not finding anything that I felt really drawn to. My main subject has been landscapes although I also enjoy portraiture. For many years I used only oil paints but in the past few years I have also been using acrylics, my main reason for changing is the ability to travel with dry canvases and ease of clean up while doing our frequent camping trips. It has taken me a while to come to terms with getting the effects I want with acrylics and I am still learning as I try the different mediums that go with them.
I love the impressionist style of painting but have not found it easy to accomplish the change from realism. After watching a video of Lynda Kemp at the Art House I have been fascinated with painting in the negative, using acrylics in transparent glazes and lifting spots of colour with water droplets. I have adopted some of this style to start a different journey with my paintings and find that I can achieve more depth of colour and a more impressionist style. Using this method the reaction of the glaze and spray often changes the direction of the composition, which can be quite exciting ( for me anyway)
I think at times we all wonder what to paint next so it's good to have a change and try something new especially when you feel a bit stale.

Open Day at the Art House and Gallery
What a great day, thank you once again to Val and all the many members who were hands on deck to help make this day such a success.
Our Sausage Sizzle and Devonshire teas were a hit and raised funds for ASA. Thank you to our stall holders for participating and displaying their art and crafts. There were lots of smiling faces, sales were made but I think it was the atmosphere that put a smile on everyone's faces.
In the afternoon we had the beautiful sounds of Folk Music and singing with Jane and Kira. The Garden came alive when Jane's students arrived on mass to entertain our visitors with several songs. And a special thank you to Maureen who co-ordinated our raffles on the day also special thank you to Cheryle Shewan who donated a painting.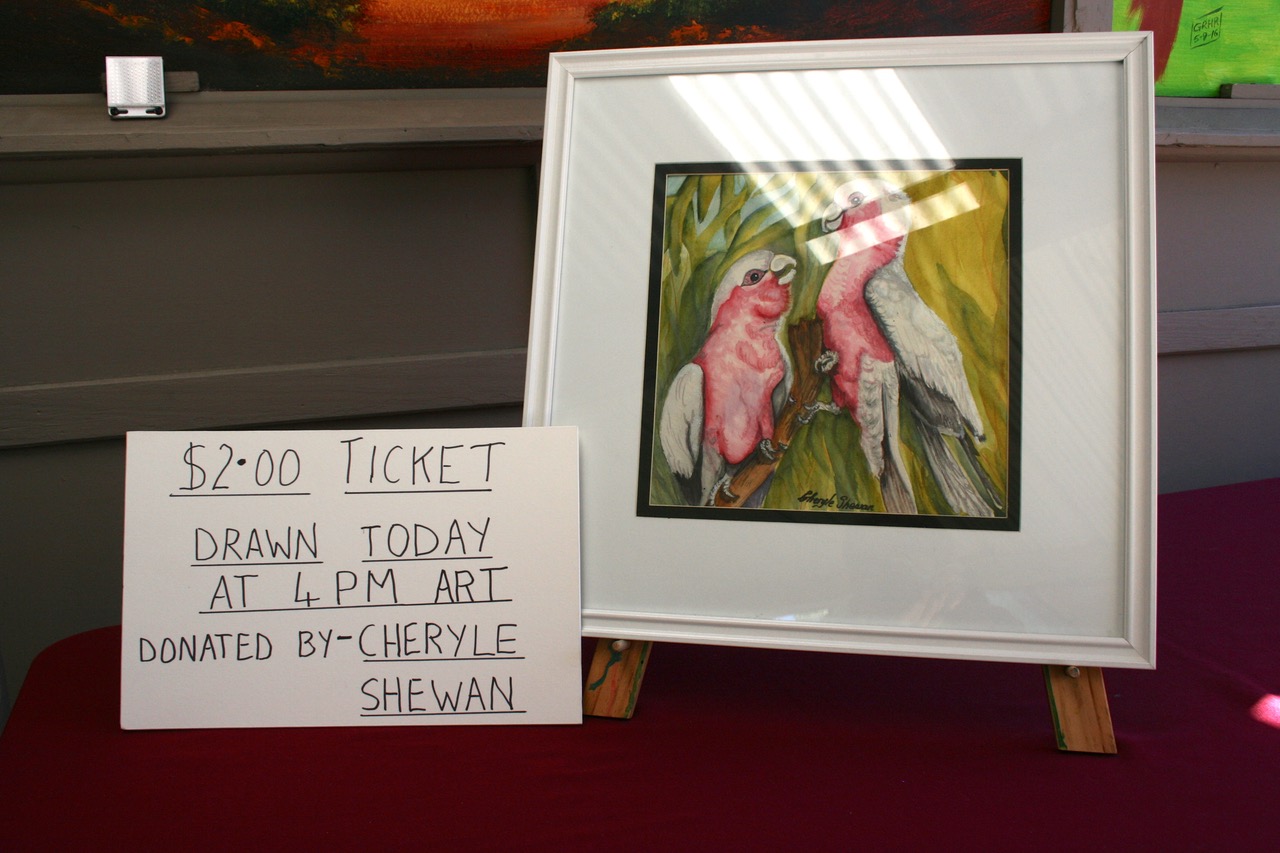 Donated painting by Cheryle Shewan
Happy smiles from Jane Etienne, Isabel Colenutt and Josephine Titshall
ASA have participated in the Open Studios Arts Trail for the past four years and we were one of 25 studios open to the Public over the first three weekends in September.
We would like to thank Val Mezger for Coordinating and setting up the Art House and Gallery for the AHOSAT. The Gallery really looked terrific with a display of 16 of our Members Artworks. The Artists participating this year were Vicky Alchin, Margaret Barrie, Eddy Beer, David Box, Barbara Cotter, Jane Etienne, Geraldine Gustavino, Dot Marshall, Val Mezger, Diane Miles, Libby Morrah, Megan O'Brien, Sandra Reynolds, Geralyn Satur, Angela Saunderson, Maureen Smith, and Sandy Spindler. Over the three weekends these Artists set up their studios so that the public could view Artists at Work. This was a great opportunity for ASA to showcase our Artists works and build awareness for ASA in promoting our Art Classes and our forthcoming Annual Art Exhibition in October.
Thank you to Geraldine who looked after the Children's Corner. We had lots of budding artists helping to create this years Masterpiece which will hang proudly in our new ASA premises.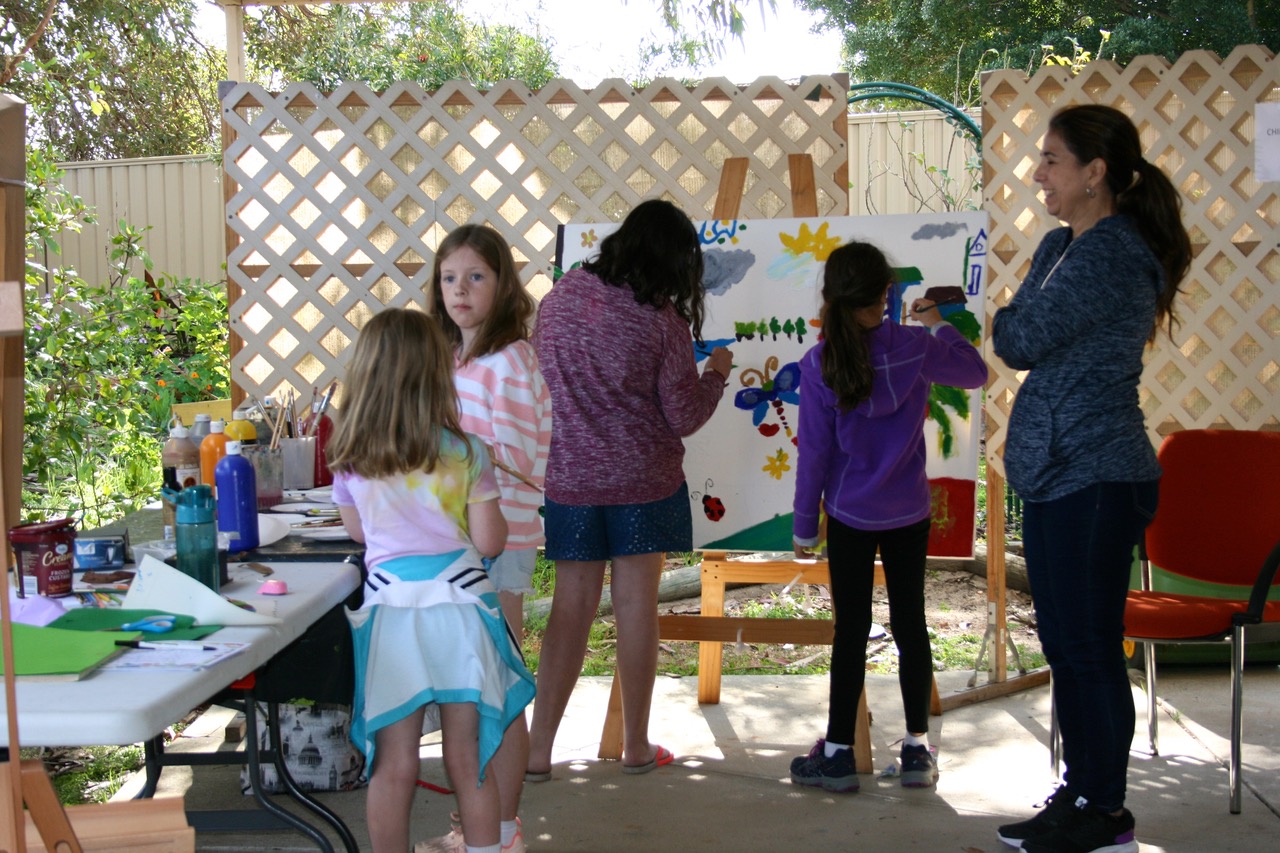 Geraldine in the children's corner with the budding artists
David Box Resident Artists and Teacher in Drawing at Art House
Sandy Spindler well know for Blue Wrens and Gum Nuts
This year some of our ASA Members opened up their
Studios for the first time over the thee weekends of the Arts Trail.
Lynda Everett located in Kelmscott, shared her studio with Ian Kallas and Linda Glover with over 65 paintings on display.
Lynda's Studio has been purpose built and most of the labour was done by herself.
Gunter Lorenz - located in Bedfordale. Gunter's paintings are surrealistic - symbolic paintings. He creates and produces series of works where the original topic of an idea can be artistically explored.
Jenny Herbert - located in Mt Richon. Jenny's beautiful property is the backdrop to showcasing her wonderful artworks which are mainly Oils and Pastels. Jenny is inspired by the serene bushland and the sparkle of water in her local creek.
Our other members with Studios Open once again were Catherine Kelley, Trudi Pollard, Claudia Woeltjes, Geoff Reeves, Irene Young and Trish Halloran.

PICTURE GALLERY OF THE LAST DAY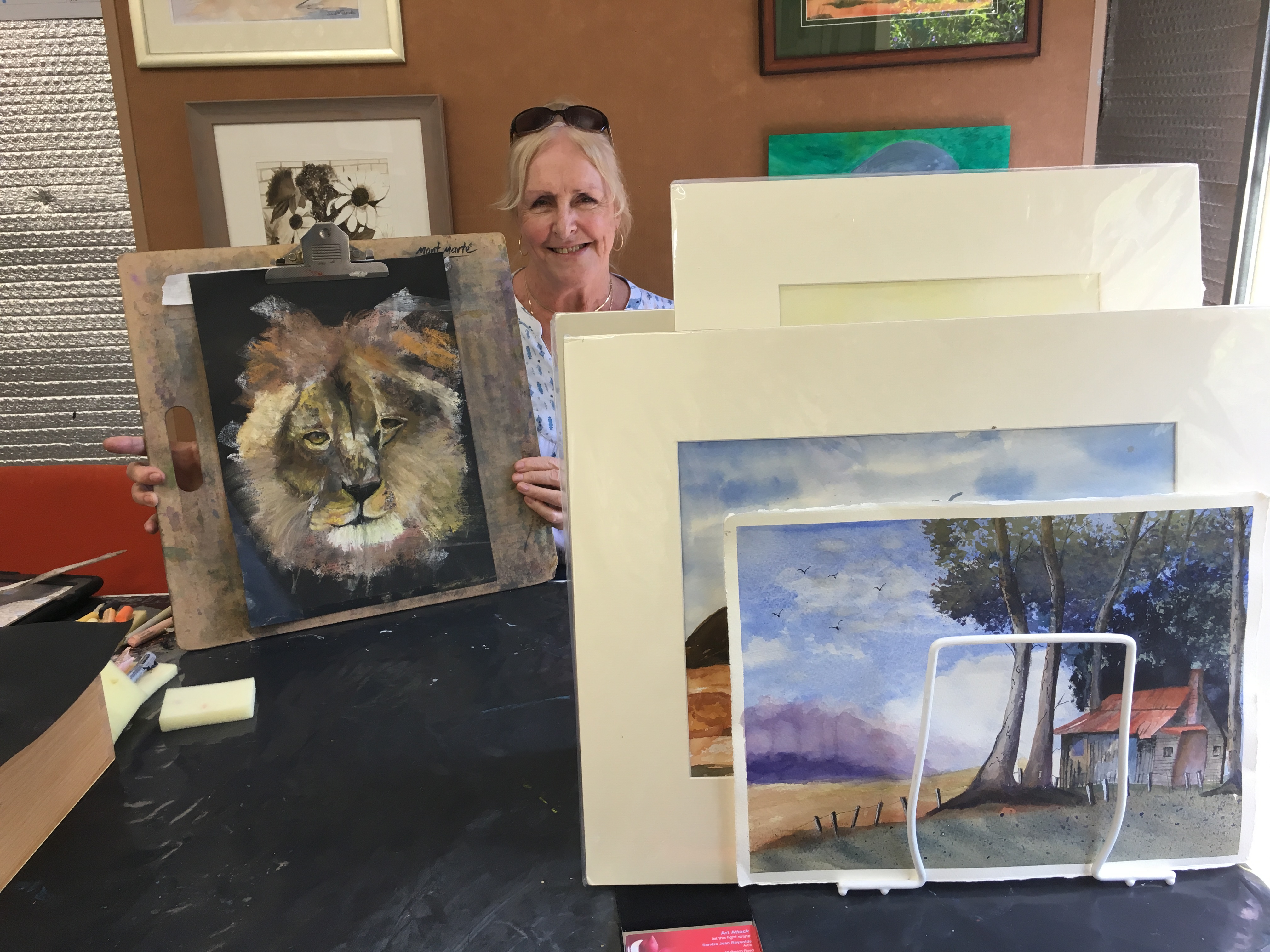 SANDRA REYNOLDS
EDDIE BEER
SANDRA SPINDLER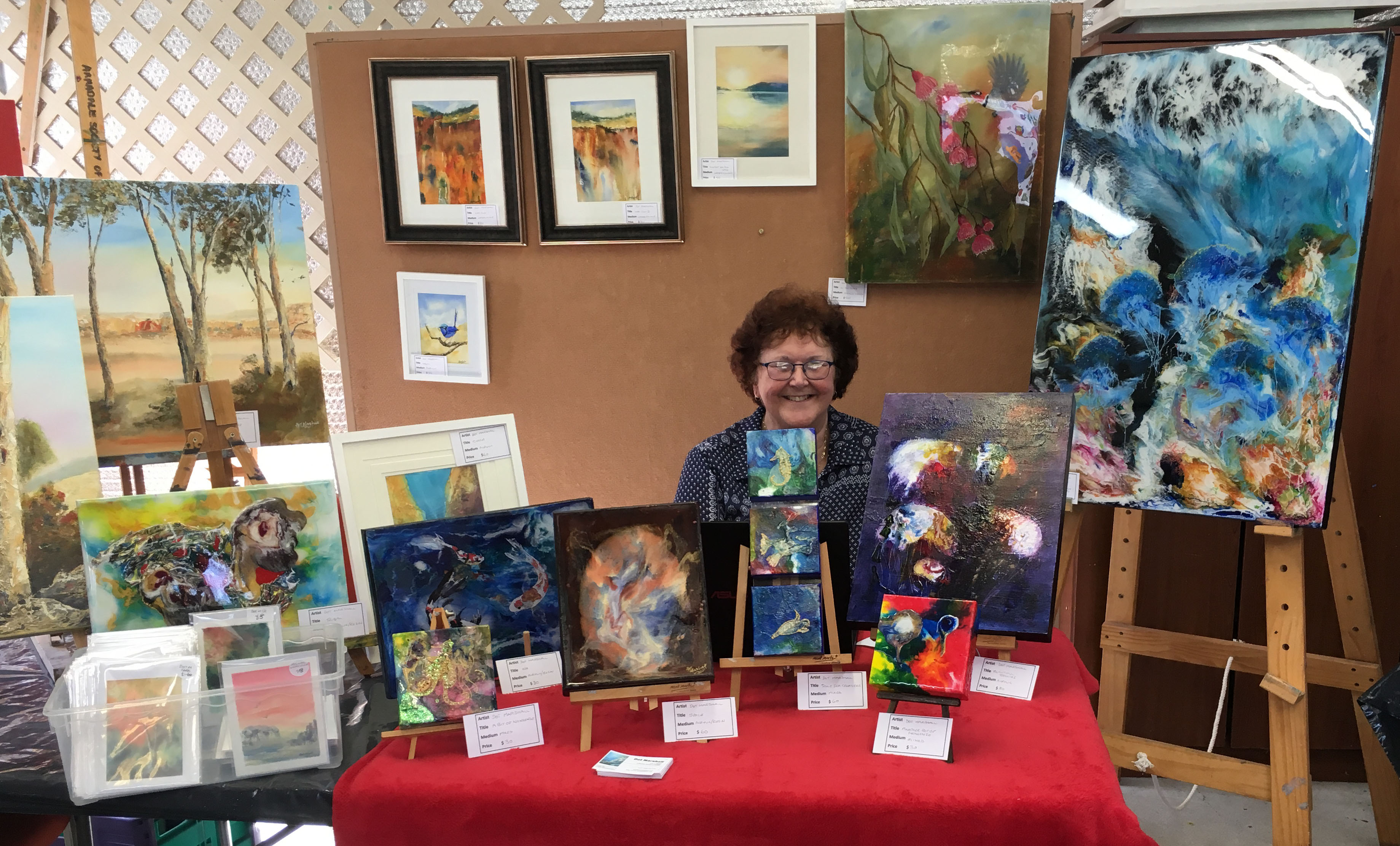 DOT MARSHALL
GERALDINE GUSTAVINO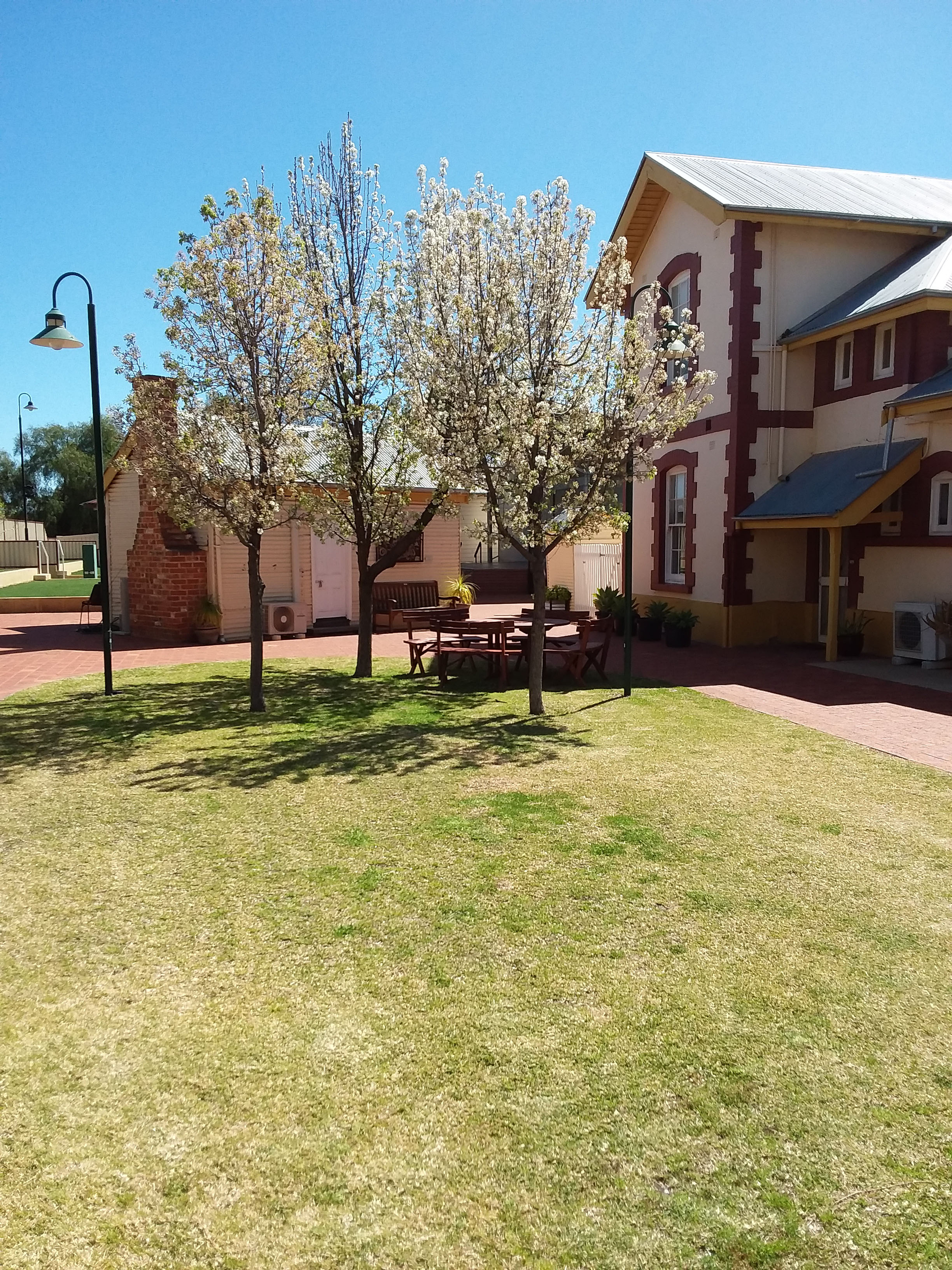 Beverley art gallery
BEVERLEY STATION
GALLERY
Trish Davis –
Artist in Residence
1st – 17th September 2018
Recently I was granted an Artist in Residence opportunity at the Beverley Station Gallery and spent 2 weeks in the unique Stationmasters cottage offered by the Shire of Beverley.
The venue as described to me by one of our members, Hazel Moore, who has been a previous Artist in Residence, sounded wonderful but I could never have imagined such a delightful place and I was overwhelmed by the amazing ambience and comfort available at no cost. The gardens were beautiful and a great place to have a glass of wine at the end of the day and the gallery is well set up with plenty of room to paint, entertain and hang your wonderful works.
The Beverley Railway Station is no longer a stopping place for trains but the rail line is still in use and grain trains pass through often at irregular intervals including the middle of the night. It was a source of great joy to my guests (10 in all over the 2 weeks). We ran out like little kids to wave to the drivers and take photos. The Drivers got to know me so well that if my light was on (even at 2am) I would get a tiny little toot from the train thundering through which brought a smile to my face.
The Station and adjoined 2 storey cottage have been lovingly restored by a hard working committee and the backing of the Beverley Shire and are now heritage listed..................even the old outback dunny was saved from demolition - it has a definite lean and is lovingly tagged "the Leaning Loo of Beverley".
This venue now houses the Shire's Art Collection and the Platform Theatre which is separate from the historic buildings and the town hosts live theatre, choral and other events with amazing dinners and afternoon teas
The town is quiet but friendly, the IGA store is right next to the gallery, the pub has good value meals and I certainly recommend the experience.
Artist in Residence open the gallery Thursday to Sunday 11am to 3pm to the public and offer a workshop to the community. I offered a textile workshop both weeks and joined the patchwork group for a nice morning tea. I loved the interaction with the public and met some interesting people. Most visitors are interested in the historic building but some keen artists as well.
I could say so much more and of course I have booked next year in October. I was made so welcome and nothing was too much trouble.
If anyone feels they would like a few days in paradise there are 4 beds I can fill or please enquire if you would like to take a Residency – it is well worth it – a national treasure I reckon.


Art Gallery Visit
A great day was had by all,
Fantastic exhibition of Sydney Noland's Ned Kelly series. Lunch at the library, lovely organic food, good company, PERFECT.
Thanks to Sandra Reynolds for organising this trip. Sandra is our social events organiser so if you have any ideas for outings and art camps send her an email [email protected]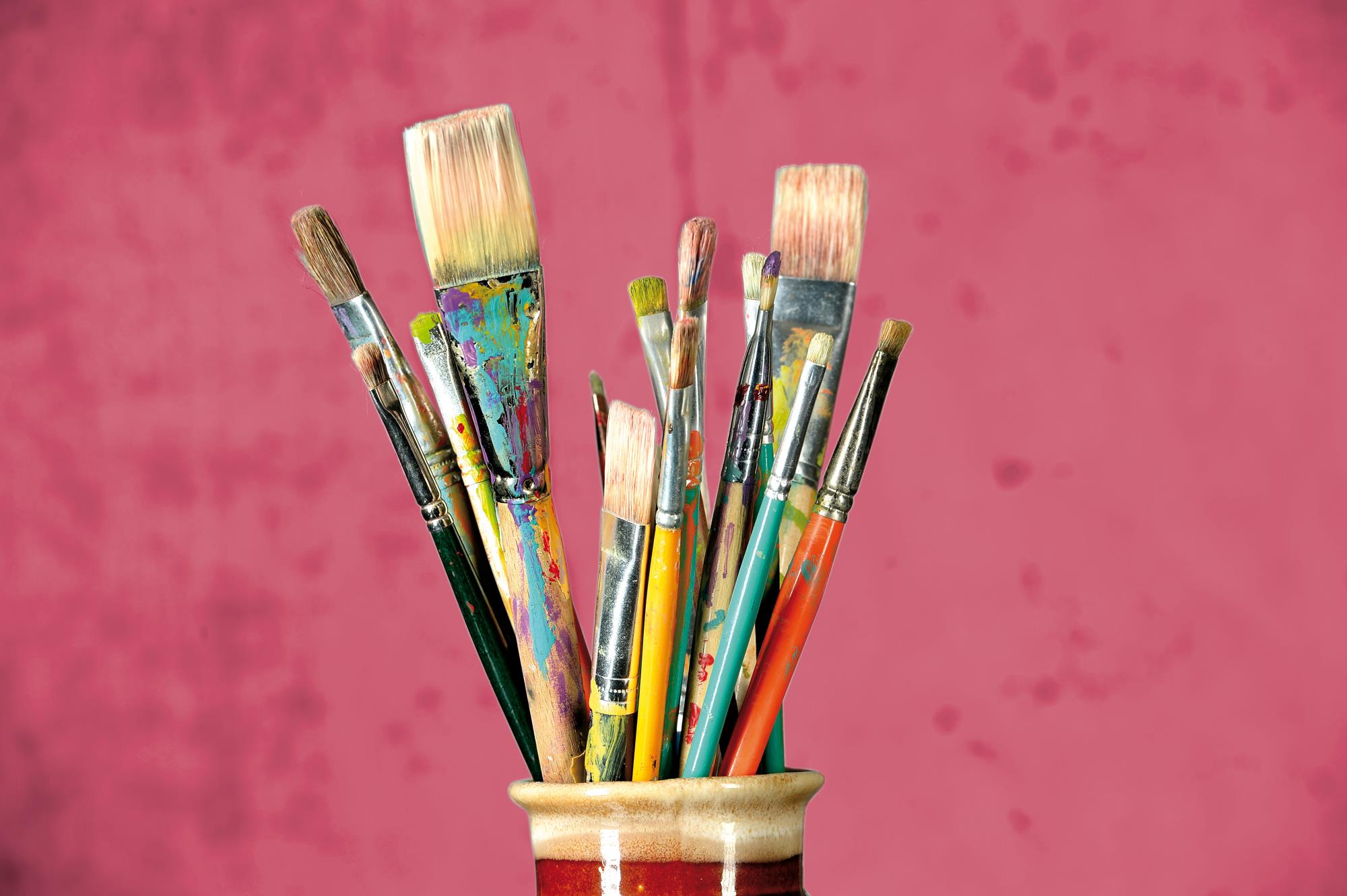 ARMADALE SOCIETY OF ARTISTS INC.
Annual Exhibition Update -
Weekend of 26 to 28 October 2018.
This year's Exhibition is fast approaching. Last day for entries is the next Monthly Meeting on 4 October.
We have a lot of new Members this year, we would love to see you submit an entry, even if you can only enter one painting it is a great feeling to see your work displayed.
We are very appreciative to our Members who have donated a painting for this year's raffles. Thank you to Jeanette Dyson, Geraldine Gustavino, Dot Marshall, Helen Cockburn and Ruby Ellen. We will be drawing the raffles at close of Exhibition except for Jeanette's which will be raffled on Opening Night.
An update on our Grant application, City of Armadale have advised us there is a delay on the September decision for all the Community Grants we will now be advised by 19 October which is a week out from our Exhibition. So, keep your fingers extra crossed.
How you can help!
For cost saving reasons we are asking our Members to please supply a plate of food for our Opening Night. We require a mix of savory and sweet cocktail party finger food. Food that's easy to hold a drink in one hand a tasty bite in the other plus a program of course. If you can help out please advise Frankie Maher who will be coordinating the catering, email: [email protected] or phone: 0419 946 716 and advise if you will be bringing savory or sweet.
We now have two dates to remember if you can help out
Sunday 30 September painting catalogue covers
Sunday 21 October collating the programs.
If you can spare some time, please advise Maureen on 0416 257 594.
Word of mouth is still the best means of advertising our Event, please help by dropping flyers off in your local areas.
This year invitations will be sent via paperless post and mobile phone message. We will still post to members who receive Newsletter by Mail.
Questions have been asked regarding attaching the labels to the back of paintings for the
Exhibition, particularly the use of sticky tape on canvas not being secure. It has been suggested that the easiest and most effective way to attach the label to the back of a painting is to use cellophane tape on one edge of the label and place the other half of tape over the hanging string.

SPONSOR'S FOCUS
Norvek offers a high resolution flat bed scanning service for artist to scan and reproduce their artwork as Limited edition prints on archival papers either as a one off prints or we can price in quantities
Enquiries contact Gillian Radford
Shop5/714 Ranford Road, Southern River
Phone No. 9394 0567 email [email protected]
mob 0418 884 011



SEPTEMBER 2018NEWSLETTER
www.armadalesocietyofartists.com.au ◊ [email protected]
Facebook: https://www.facebook.com/ groups/301465203199849/about/
Word From the President
Dear Members,
Spring is just around the corner. With all the recent rain I am sure our gardens are starting to go crazy and soon we will be alive with the colour of Spring Flowers. The "Spring into Armadale" Event Program is now available with all our Armadale Region happenings. Please see flyer.
Once again ASA are preparing for it's fourth year with the AHOSAT. The Art House will be displaying and demonstrating to the Public. In the middle of all this we are holding an Open Day and Art & Craft Market on the 16 Sept. This year it's worth mentioning that we have quite a few ASA Members opening their studios for the first time. Jenny Herbert, Lynda Everitt with Ian Kallas and Linda Glover, Gunter Lorenz. We wish them all the best.
The Pop-Up-Shop closed on Monday 20 August after 10 months operating. It felt quite sad that our time has come to an end for now. What a wonderful opportunity this has been for our Members. We thank the Armadale Shopping City in particular our lovely Siobhan from Centre Managment. The door has been left open for ASA to return if the opportunity arises again and definitely Exhibitions in the Open Space are back on the agenda.
Outside of the Frame concluded, which was held at the new Rossiter Pavilion Piara Waters. What a beautiful building! Thank you to our Members who travelled that little further to do a roster. I think we were of the opinion that the Year12 students Art on display was of a very high standard. Congratulations to all the students and schools on a job well done.
Well done to our Feature Artists for August Diane Miles, Wendy Bishop and Barbara Cotter who held an afternoon informal drink and Nibbles at the Art House. There was around 45 members, friends and family to help them celebrate and the food was delicious.
Our Annual Exhibition is coming up very soon over the weekend 26 - 28 October. With your Newsletter this month you will also receive Entry forms for this years Annual Exhibition with all the information you need to know to enter. (Exhibition update inside)
In the mind of every artist there is a masterpiece. Kai Greene. So let's get busy everyone and create that masterpiece. Happy painting
Trish Halloran

DATES FOR YOUR DIARY…
Art House & Gallery Open Day
Sunday 16 September
Armadale Hills Open Studio Arts Trail (AHOSAT)
Friday/Saturday/Sunday Art House
7-9, 14-16, & 21-23 September
10am till 4pm daily
30 September from10am at the Art House Catalogue covers.
Armadale Society of Artists Inc. Annual Art Exhibition
26-28 October
Greendale Centre


Thursday 6th September 7:00pm at
Creyk Park Pavilion, Waltham Road, Armadale. Supper provided by the "Loose & Luscious Ladies"
This month's demonstrator, Roger Reading, Roger is an oil painter whose world travels inspire his art. He paints from his bank of feelings and cultural appreciation. To him, "art is about having fun and enjoying the journey."
Our challenge topic this month is Outback
Please bring along a picture in any medium or sketching style in a frame, or with mat.
The guest demonstrator will choose their favourite painting to win a prize!
Future Challenges:
October: Boating
November: Still life
December: Celebration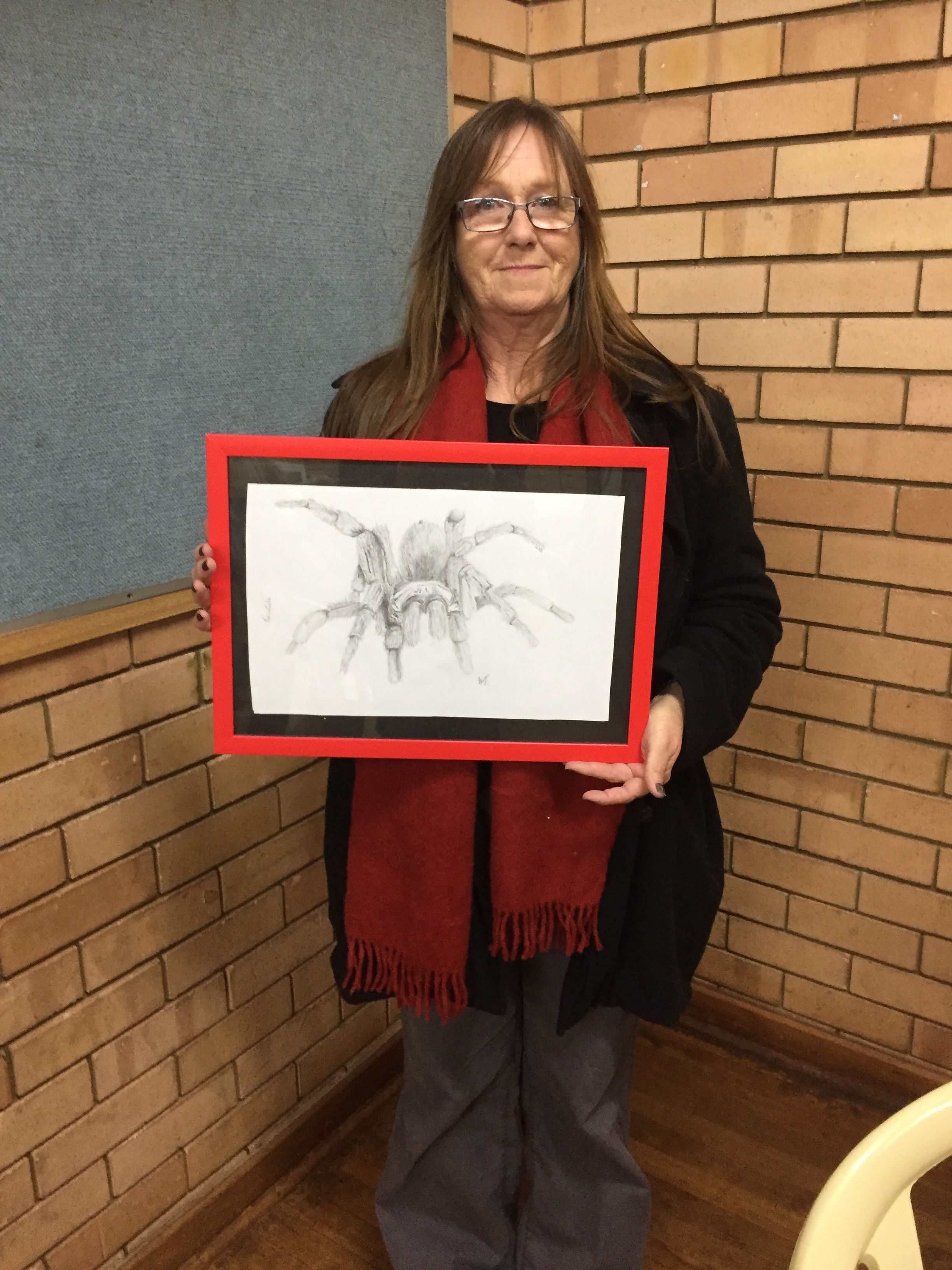 Above :The winner of last month's challenge with her drawing of a spider, HAZEL DUGGAN who is featured on the "WHAT'S ON MY EASEL" pag
Above : Jude presented our treasurer, Vicky Alchin with her demonstration painting, it was Vicky's birthday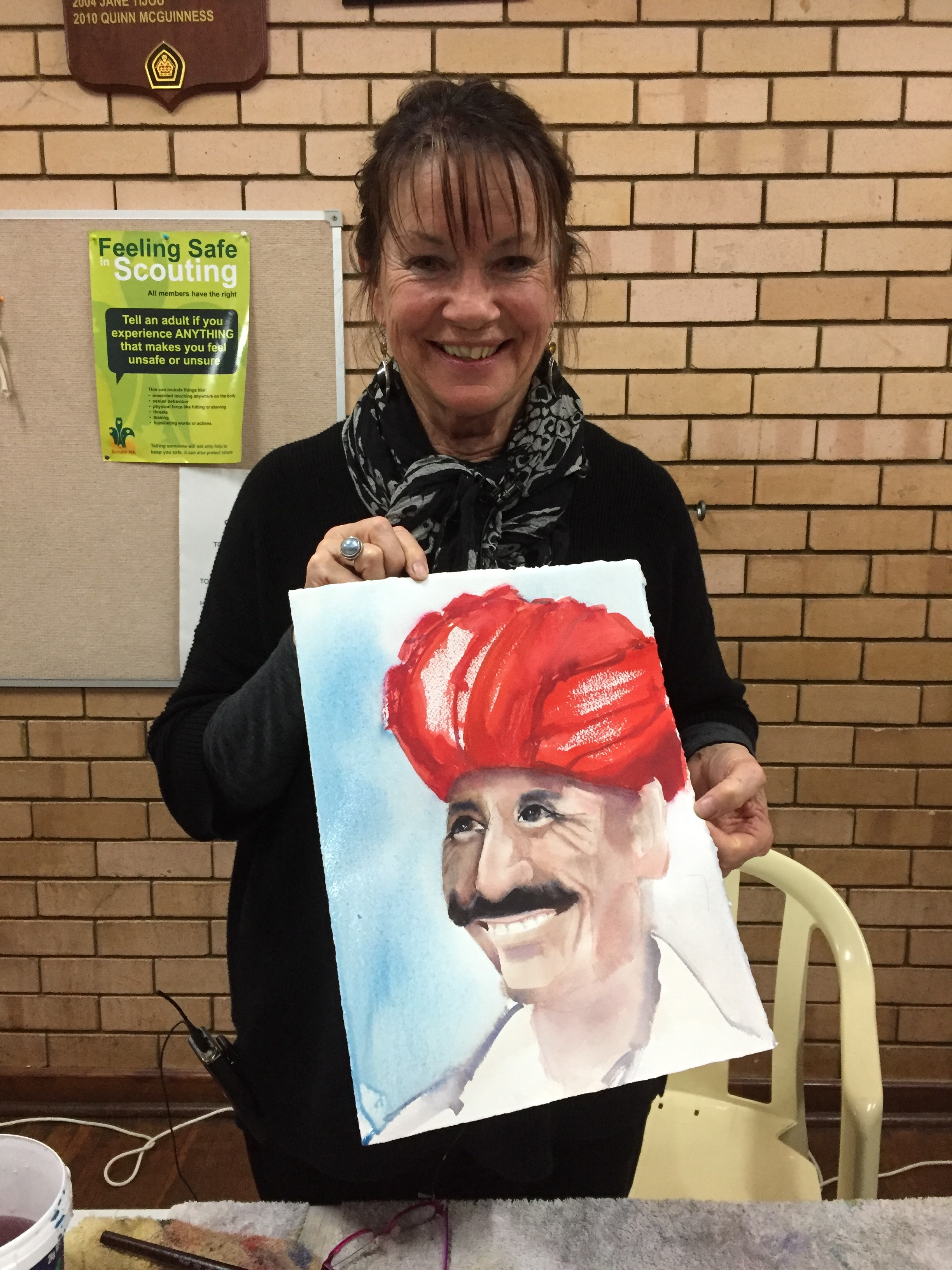 Above: Jude Scott
Last month's demonstrator


NEWS FROM THE POP UP SHOP
This month the Pop-Up-Shop News is coming from Trish Halloran as Sandie is away on a well deserved holiday.
It is sad to say goodbye for now to our ASA Pop-Up-Shop. We started the shop last November and our final day was Sunday 19 August. We have traded for the past 238 days and in that time we have sold over 300 paintings and have recorded over 11,000 visitors to the shop. That is an amazing effort!
To our shop participants past and present a big thank you for all your diligence in handling the two rosters per month and congratulations on selling your artworks over this period. 'The feedback from our shop participants was that the social interaction between the visitors was such a positive experience. Through that interaction we have gained over 30 new Members.
I would like to say thank you Sandie, Shop Coordinator on behalf of all our shop participants and myself. Sandie has worked tirelessly in handling all the details of running the roster and the shop. Thank you also to our hard working Sub Committee's Maureen, Val, Mary and Jim for sharing the work load and for all the extra rosters they did to help out. We cannot forget a thank you to Vicky Alchin our Treasurer for making sure that all our Artists were paid promptly and efficiently on the sales of their paintings.
Finally a big thank you to Armadale Shopping City Management and Siobhan, for giving the ASA such a wonderful opportunity. We are leaving the shop with the knowledge that we may be back at some stage with another shop, but in the meantime it's great news that we can still hold our Exhibitions in the Open Space of the Mall. We will certainly keep you posted.
Shop Committee
Co-ordinator Sandra Spindler
0414 361 321
Jim Halloran 0400 370 089
Mary Jarret 0419 801 624

Last week LINDA GLOVER won The Curator's Choice for "Island Boy" and Highly Commended for "The Guardian" at the MCAA Awards 2018 at Atwell Gallery, Congratulation Linda, these are truly beautiful. Well deserved.
Linda Glover has classes at the Art House every Thursday afternoon 1 - 3pm Acrylic, emphasis on Colour Theory, Composition and Tonal Values

Art House News
There is no feature artist at the art house for the month of September as the Open Studio Arts Trail will be running for 3 weekends over the month.
PLEASE PICK UP ANY PAINTINGS OR CARDS AND UNFRAMED PAINTINGS THAT YOU HAVE IN THE GALLERY
The Art House will be open as normal and the regular classes during the week (except Friday) will be held as usual. The art trail is held on Friday, Saturday and Sunday.
DATES TO REMEMBER FOR THE OPEN STUDIO TRAIL
More information will be sent out to participating members before the art trail with
roster details etc.
AHOSAT PARTICIPANTS TO BRING PAINTINGS TO ART HOUSE 31ST AUGUST.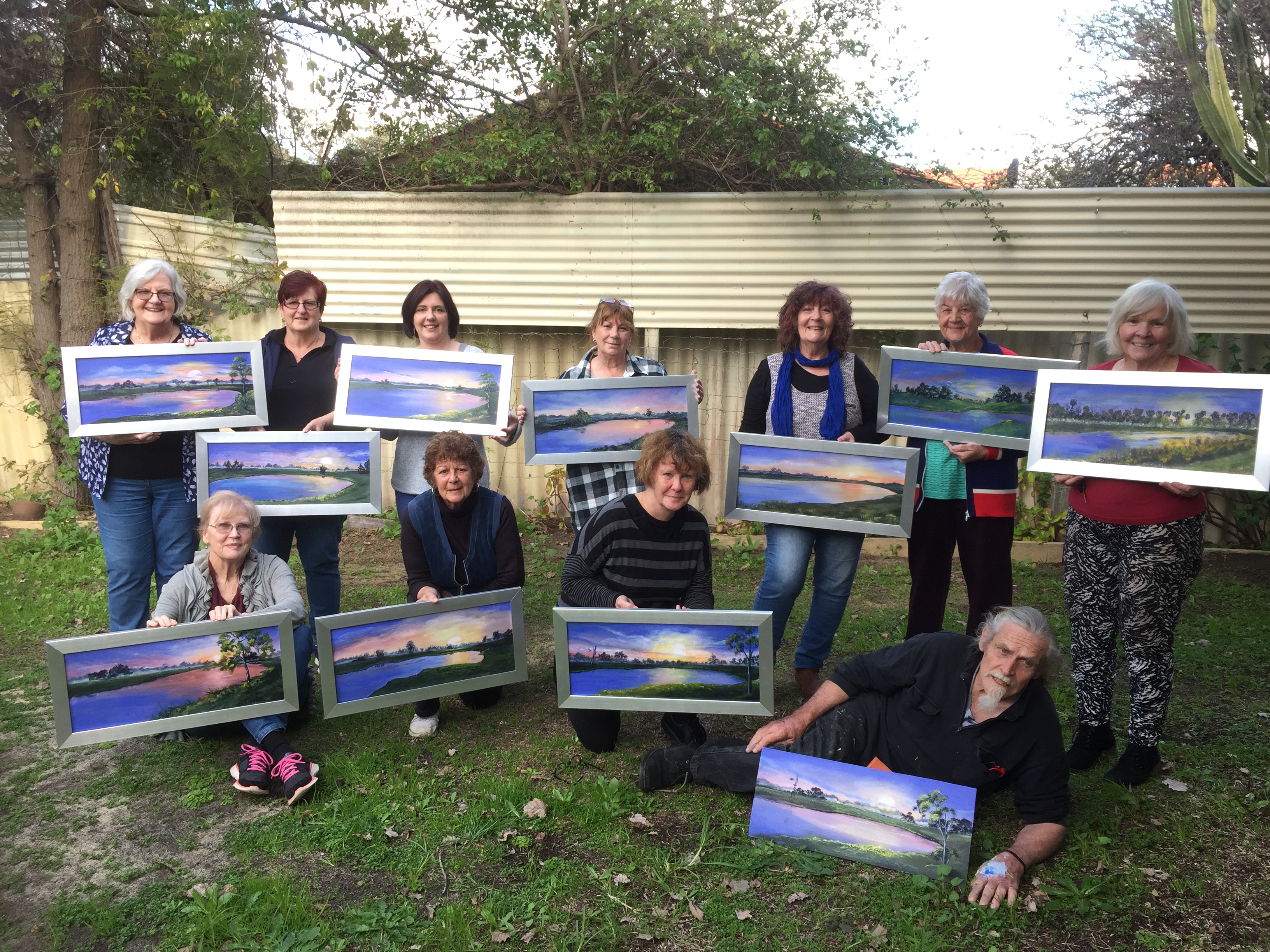 Once again Eddie Beer's ever popular workshop at the art house was a great success, some lovely paintings here well done everyone.

Armadale Hills Open Studio Arts Trail and Open Day
During the Arts Trail we are holding an Open Day on Sunday 16 September. This Open Day gives ASA a chance to promote our classes and workshops to the Community. We are calling on ASA Teachers or Members who would like to help run demonstrations on different mediums, Oil, Pastel, Watercolour, Acrylic, Mixed Media and Drawing. Hopefully this will motivate some new students for our classes and workshops. There is an expression of interest sheet in the art house shed.
The Open Day will also include a market day. If any members would be interested in booking a market stall single or shared, you will find event sheet in the shed to write your names down. We will also have fun raffles, Devonshire teas and sausage sizzle. Live Folk Music with the magic voices of Jane Kira between 1pm and 3pm.
Also a sheet in the shed for you to put your names down.
We need volunteers to help on market day with the Devonshire teas, sausage sizzle, raffles, and any other fund raising activities.
Dot will be making her usual Devonshire scones.
Please contact
Val ….. [email protected]
0478 530 659
or Maureen ……. 0416 257 594
These events will be promoted in the Spring into Armadale Festival guide and local papers.
FLYERS ARE AVAILABLE AT THE ART HOUSE, PLEASE HELP US TO PROMOTE THIS BY DISTRIBUTING FLYERS,

What's on My Easel: Hazel Duggan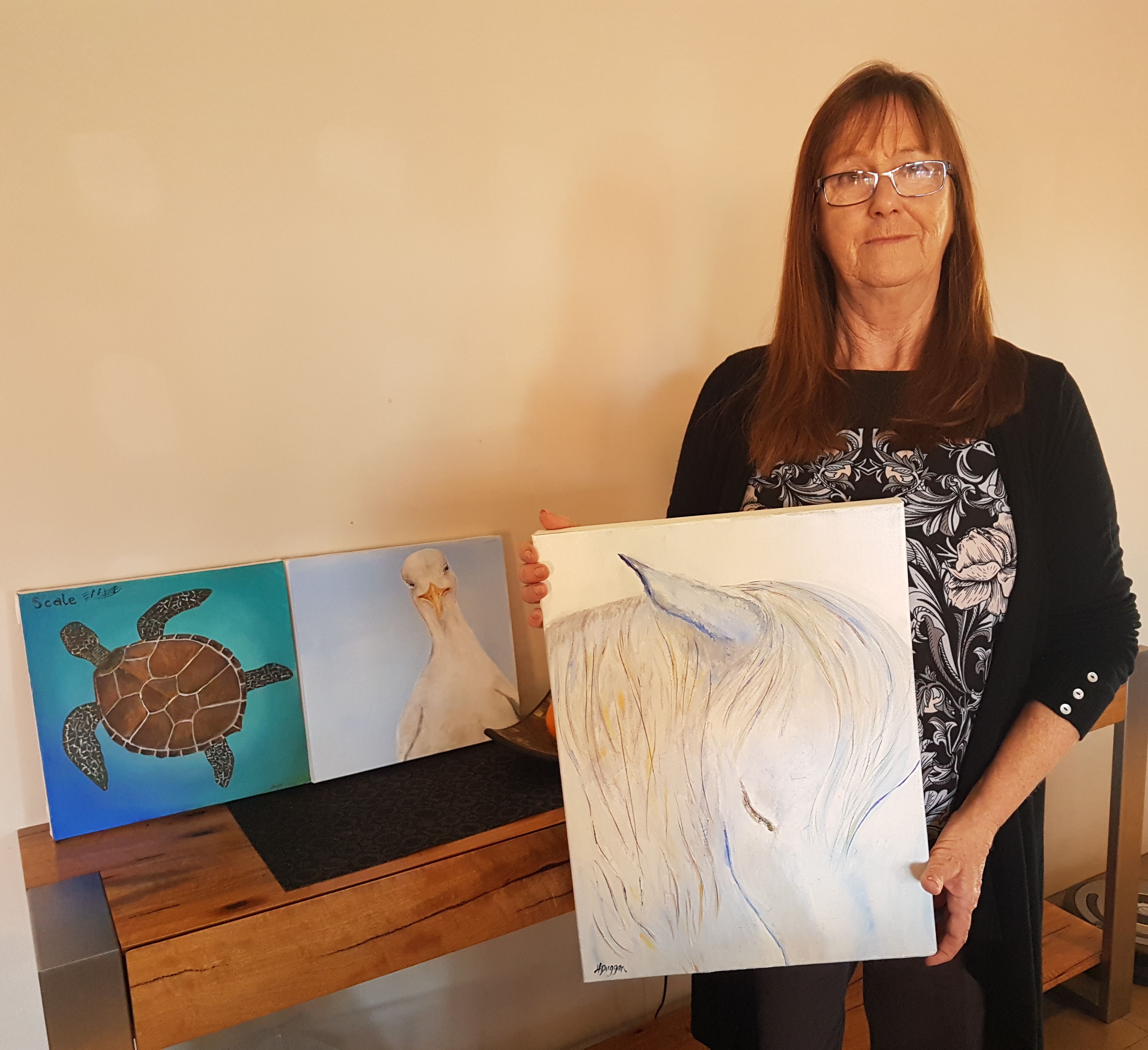 HAZEL DUGGAN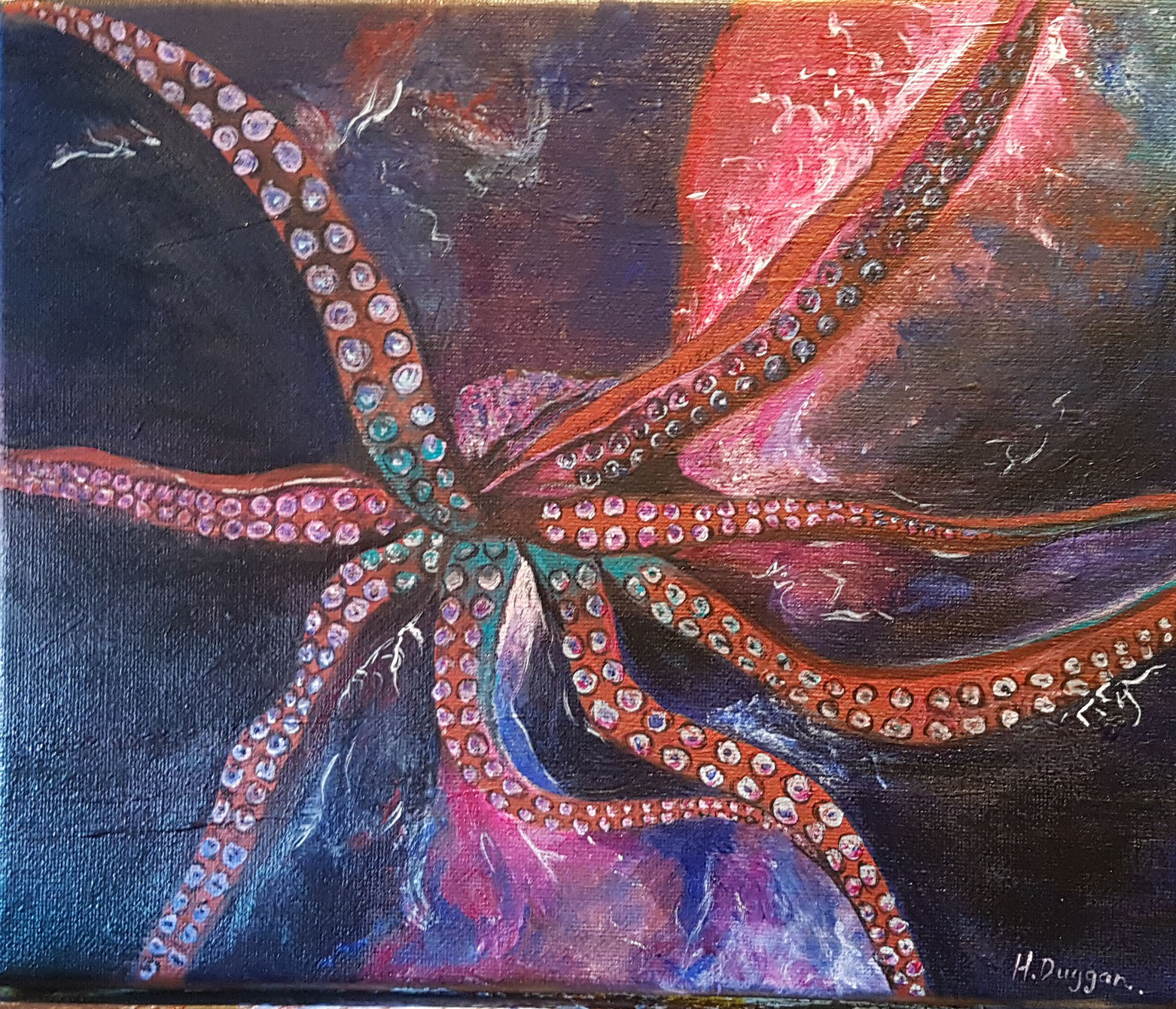 OCTOPUS

WALL VINE
WINNING ARTWORK, SPIDER
What's on my Easel? Well, an octopus for one. And a rock wall with a vine and a wheat field.
For as long as I can remember I liked to draw. I also had a love of horses. So that was what I would usually draw. Now, when I look over the paintings and drawings that I have completed over the last couple of years it is obvious that I haven't settled on any particular subject matter or style. Ducklings and ants, spiders and horses, dandelions and kingfisher, telegraph poles, The Hulk and oh yes, an octopus.
Over the last couple of years, I have picked up my pencils and started drawing again. Same story I hear from others; things like work, children and generally being busy tends to put things on hold.
My son gave me an easel so I figured that I might try my hand at painting! I went out and bought some acrylic paints and some canvasses then trolled the internet for instructions on painting with acrylics. I was amazed at how many interesting and helpful tutorials are out there.
I have experimented with different brush styles and using a palette knife. I really do enjoy trying a variety of ways to put paint on canvas.
When I am not sketching or painting, well actually even when I am sketching or painting, I am Nana to 5 wonderful grandchildren.
My daughter has been encouraging me to "put my art out there". This I something I have never done, I guess I am rather shy and not all that confident. So, I started looking around for a group to be involved with and to meet other like-minded people. The Armadale Art Society sounded like the perfect fit and thanks guys, I have felt welcomed since I joined a month ago.
Seeing all the wonderful talent at the Art House and the pop-up shop I am hoping to learn, be inspired and make friends.

ARMADALE SOCIETY OF ARTISTS INC.
Annual Exhibition Update - Weekend of 26 to 28 October 2018.
This years Exhibition is in the planning stages and we have a Sub Committee and Committee, working hard to make sure this is a successful event. To help us pay for our Event we have once again submitted for the 2018 City of Armadale Annual Contribution Grant, so keep your fingers crossed that we are successful, the decision is made in mid September.
We will be officially Launching the Exhibition on Friday Evening 26 October and Henry Zelones OAM JP, Mayor City of Armadale will be officially opening our Exhibition. This years Guest Judges will be well known Perth Artists, Leon Holmes and Stephanie Boyle.
By now you will have received your Entry Form and Roster sheet for this years Annual Exhibition. Our cut off date will be 4 October which is the Members Monthly Meeting.
This year our exhibition will be held at the new Greendale Centre in Coombe Avenue, (off Hobbs Drive) Armadale. The floor space is smaller than the Armadale District Hall. So it has been necessary to reduce the limit to 3 paintings per member and the entry fee has had to increase to $15 per painting. This year ASA will be sponsoring our overall winner and runner up prizes to the value of $1000 plus other prizes provided by our generous Sponsors.
How you can help! We are planning a special Sunday on 30 September from 10am at the Art House to paint Catalogue covers. The catalogue covers hold our programs for the Exhibition and is a great fund raiser for ASA. plus great value for our visitors who get to buy an original painting for $5.00. please rsvp to Maureen Smith on 0416 257 594. A little closer to the time we will have another day collating the Catalogue and the programs.
Another way to help is distribution of our Exhibition flyers. A supply should be available at the next Members Monthly Meeting. Please share with your Groups or Clubs, work, notice boards at local shopping centres, friends and family. Our Exhibition is also listed in the Spring into Armadale Event Program or you can mention www.perthhillsarmadale.com.au and ASA website.
'We are asking for Painting Donations for our Raffles - Donating Artists will be featured in our Exhibition Program and in our next Newsletter.'

Workshops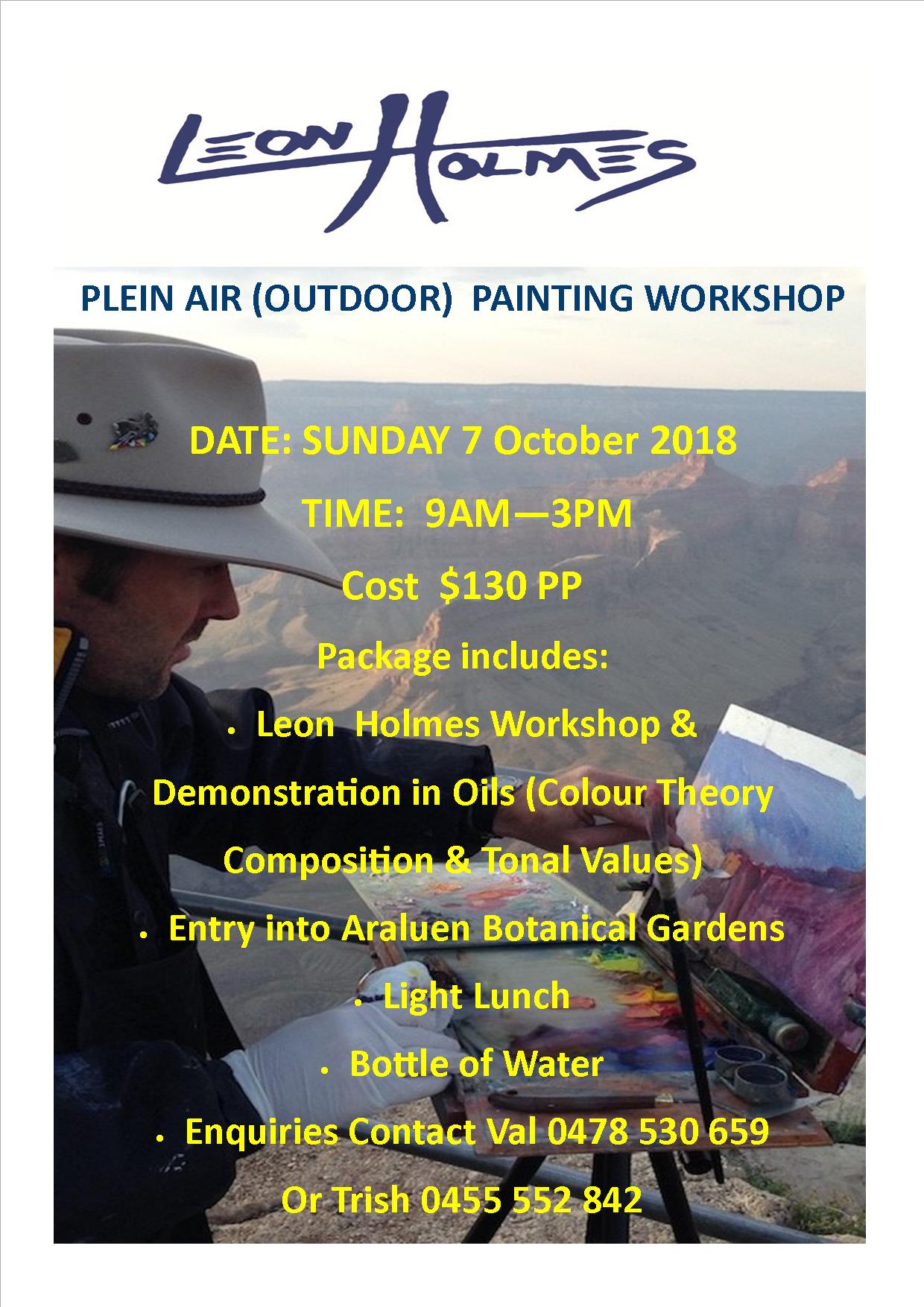 THIS WORKSHOP FULL—DETAILS TO COME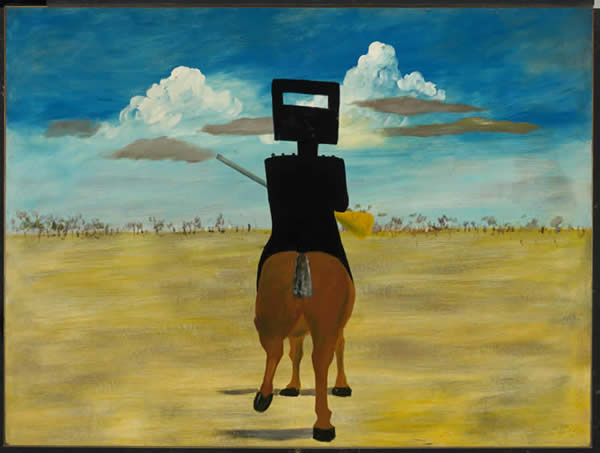 Sandra Reynolds has organised a trip to the Art Gallery, Perth on Thursday 13th September to see the Ned Kelly collection, all are welcome please ring Sandra on 0414 410 137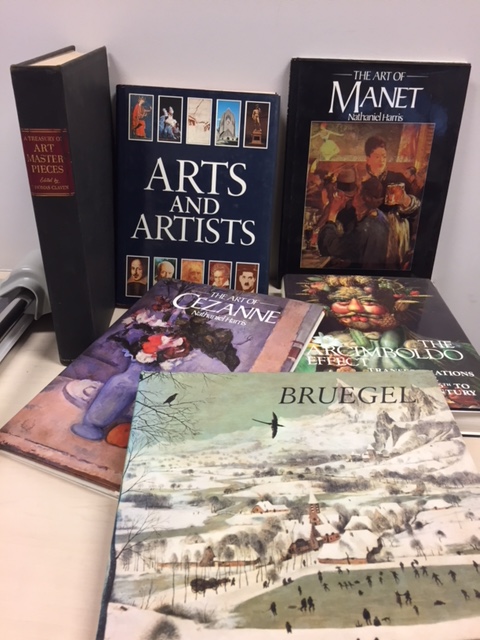 Thank you to the City of Armadale Library, Claire Tomlin for their offer of art books that were donated to the library. Trish picked them up and they are now in our library at the Art House and Gallery for you to borrow.

Sponsors Corner
A.K.P. Crafts (Cath Kelley) Framing
Annual Award—0407 249 565
Catherine Kelley is a long time member of the society and a past president. She has been framing in the local area since 2010. If you have any requirements for framing, Catherine has plenty of advice and creative ideas to help make your artwork look great. You are welcome to phone Catherine and make a time to visit her showroom and see a range of framing materials which includes mouldings, slips, Matt board, foam core, and even a few art supplies on hand. With the Annual Exhibition coming up soon it's good to keep Catherine Kelley in mind.



AUGUST 2018 NEWSLETTER
Word From the President...
Dear Members,
I don't know if you feel like I do but this year has flown by. The next few months will see some big changes for ASA. I can understand for our long term members it's a little unsettling but hopefully at the same time it's very exciting to be entering a new chapter for ASA.
In this edition you can catch up on the news from the Pop-Up-Shop. We have been operating the shop for the past nine months. It has been a mammoth task which has been coordinated very well by Sandie Spindler and her shop committee, who have kept things humming along.
Inside there is more information regarding how you can get involved in the forthcoming September Armadale Hills Open Studio and Arts Trail and our Special Open Day on Sunday 16, which will be our last official event before we move.
Thank you, if you have already added your name to the roster for Outside of the Frame Exhibiton starting 11 August. I am asking for additional volunteers to fill the roster, especially those Members who live close by to the Gosnells/Piara Waters area. We will have the roster sheet at the next Monthly Meeting.
The Art House and Gallery has had a variety of talented Feature Artists this year for the past few months our Feature Artists have hosted some delicious and enjoyable afternoon teas. (Here's a few photo's). Our August Feature Artists have been members for less than twelve months please support them by viewing their work at the Art House. You are invited to come along for Drinks and Nibbles on Saturday 18 August following on from Ian Kallas's afternoon class. Good reason to stay on or pop in especially.
A reminder for our Informal Groups at the Art House that from 01 August our Fees will increase to $4 a session for both Members and Non-Members.
A welcome back to Geraldine who has returned from her overseas holiday and will be restarting her Saturday fortnightly AM classes from 21 July. A new class is starting up with Linda Glover from 02 August each Thursday PM. (Refer to class schedule back of Newsletter).
"Every change brings opportunity with it"
Trish Halloran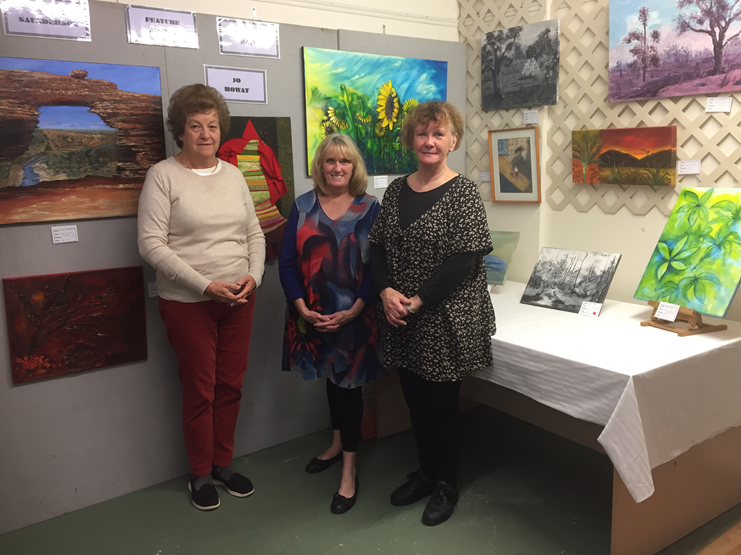 June Feature Artists, Jo Howarth, Angela Saunderson & Trish Davis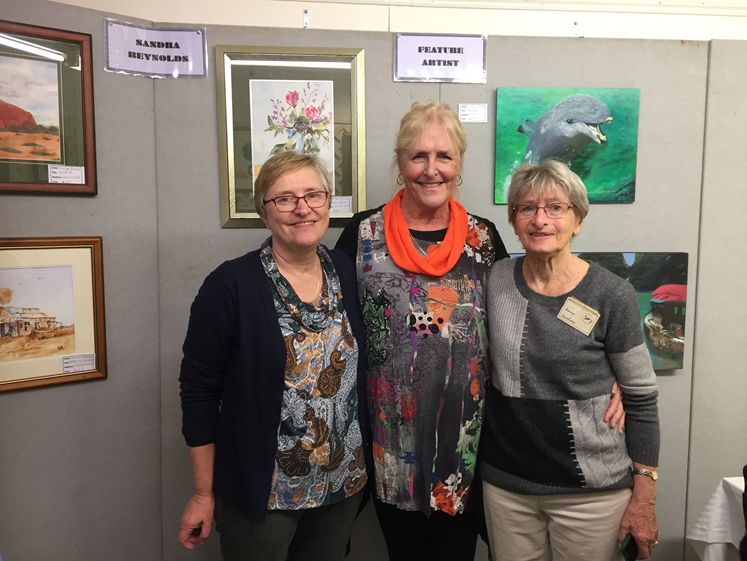 July Feature Artists—Isabel Colenutt, Sandra Reynolds & Jenny Jacobsen
Members enjoying afternoon tea with the July Feature Artists

DATES FOR YOUR DIARY…
¨ Outside the Frame
11-19 August
Piara Waters Pavillion
¨ Art House & Gallery Open Day
Sunday 16 September
¨ Armadale Hills Open Studio Arts Trail (AHOSAT)
Friday/Saturday/Sunday Art House & Gallery
7-9, 14-16, & 21-23 September
10am till 4pm daily
¨ Armadale Society of Artists Inc.
Annual Art Exhibition
26-28 October
Greendale Cent

Thursday 2nd August 7:00pm at
Creyk Park Pavilion, Waltham Road, Armadale.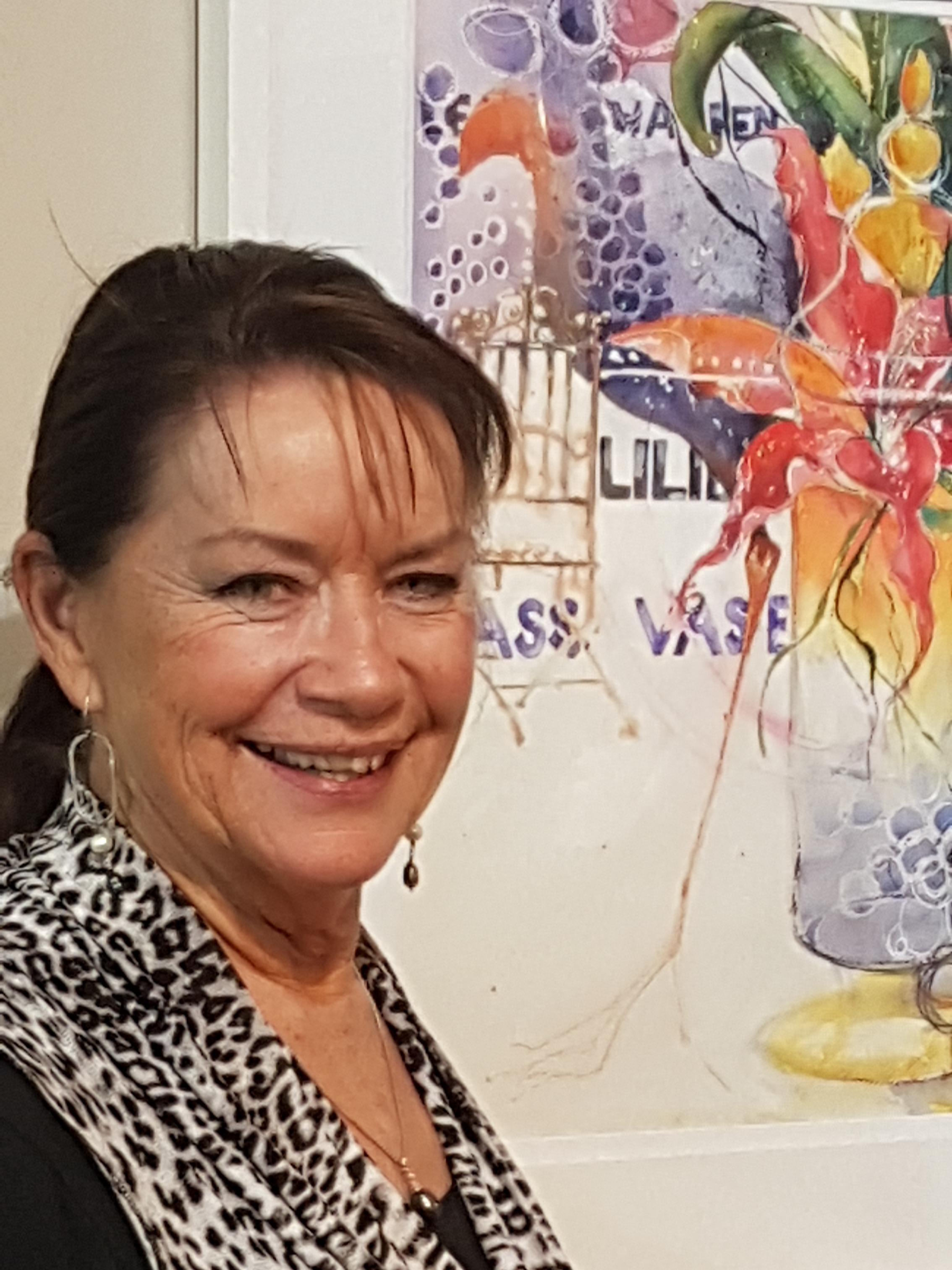 Supper provided by the "Loose & Luscious Ladies"
Jude Scott, WILL BE OUR DEMONSTRATOR FOR THE MEETING
Jude Scott is a watercolour artist who teaches and conducts workshops locally, and also in Bali, India and Italy.
Her award-winning paintings have been accepted in exhibitions throughout Australia and in Italy and Poland.
At this month's AAS Monthly Meeting, Jude will demonstrate portraiture.
Our challenge topic this month is Insects
Please bring along a picture in any medium or sketching style in a frame, or with mat.
The guest demonstrator will choose their favourite painting to win a prize!
Future Challenges:
September: Outback
October: Boating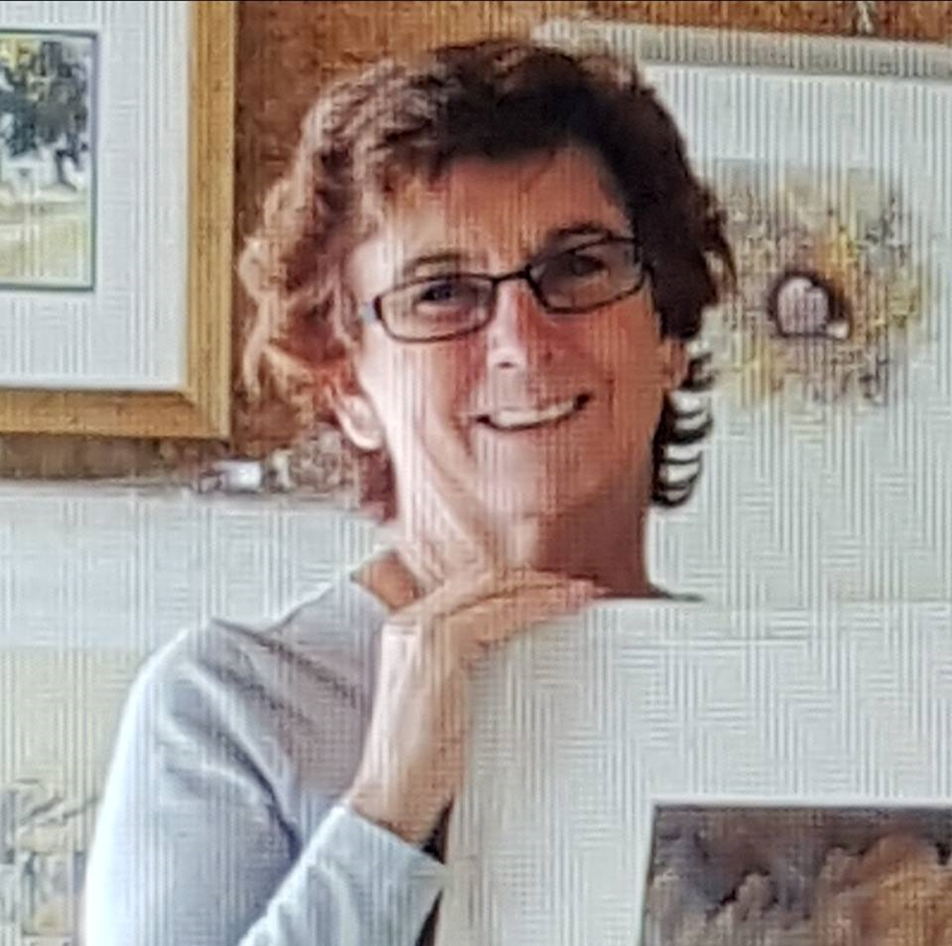 Penny Maddison was last month's demonstrator
Jane Trichet was chosen by Penny as the winner of the challenge at the July meeting with her wonderful self portrait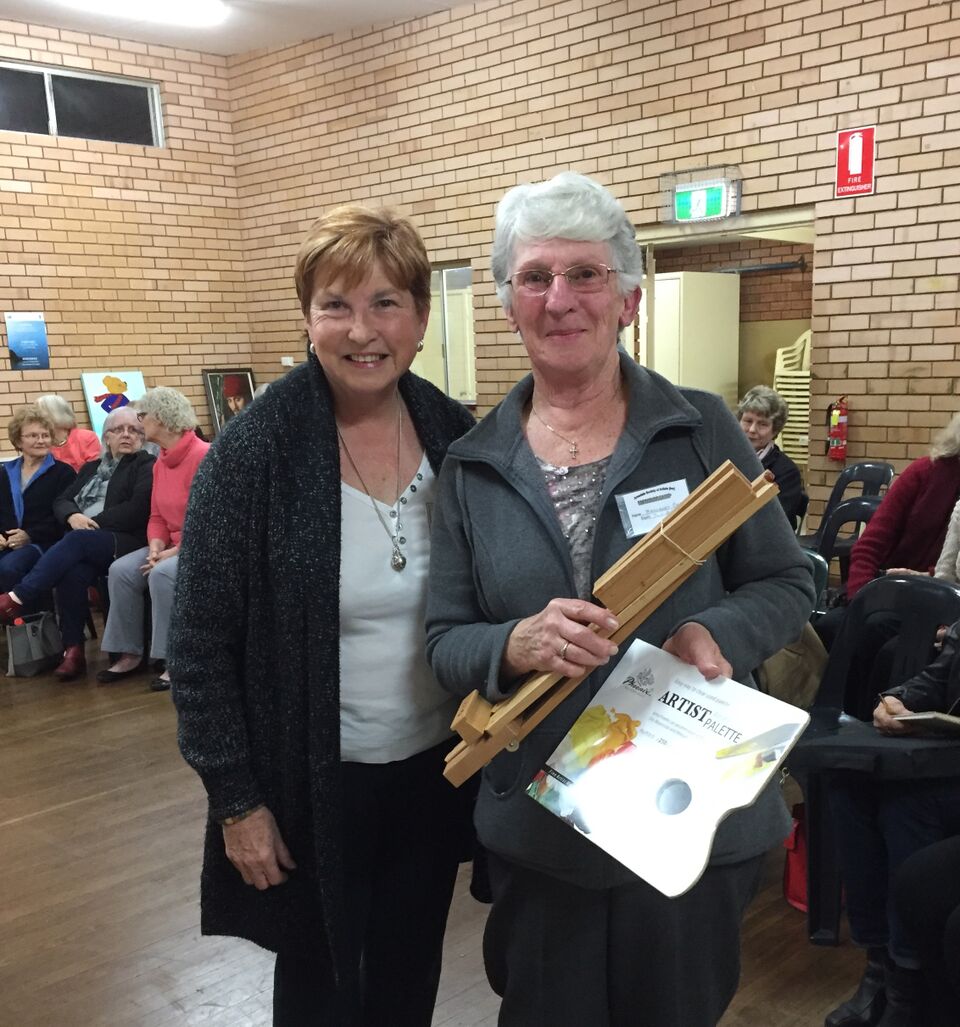 prize winner of the raffle


NEWS FROMTHE POP UP SHOP
Our Pop Up Shop is looking fantastic, with many compliments and positive comments on the display and qualiy of artworks. We must be doing something right!
4 new artists joined us for the month of June and we expect about the same for July/August. With artists coming and going we usually have a team of between 40 and 45 artists at a time participating in the shop.
Our attendance record book is showing an average of 47 visitors per day with well over 250 paintings sold to date. Several commissions for our artists have also come about through the shop, plus many card sales.
The ASA is supporting a registered and very worthy charity by the name of ART Vs DEPPRESSION. You can meet our latest member "PALLETTE" sitting on top of a brightly coloured collection box in the shop. A nice talking point for visitors stopping to chat and hopefully dropping a donation into the box. Pallette was created by Kay Cooper owner of Cottonwool Creations in Kelmscott.
If you are interested in joining the Pop up shop as an exhibiting artist, please contact one of the shop committee The cost of displaying your artwork is $30 monthly plus 2x full day shifts 9am-5pm per roster
Shop Committee
Co-ordinator Sandra Spindler
0414 361 321
Jim Halloran 0400 370 089
Mary Jarret 0419 801 624

Art House News

Last year's AHOSAT was once again a great success, many sales were made and lots of fun was had by all involved, even the trees at the front of the art house were dressed up for the occasion, attracting lots of passing visitors and bringing smiles to their faces. A community painting was done by the visitors, mainly the children and is now on the wall at the art house.
The Art House and Gallery have registered with City of Armadale to be part of this years Armadale Hills Open Studio Arts Trail planned for three weekends in September 7-9, 14-16, and 21-23. Please give some thought if you would like to be involved in this years AHOSAT, we have an Event Sheet in the Shed and you are encouraged to add your name to the list.
Armadale Hills Open Studio Arts Trail and Open Day
During the Arts Trail we are holding an Open Day on Sunday 16 September. This Open Day gives ASA a chance to promote our classes and workshops to the Community. We are calling on ASA Teachers or Members who would like to help run demonstrations on different mediums, Oil, Pastel, Watercolour, Acrylic, Mixed Media and Drawing. Hopefully this will motivate some new students for our classes and workshops. There is an expression of interest sheet in the art house shed.
The Open Day will also include a market day. If any members would be interested in booking a market stall single or shared, you will find event sheet in the shed to write your names down. We will also have fun raffles, Devonshire teas and sausage sizzle. Also a sheet in the shed for you to put your names down.
Both these events will be promoted in the Spring into Armadale Festival guide and local papers.
Feature Artists for August...
Introducing Diane Miles...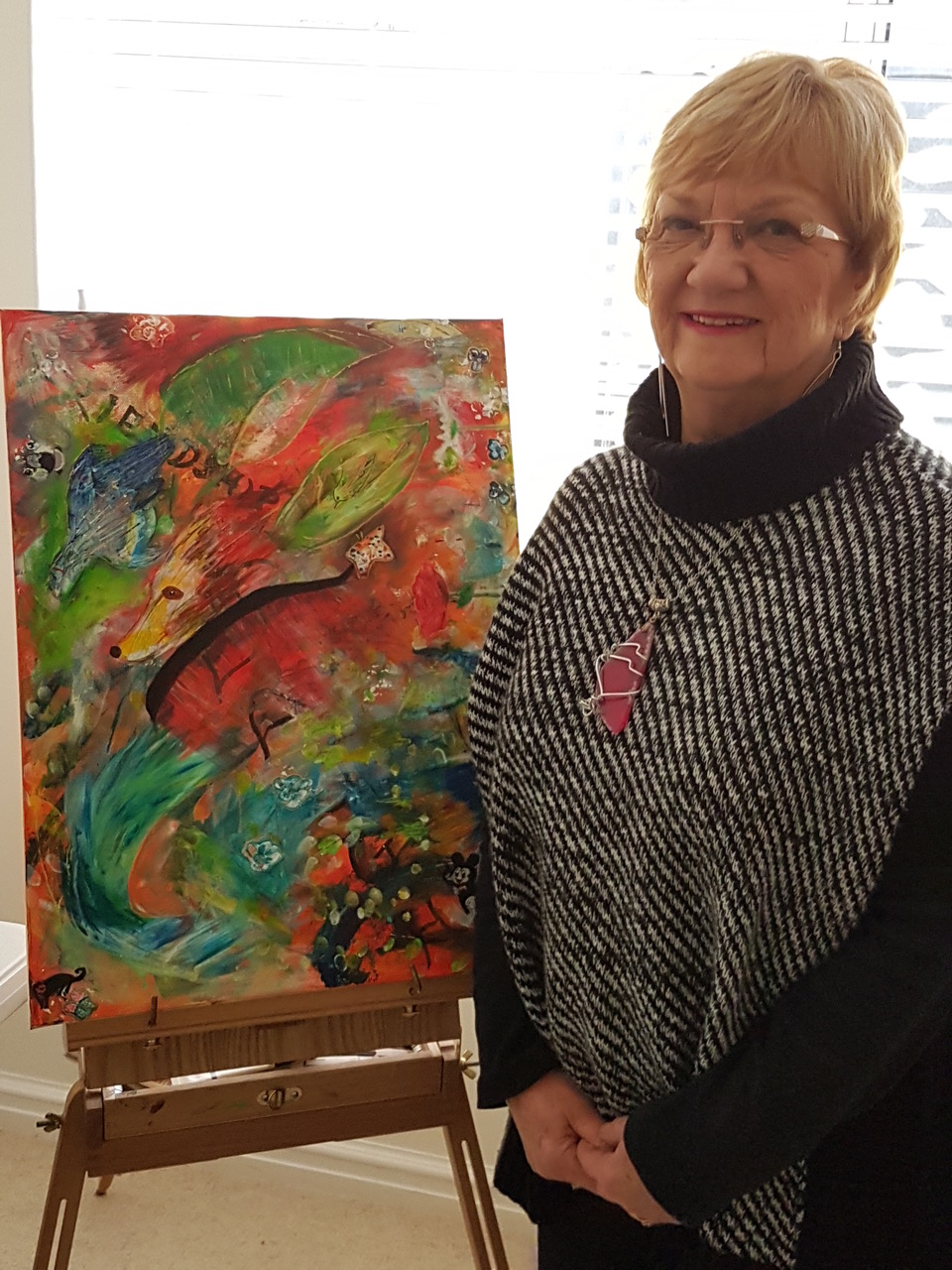 'Emerging from the Subconscious'
It is thanks to a very close family friend who encouraged me to join an art class over 2 years ago. Since school I have always wanted to paint as I loved my art classes. After learning how to paint with acrylics, early this year I discovered Mixed Media and Intuitive art which I absolutely love doing. I believe that there are no limits in this medium. The key to doing any form of art or anything in life for that matter is that you enjoy what you are doing. We all have our individual talents!
Introducing Wendy Bishop...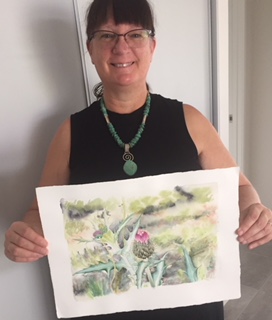 I'm new to ASA having joined in February. I've been doing something in the arts since grade school drawing horses while I was supposed to be paying attention to the teacher.
I have a Bachelor of Applied Arts from Central Michigan University where I studied pottery (and a B.S. in Geology).
I started in watercolors around 15 years ago as a hobby. This will be my first foray into a public display!
Introducing Barbara Cotter...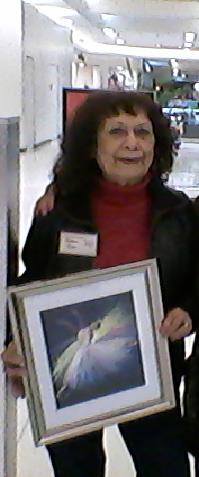 I was born in Colombo, Ceylon (now Sri Lanka) and migrated to Australia in the early 1960's. I lived and worked in Sydney, Canberra, then moved to Perth in the early 1980's. I've held a variety of jobs including starting a successful boutique business in Canberra in the 1970's where I enjoyed fashion designing.
I joined the Armadale Art Society earlier this year after having studied drawing with Hazel Moore some years ago, then I studied painting with Susan Angwin at Avocados, and I'm presently developing my skills with Irene Young at Stonegate Art Studio.
You are invited to AFTERNOON TEA
Saturday 18th August From 4:00pm
Drinks and Nibbles supplied
Please call in and meet the artists! Everyone welcome

What's on My Easel: Jane Trichett
So I am fairly new at displaying my art in exhibitions and such, but have been creating in one form or another for a long time having tried folk art, calligraphy, mosaics, pencil etc, etc, for my own enjoyment, it wasn't until I happened on the Art House and started drawing lessons that I was encouraged to exhibit pieces. Becoming a member 3/4 years ago I tried my hand at pastels originally but found I couldn't get the detail I was after. Having admired scratchboard art through art magazines for a while. I was finally able to purchase this product locally much to my joy and have been scratching ever since. (Ha) sounds like I've caught something and I think I have! The scratchboard bug!
I guess I should explain what scratchboarding is. As a lot of people are not familiar with this medium.
A Masonite board which is coated with clay then a layer of black ink, a blank clay board Is also available on which you can apply your own ink. An image or design is then scratched out to reveal the white clay beneath. My most used tool for scratching would have to be the simple craft knife.
Though there are a variety of tools available for different effects. Diluted coloured inks or watercolours can be applied if wanting colour or diluted black india ink can also be used to create more depth which can be done several times if you so choose, re-scratching in between washes.
My favourite subject is wildlife, as scratchboarding is a great medium for creating fur, feathers and such, it can be a bit time consuming as many strokes are used to get the effects needed put I'm really enjoying this medium and finding it very satisfying.
The pictures I 'm showing here, Lost and Alone, one I produced after watching a demonstration on paint pouring at one of our ASA meetings, I thought I'd use the same technique with inks on blank clay board and liked the effect it gave and may try it again in the future. The second one (one of my latest) I'm not sure of the title yet, is just a love of natives, I take lots and lots of photos before drawing up how I want it to look, then transfer it onto the board and start scratching away
This is a self portrait of Jane that she
displayed at the last meeting, winning the monthly prize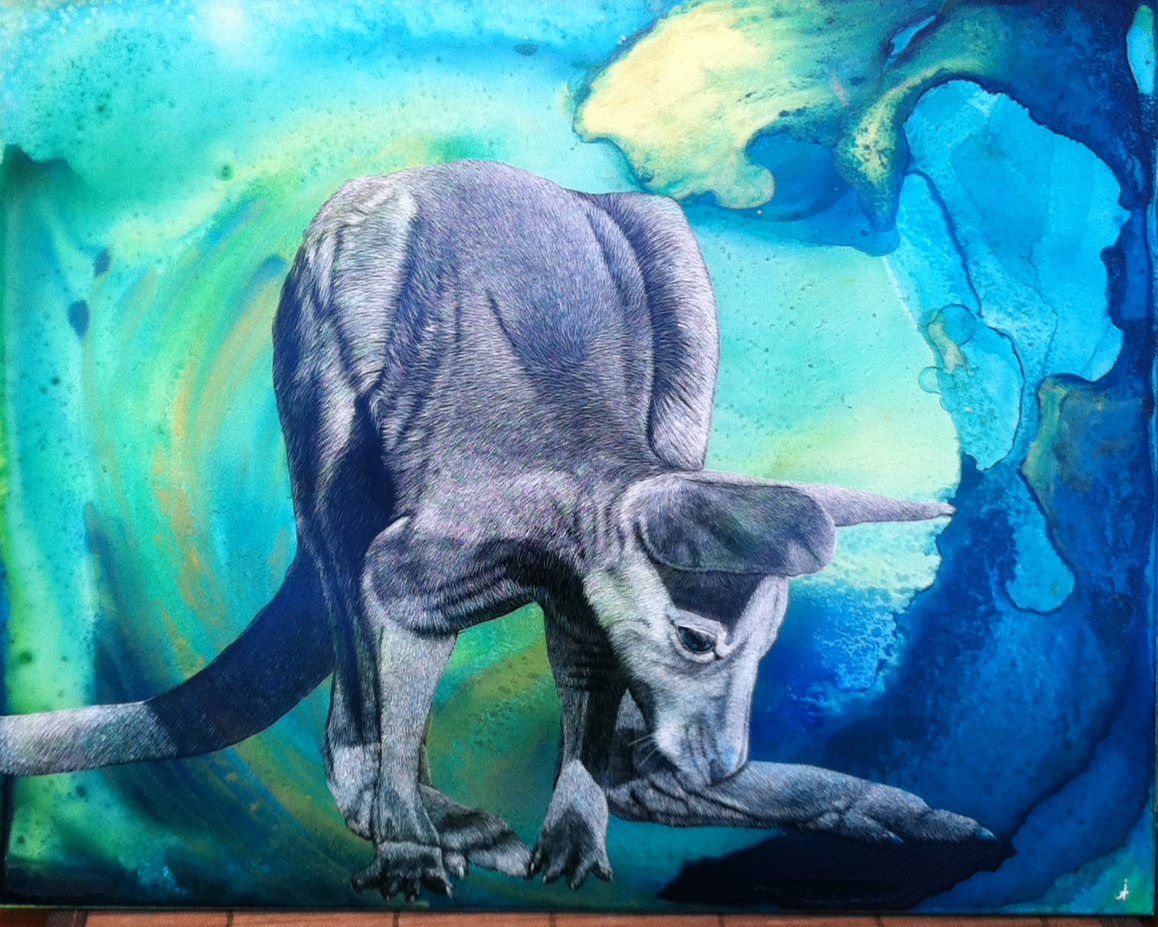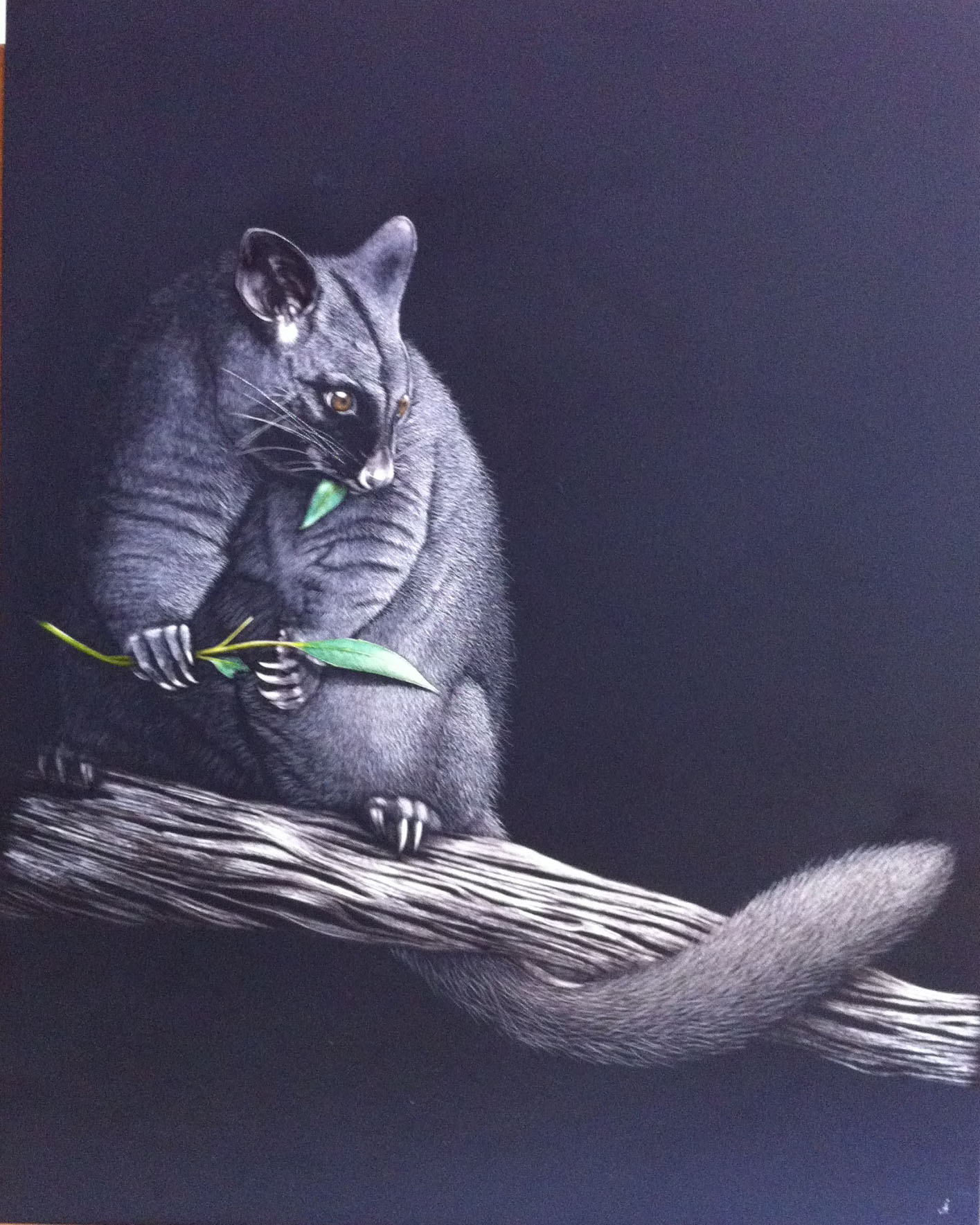 Workshops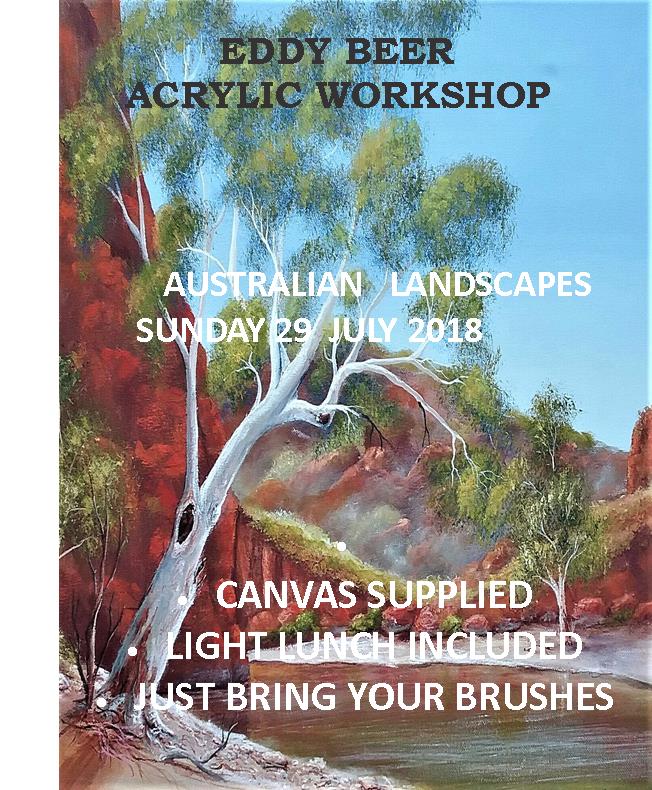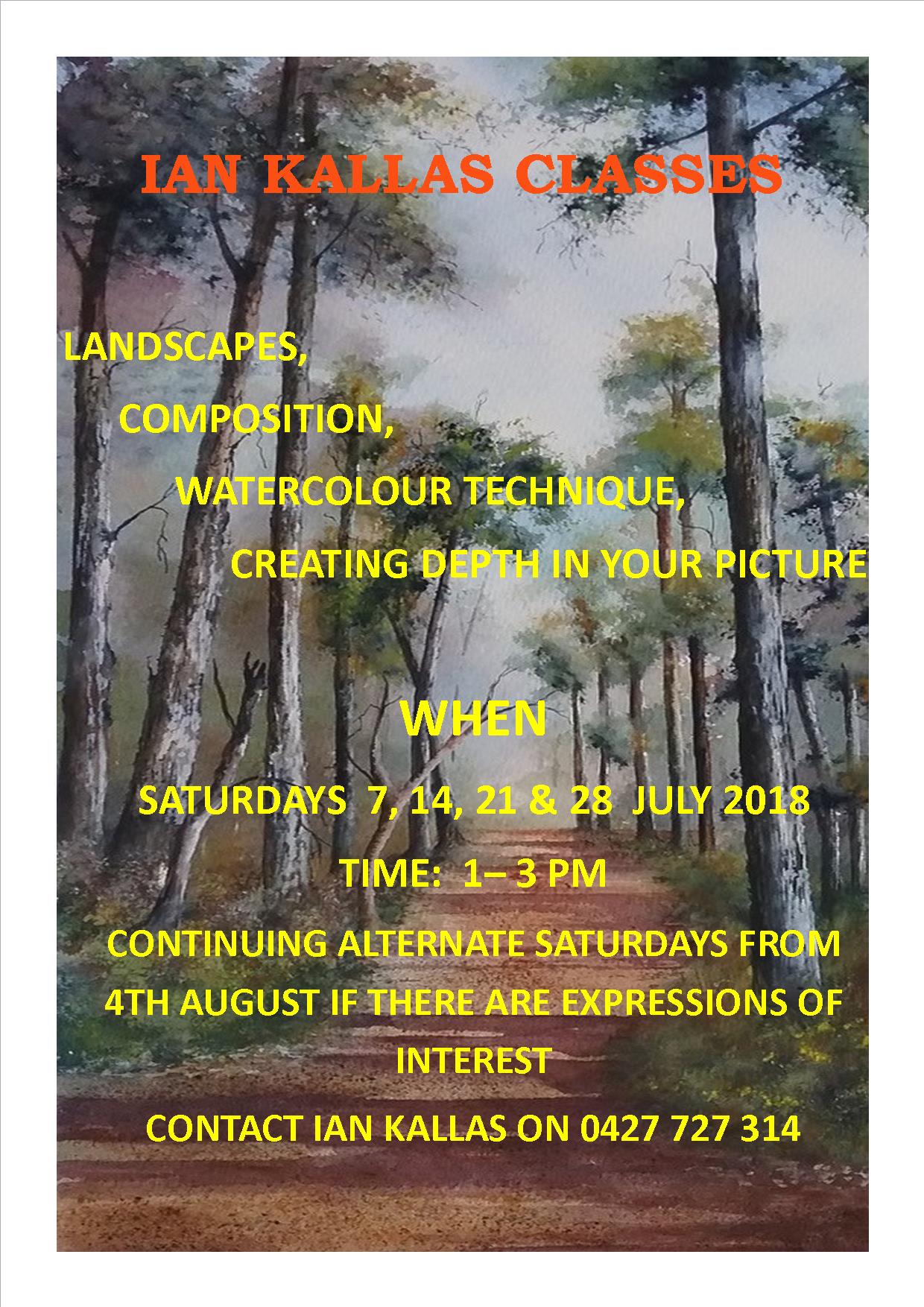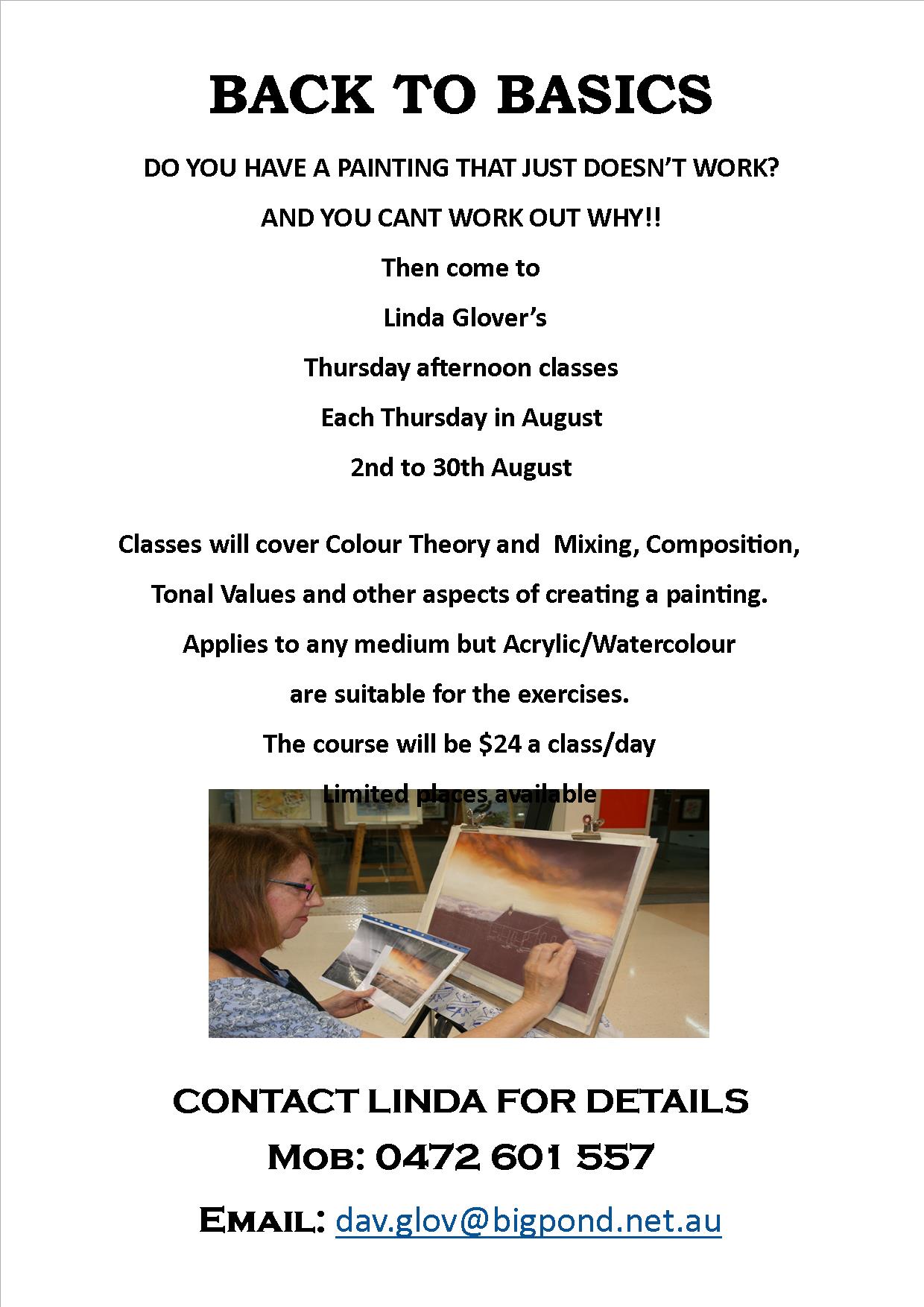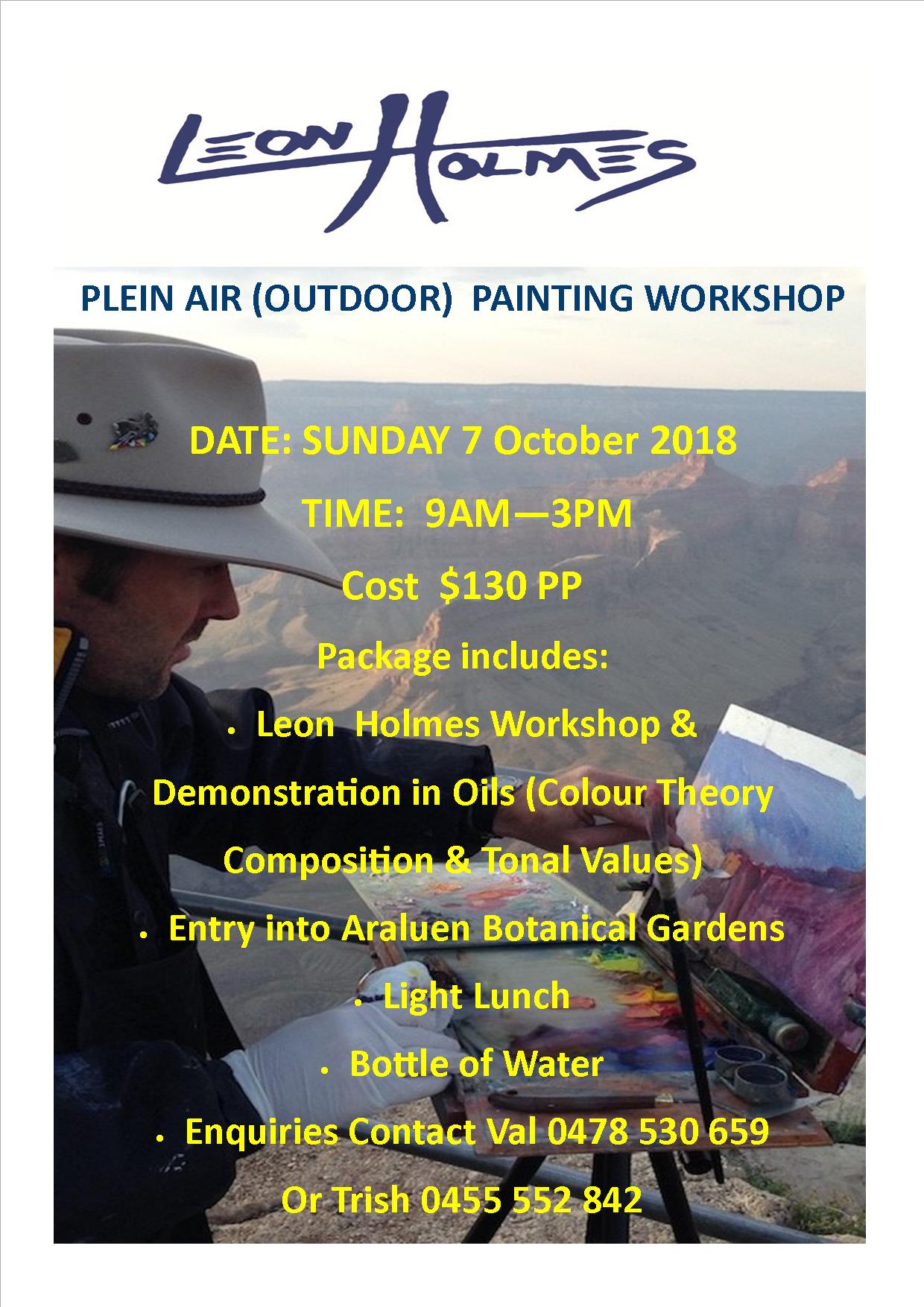 OUTSIDE THE FRAME
ART AWARDS
Once again we have been asked to man this wonderful display of work by high school students.
This year it will be held on
August 11 to19. and will be at the Rossiter Pavilion
In Piara Waters
We are asking you to volunteer to help with this, there is a roster on the board in the shed
Or ring Trish on 0455 552 842

Art Camp News
Ferguson Valley was our Art camp getaway, what a beautiful place, the weather was perfect for this time of year, cold at night , but we had a big log fire and wine , visited lovely wineries and eating places, Gnomesville was amazing, not much painting got done as we were too busy exploring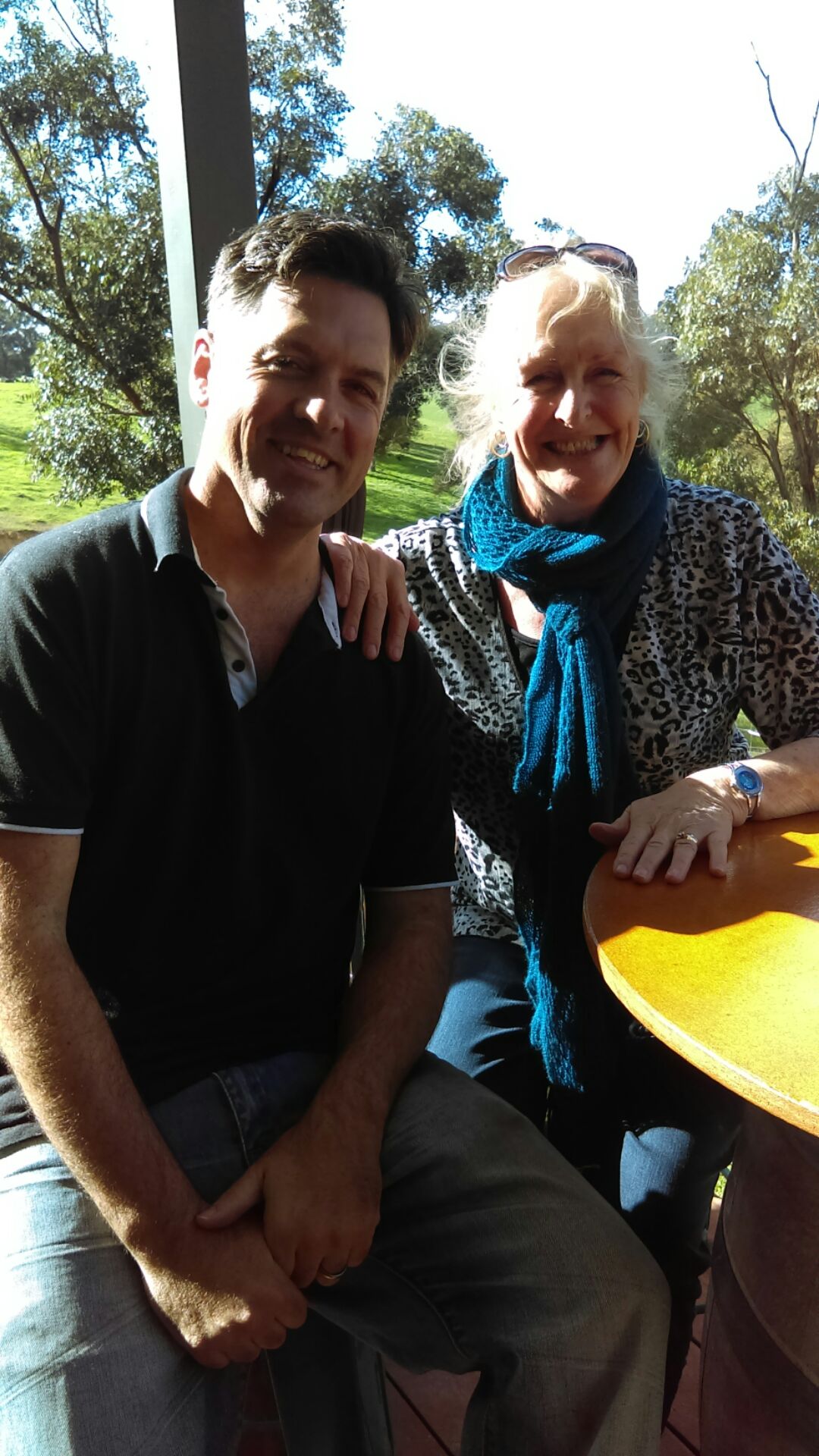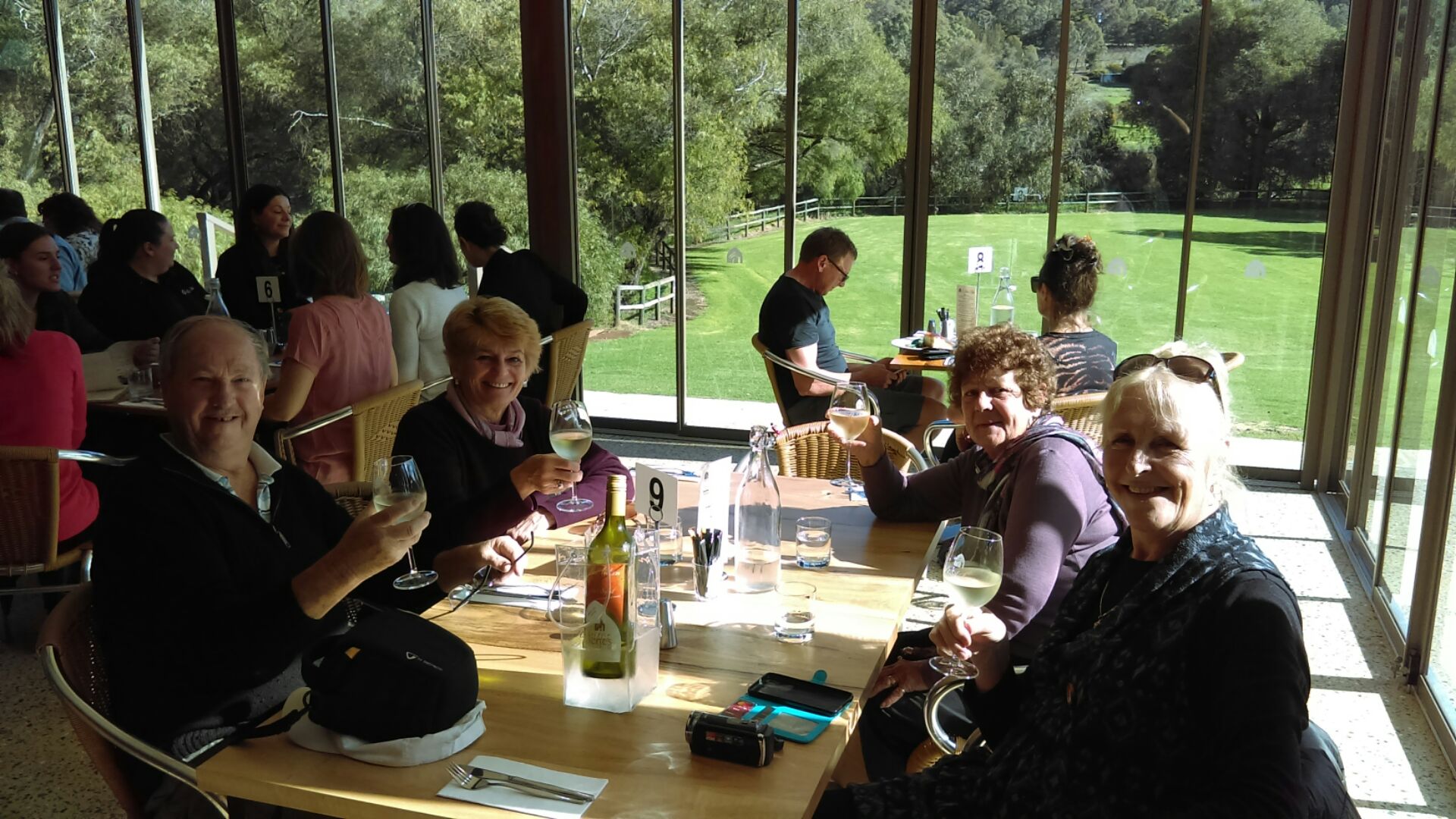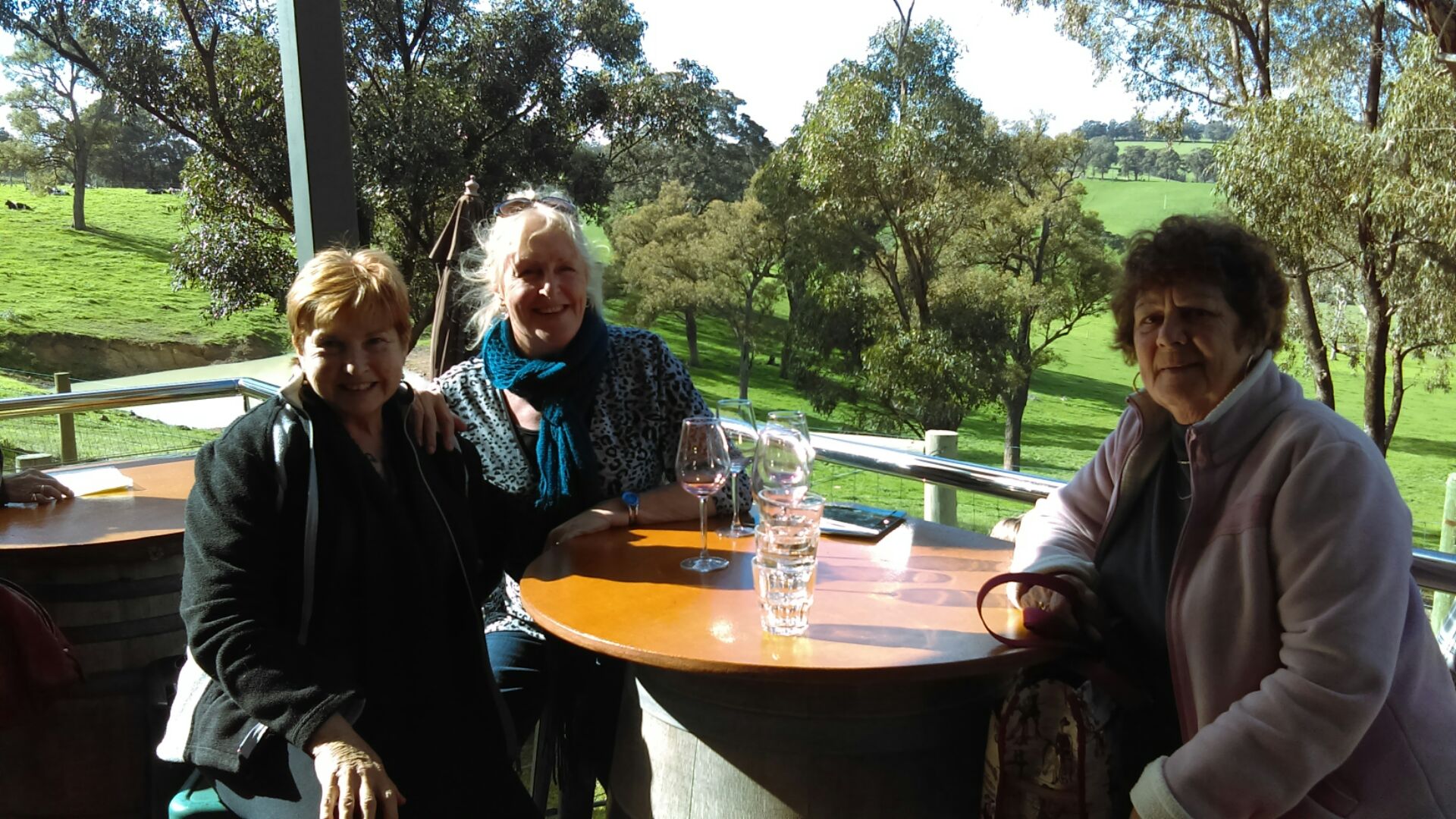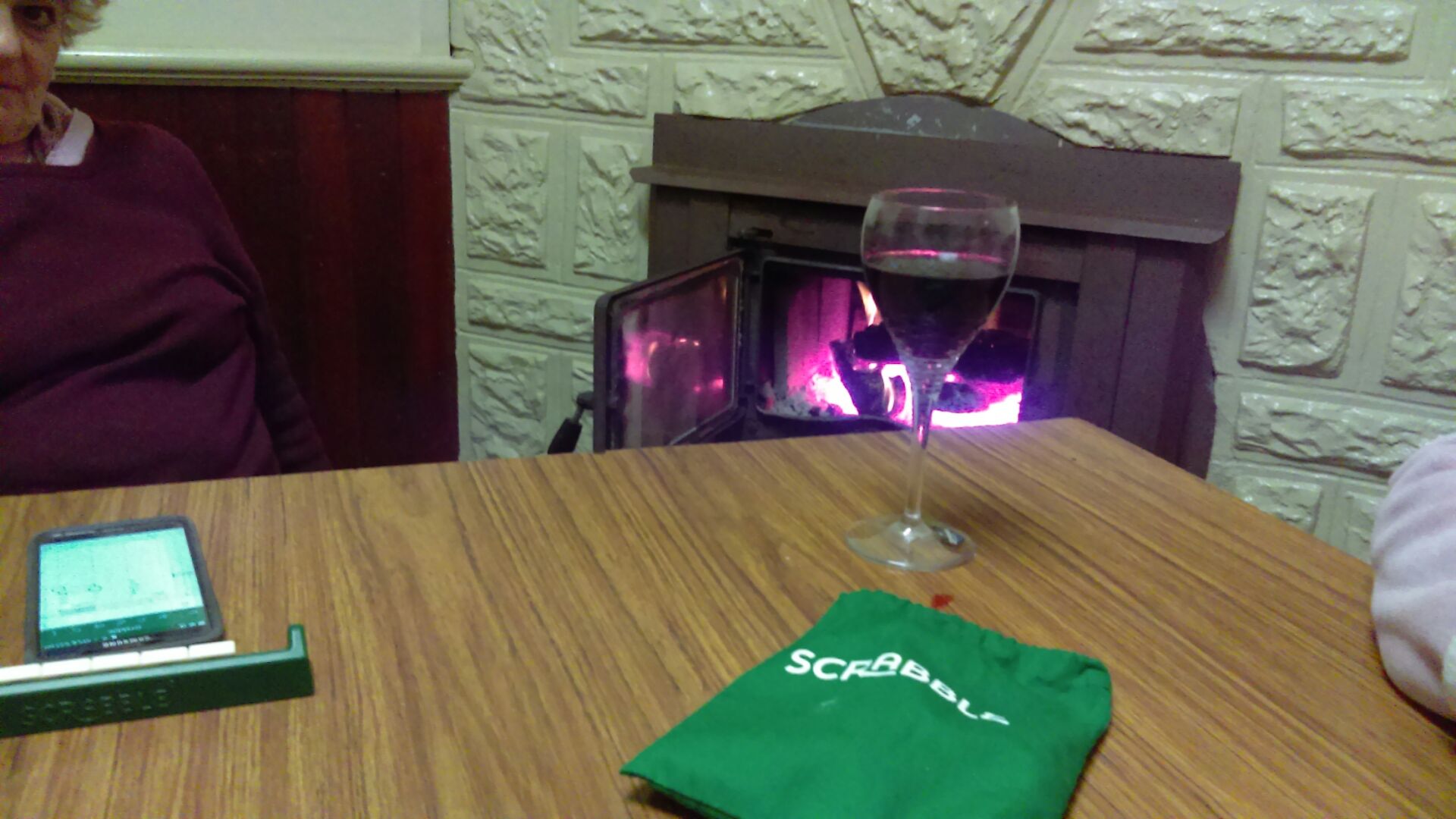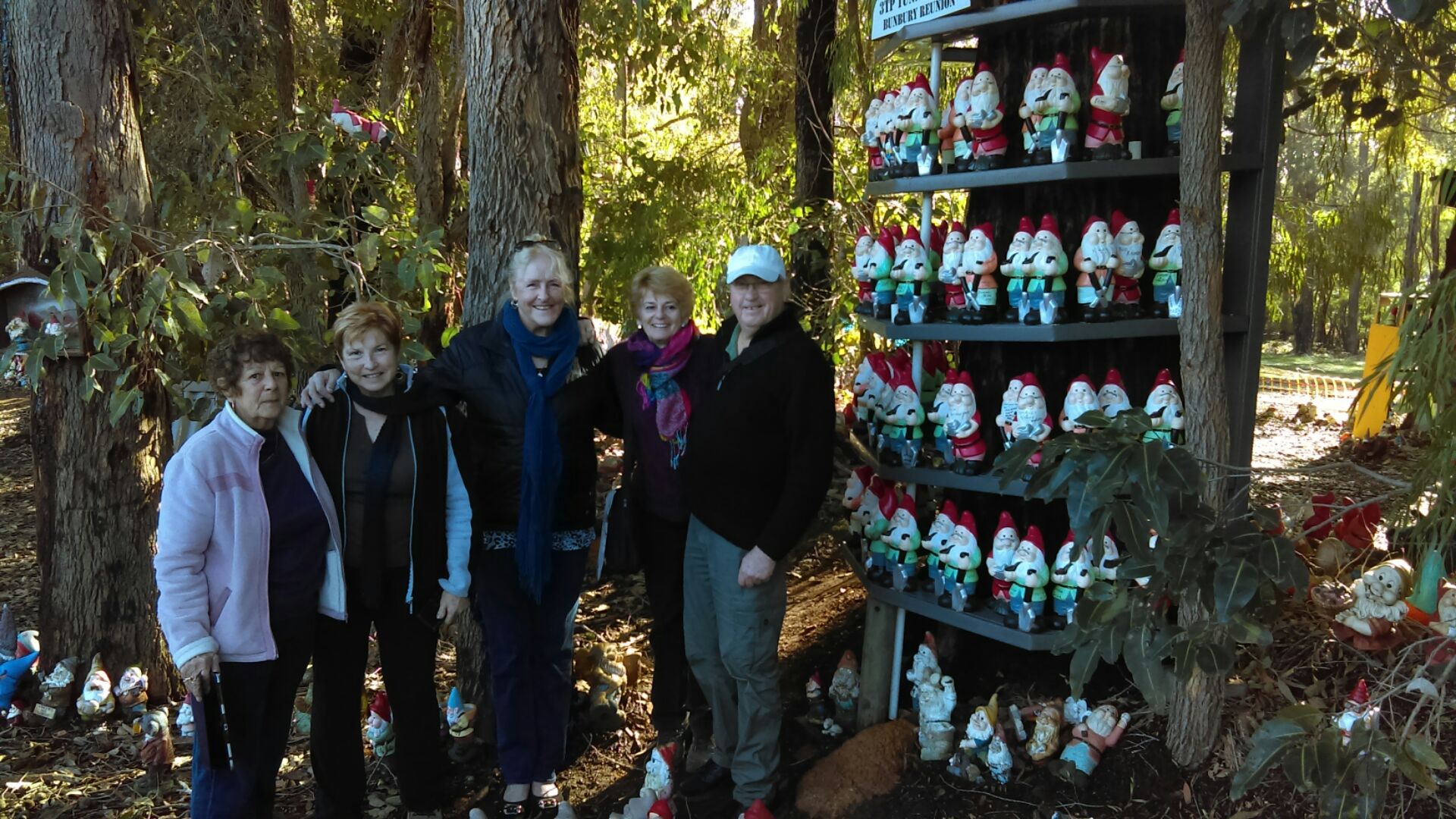 FROM TOP
Eye Candy
Lunch, Cheers!
Gold Plate Pizza
Just Cheers!!
Gnomesville

Sponsor Focus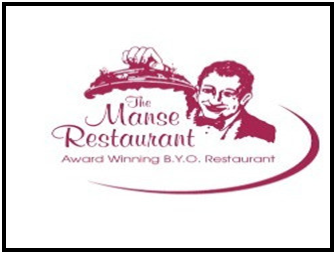 The Manse Restaurant has received many awards for excellence over the years and have been a long time sponsor for Armadale Society of Artists.
As a special offer for ASA Members when dining for 2 or more people you will receive $20 off their A-La-Carte Menu. Valid from 1 August to 31 October 2018. The Manse Restaurant is centrally located at 31 Church Avenue, Armadale. For Reservations phone 9399 6078.