HERE YOU WILL FIND IMAGES OF OUR GALLERY AND DETAILS OF EVENTS LIKE EXHIBITIONS AND FEATURE ARTSTS
MORE PHOTOS OF OUR GALLERY TO COME

Art house on hobbs
Art & craft market
WHEN: Sunday 15 September, 2019
Where: Hobbs Drive, Cnr Coombe Ave,
Armadale (look for blue banners)
Time: 10am to 4pm
Artists studio's see artists at work Market day art and craft stalls
Art demonstrations Children's activities
Live Folk Music with Jane & Kira (2 sessions
between 1—3pm)
Devonshire teas and sausage sizzle
Doust Hall Gallery Open (Artwork for sale) Contact details : Phone 0455 552 842

Feature Artist
Art House on Hobbs are launching the Feature Artist program which gives our members a chance to highlight their work in a dedicated space for a period of one calendar month. The location will be in the Foyer area where our current hanging devices are displayed.
Details on being a feature artist are on the notice board in the Library. If you are a member of ASA and interested in being a feature artist please feel free to take a request form and complete details along with your preferred month and hand into our Administration Office between 9 to 12 Monday to Saturday. Someone from our Sub-Committee will contact you and confirm your request.
Feature Artist for September
Dave Archer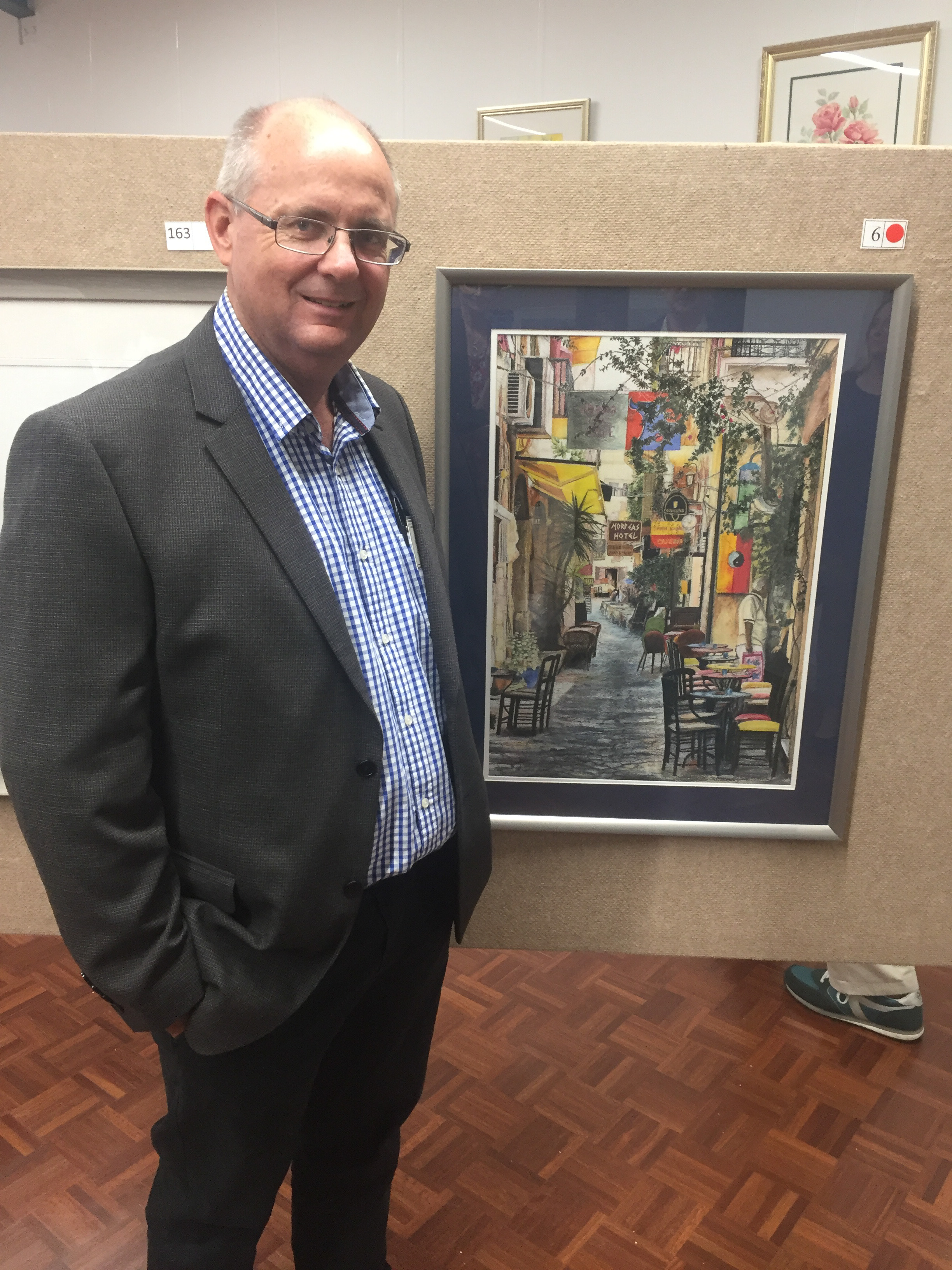 Dave was born in South Africa in 1962, and moved to Perth with his family in 2001. He is totally self-taught and has worked in various mediums including water colour, pastels and acrylic. He also does kinetic art which is quite mechanical involving wood work, metal work and carving, embracing movement and mechanical form.
He only recently exposed his art to the public after joining with the Armadale Society of Artists in 2018. Since then, he says he finds his day job as a technical manager, really gets in the way of his artistic pursuits.
He has most enjoyed working with pastels, which he has found to be quite rewarding and vibrant suiting his style of highly detailed landscapes and urban scenes.
He says he is excited to be working in acrylics now on large canvasses and exploring new artistic challenges. Call in and see some of his work displayed as feature artist in the foyer of the Art House on Hobbs.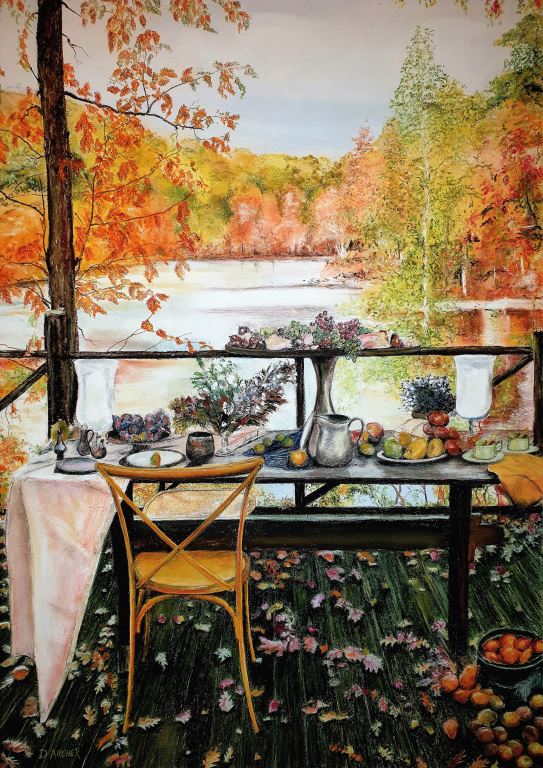 Feature Artist for August
Dot Marshall
I have been a member of Armadale Society of Artists for about 20 years, being past president on and off for 6 years. My love of art comes from my school days when the only subject I really enjoyed and excelled in was ART, this carried on when I left school and went on to college to study design and drawing. I had to leave art behind for a while as, like most people general day to day life got in the way, running a business with my husband in a new country and bringing up two wonderfull children all of which I thoroughly enjoyed. Then I eventually found time to take up my love of art again and went to many workshops and classes to reboot my passion. I found our wonderful society and threw myself into the joy of sharing by teaching, a weekly class and workshops. I still run workshops, now living in Fremantle I make the trip to Armadale to take part in as much as I can and see like minded friends to top up my inspiration.
Whilst I am being feature Artist I will be dropping in from time to time, also every FRIDAY for the whole month to do free demonstrations.
I really look forward to seeing you there an will be happy to answer any questions about my techniques etc.
the above painting is Resin in layers with handpainting between the layers giving it a 3d effect
the one above is a simple straight pour of acryulic paint with lots of texture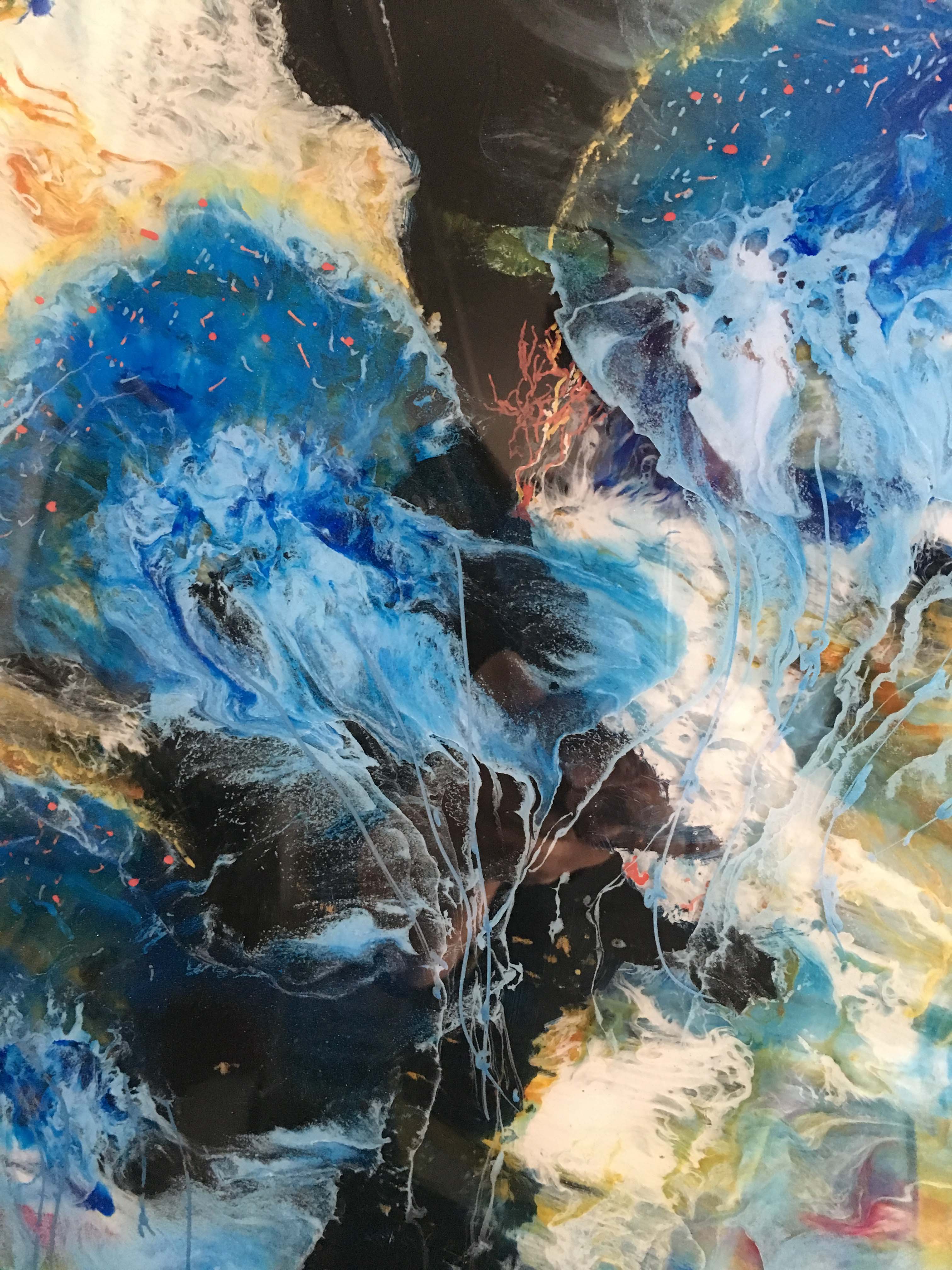 this is another resin layered painting also with hand work in between the layers and a bit of exciting pouring
this is a very heavily textured painting building up the trees with hand made papers
the above is obviously a beautiful kingfisher, I get a lot of pleasure painting birds especially native Australian birds some of which are threatened because of introduced wildlife and human developments.